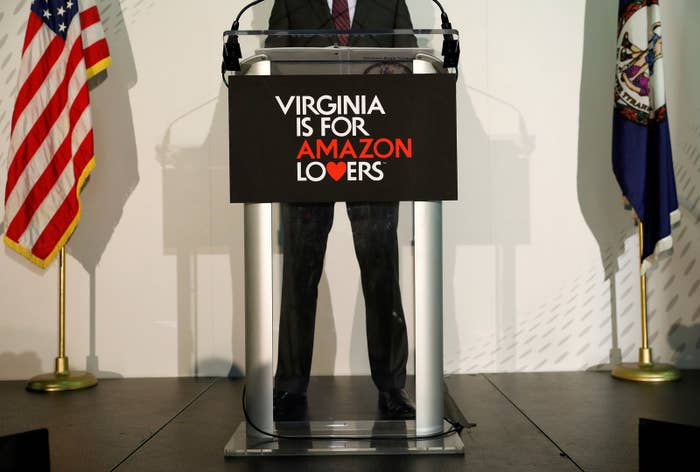 After much fanfare, Amazon just revealed that the site of its second headquarters — which it has been referring to as "HQ2" — would be in not one, but two, cities: New York City and Arlington, Virginia. According to Amazon, these cities will join Seattle to become the company's three ~official headquarters~.
But when you dig into the fine print, Amazon's big unveiling starts to sound like a run-of-the-mill announcement that Amazon is opening three new offices in North America. (Yes, it's actually three. In the company's HQ2 press release, Amazon added that Nashville, Tennessee, would also be getting an Amazon "Operations Center of Excellence" — whose main distinction from the two new headquarters is that it's only bringing 5,000 jobs to Nashville, compared to the 25,000 each that Amazon committed to New York and Arlington.)
That's not all Amazon equivocated about in its flashy HQ2 announcement. Here are 12 things about Amazon's new HQ2 that you may have missed in all the hype.
1.
New York state is paying Amazon a whopping $1.525 billion in incentives, which is way more than what Virginia is paying.
To break it down, New York is giving Amazon a tax subsidy of $48,000 per job created, plus $325 million in cash from New York economic development corporation Empire State Development — no strings attached.
The state of Virginia, meanwhile, is paying Amazon a $550 million cash grant over 12 years. Amazon could also claim up to $200 million from the state, depending on how many jobs it creates in the future. The city of Arlington is offering $23 million in cash over 15 years, based on growth of the county hotel tax.
Tennessee is offering Amazon a $65 million cash grant, so long as the company delivers on creating 5,000 jobs over seven years. The state is also offering $21.7 million in state tax credits based on job creation. Meanwhile, the city of Nashville is offering a $15 million cash payment based on job creation.
2.
If you thought $1.5 billion was the final sticker price for New York, you'd be wrong. The total is more like $3 billion, considering everything in the package.
New York's $1.5 billion in incentives don't include city "as of right" incentives — separate tax subsidies offered through city programs — that Amazon said it plans to apply for. Specifically, Amazon said it would apply to New York City's Industrial & Commercial Abatement Program (ICAP) and New York City's Relocation and Employment Assistance Program (REAP).
3.
Public officials, like Representative-elect Alexandria Ocasio-Cortez, who will represent Queens, are already starting to protest the Amazon deal.
4.
New York state Sen. Mike Gianaris and Queens City Councilman Jimmy Van Bramer are also mad and speaking out.
5.
Also...the New York site for Amazon HQ2 is in a flood zone.
6.
No one seems to have heard of the "National Landing" neighborhood where Amazon says it will open its Arlington headquarters.
The "National Landing" area Amazon refers to in its HQ2 press release doesn't show up in a Google Maps search. "It's not an actual neighborhood," Sherif Abdalla, senior vice president of real estate agency Compass in Washington, DC, told BuzzFeed News. "They named it that as of 24 hours ago."
7.
Some people in other cities, like Los Angeles, are celebrating the fact that Amazon didn't pick them for its headquarters.
8.
It's not just New York that's nervous. Residents in Northern Virginia are wary of the possibility of widening inequality after Amazon comes to town.
9.
Virginia agreed to give Amazon at least two days' notice if the media or any member of the public filed a Freedom of Information Act requesting more information about their deal.
10.
According to the Wall Street Journal, even before Amazon had decided to put its headquarters in Long Island City, New York brokers sold units like crazy — even sight unseen, and via text message.
"This is like a gift from the gods for the Long Island City condo market," a real estate agent told the Journal.
11.
Some critics noted that New York and Northern Virginia aren't quite the economically depressed regions that Amazon said it could rejuvenate.
12.
And others are just wryly describing how their tech companies created jobs in New York for a grand total of...*zero* billion dollars in subsidies.