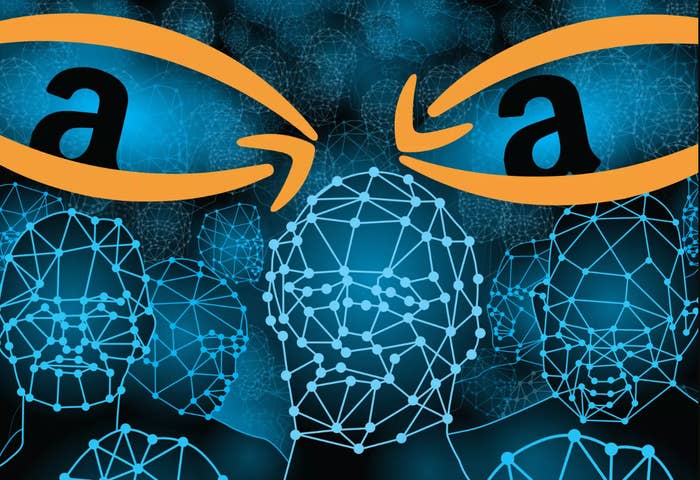 Amazon executives defended the company's controversial facial recognition technology at an all-hands staff meeting Thursday after employees raised civil rights concerns about the tech's potential misuse, according to a transcript of the internal meeting obtained by BuzzFeed News. An employee who spoke to BuzzFeed News said they and their colleagues were disappointed in the response.
After BuzzFeed News reached out to the company, Amazon declined comment.
Andy Jassy, the CEO of the company's cloud-computing arm, Amazon Web Services, deflected employee criticisms over how Amazon has aggressively marketed its Amazon Rekognition product to law enforcement agencies across the country and the US Immigration and Customs Enforcement (ICE). "I think we're going to have people who have opinions that are very wide-ranging, which is great, but we feel really great and really strongly about the value that Amazon Rekognition is providing our customers of all sizes and all types of industries in law enforcement, and out of law enforcement," Jassy said. He added that he thought it was the government's responsibility to help specify regulations around the technology.
Though the company-wide Q&A was not meant to only address concerns about Amazon's facial recognition deals with law enforcement, it was a major topic on employees' minds. Since news of those deals has come out, Amazon faced extensive criticism from civil rights groups, Amazon shareholders, and its own employees. Collectively, they sounded the alarm on mass surveillance and free speech questions surrounding Amazon's campaign to provide facial recognition tools to law enforcement agencies across the US.
"I don't think Amazon leadership addressed the concerns brought up in the question, and I don't think a Q&A session at an all-hands meeting is enough or suitable for addressing the concerns appropriately," an Amazon employee, who requested anonymity, told BuzzFeed News in an email. "There is no way to hold leadership responsible in comparison to, say, a letter or email from HR to all employees where a statement is written and more concrete."
Within the company, the Amazon employee said, workers were disappointed. "It's hard to trust that harm and abuse can be prevented if it is only post-mortem and through the Terms of Service," they said in their email.
After the American Civil Liberties Union reported in May that Amazon had been pitching Rekognition to law enforcement agencies to surveil citizens, the backlash was swift. In October, an anonymous Amazon staffer said in a Medium post that over 450 employees had written a letter to CEO Jeff Bezos demanding Amazon stop selling facial recognition software to police. The Daily Beast reported that the company met with ICE this past summer to try to sell the government agency its Rekognition tools. Rekognition is currently in use in Oregon's Washington County and the city of Orlando — where a BuzzFeed News investigation showed that the pilot was a mess, with both Amazon and city officials presenting confusing and contradictory information about the initiative to the public.
Amazon employees and civil liberties groups aren't the only ones who have concerns about Rekognition. Natasha Lamb, a managing partner of Arjuna Capital — one of the Amazon shareholders who signed a letter regarding Rekognition addressed to Bezos — told BuzzFeed News in an interview that the investment firm was concerned about the efficacy of Amazon's facial recognition tools, based on the testing so far that its accuracy has been flawed. "The rollout of the product appears short-sighted," Lamb said. "The long-term concerns around civil liberties aren't being considered."
"And from an investor perspective, we are concerned about the fallout," she said, "and the impact of [this issue] on Amazon's brand."
Read the Q&A with employees at Amazon's all-hands meeting below:
Q: What is being done in response to the concerns voiced by both Amazon employees and civil rights groups regarding Amazon selling facial recognition technology to government and police organizations, including ICE?




Jeff Bezos: Good. Andy, do you want to take that one?




Andy Jassy: Thank you, so we're referring to Amazon Rekognition, which is AWS' deep learning image recognition, facial recognition, video recognition service and, you know, with over five hundred thousand employees like we have at Amazon, I think we're going to have people who have opinions that are very wide-ranging, which is great. But we feel really great and really strongly about the value that Amazon Rekognition is providing our customers of all sizes and all types of industries in law enforcement and out of law enforcement.




You see it in the value people are actually getting even after just about a year, year and a half of the service, where Rekognition is actively been used to help stop human trafficking, to reunite missing kids with parents for educational applications, for security and multi-factor authentication.




There's a lot of value being enjoyed from Amazon Rekognition. Now now, of course, with any kind of technology, you have to make sure that it's being used responsibly, and that's true with new and existing technology. Just think about all the evil that could be done with computers or servers and has been done, and you think about what a different place our world would be if we didn't allow people to have computers.

So you don't want to get rid of that technology. You want to make sure that people use the technology responsibly, and we have a set of terms and services in AWS. And with all our services, including Rekognition, where if people violate those terms of services and don't use them responsibly, they won't be able to use our services any longer. In fact, if we find the people are violating folks constitutional rights, they won't be able to use the services. I also think, by the way, in a democracy is also often the role and the responsibilities of the government to help specify what the guidelines and regulations should be about technology. And, if and when that happens, we will abide by those as well. Thank you.
UPDATE
This transcript has been updated with corrections to minor typographical and grammatical errors provided by Amazon.