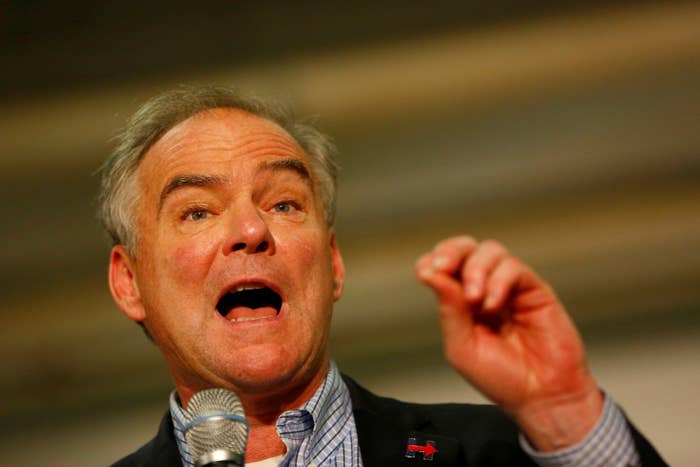 BALTIMORE — Senator Tim Kaine stood before an audience of mostly black people Thursday, wanting to hear the vice presidential nominee introduce himself — something he seldom has to do in Virginia.
"I like telling other people's stories," he said in an interview after his speech addressing the National Urban League's annual convention. "I don't really like talking about myself."
Kaine had plenty to talk about Thursday morning, though, pulling stories and anecdotes from his background as a civil rights attorney and elected official before an audience. He told the story he's delivered about the start of his legal career, defending a woman named Lorraine who'd been discriminated against for an apartment she wanted. The audience applauded when he said he filed suit.
"But because I had done one case in Virginia in fair housing, suddenly I had become the fair housing expert in the entire Virginia state bar," he said, drawing laughter.
Kaine spoke about his beginnings in politics as a member of the city council in Richmond, winning his mayoral race by 94 votes, to his ascent to governor of Virginia, where he apologized for slavery.

"Listening to that journey was impressive," one man said while leaving the speech, which had all of a sudden seemed to him a strategic decision by the Clinton campaign. "He did a really good job letting us getting to know him."
Kaine mixed his career experience with sharp commentary on race and equality — the mark of an elected official from a city like Richmond — and it was a hit with the non-partisan organization. When Kaine spoke about an effort to protect and digitize oral histories taken of enslaved people after the Civil War, he pivoted to a rationale that resonated with the audience. "When you've been cut out of history, or the history that is written has been whitewashed to leave out the profound suffering of folks, what message does that send about the value of your life and your lived experience?"
As for speaking about himself, Kaine said his reluctance to do is something he shares with his running mate, Hillary Clinton.
"I recognize this in her: It's a Midwestern thing. The way we're raised — I was raised in Kansas City, she was raised in Chicago — it's just kind of a Midwestern thing. You don't really talk about yourself," he said.
"I don't mind talking, I am in the U.S. Senate after all," Kaine continued. "But I'd rather talk about other people or about policy."
Kaine said it was his background as a civil rights lawyer was the one topic he really wanted to get across to his audience Thursday — an especially relevant one for the activists at the Urban League, whose theme is "Save Our Cities: Education, Jobs + Justice."
"It's still such a huge issue," Kaine continued. "The Supreme Court just in the last year decided a huge fair housing issue that had been an open issue for 35 years so housing is the one physical thing that's more than a thing. It really is more of an extension of your personality."