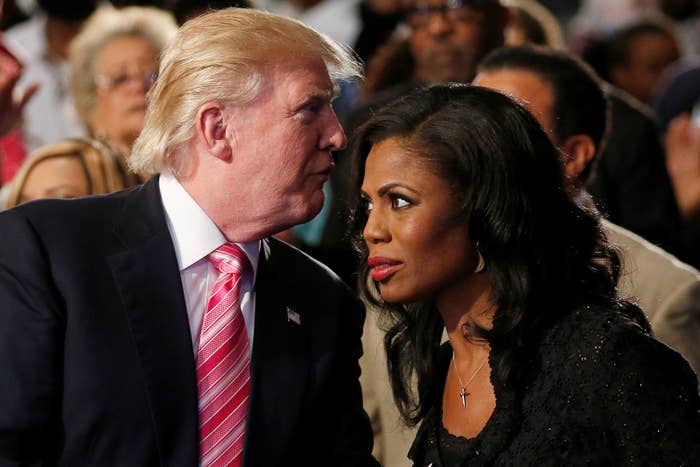 WASHINGTON — A cluster of black Republicans met Friday at Trump International in Washington about their effort to seek White House appointments in the Trump administration.
In recent days, Omarosa Manigault, who ran Trump's campaign's black outreach, has told black Republican leaders that Trump is appreciative of the work the RNC and its black advisory councils made. According to two sources, Manigault said black Republican leaders that Trump wants to have the "most diverse" administration.
Senior black Republicans may have been dubious of Trump's chances at winning, but many remained loyal to the campaign through months of infighting and power struggles, as well as tension over the resources and recognition. Those have all been forgotten. Now black Republicans who were Never Trump or were overtly critical of the Trump campaign's black outreach are coming back.
Even one of the most anti-Trump black Republicans told BuzzFeed News, "We must support Mr. Trump helping him make the best of his presidency."
In an interview with BuzzFeed News, Glo Smith, a congressional candidate from Florida, declined to discuss Trump or whether she supported him. But a source said that in a mostly celebratory RNC call Thursday, Smith suggested that while she lost her race, she was delighted at Trump's big win.

"I did not win my campaign, but Trump became my president," she said according to a source briefed on the call. "Praise God!"
Sean Jackson, the chair of the Black Republican Caucus of Florida had written a scathing open letter slamming the Trump campaign for its lack of black outreach. Jackson reportedly wanted the Trump campaign to implement a plan to engage black voters, and got upset when the campaign rebuffed his offer.
"Last week, prior to the November 8th election I addressed you out of frustration," Jackson wrote on Nov. 10, "stating that though I was to still vote [sic] for President–Elect Trump I was to suspend my last minuet [sic] efforts of campaigning out of aggravation with the lack of outreach from both the Campaign and the Republican National Committee – I WAS WRONG!"
"As I reflect on my mistake to be silent in the last 3 days of the campaign I am reminded of Proverbs 3:7 'do not be wise in your own eyes; fear the Lord and shun evil.'"
On Thursday, he apologized for his letter and jumped in on the RNC call offering to open his Rolodex: He explained that he still had contacts from his time as a backup singer for Patti LaBelle and wanted to know how to put people in touch with people planning entertainment for inauguration.
Jackson — who phoned Manigault this week — called Manigault "a friend" and the RNC "a strong ally" he's worked with closely to help elect Trump.
"I clearly misspoke when suggesting that enough hadn't been done to target the black vote and I made that clear by stating I was wrong while congratulating Omarosa, then the campaign staff and RNC for their efforts," he told BuzzFeed News.
Manigault was on that RNC call, and is expected to be working closely with the transition team. She'll be the point of contact for black Republicans either looking to work in the administration. She has had the confidence of black Republicans since she was first named by the Trump campaign as the black outreach director, citing her obvious place in Trump's orbit and popularity.
She did not attend the meeting on Friday in Washington. Elroy Sailor, a special adviser to Reince Priebus said the meeting about black Republicans place in transition was largely informational, as Republicans go "from campaigning to governing mode."

Trump's ascendance is full of irony for black Republicans. Trump's big win now puts Manigault, a relative outsider, front-and-center in the black Republican Beltway ecosystem. One of its most senior leaders, former George W. Bush administration official Kay Cole James, keynoted Friday's meeting.
Had Manigault, one of the key figures in Trump's orbit been in Washington, however, a source said, she'd have run the show.