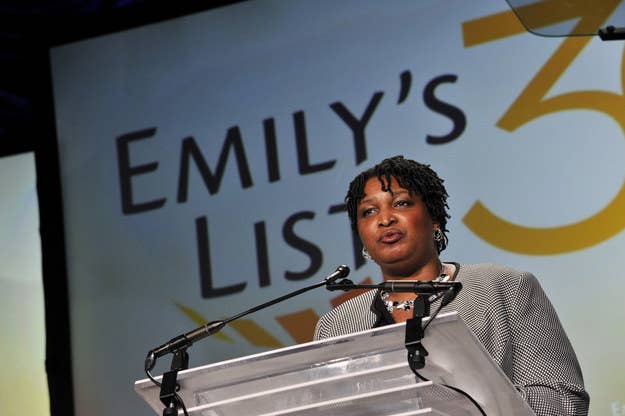 WASHINGTON — Next month, Georgia state Rep. Stacey Abrams, Minority Leader of the state legislature, will host the B.L.U.E. Institute (Building Leaders and Uplifting the Electorate), a six-day crash course in electoral politics for close to 40 applicants chosen from all over the South.
Abrams, who was elected minority leader in 2010, is on a campaign to retake the Georgia state legislature for Democrats by 2020 and rebuild the Georgia Democratic Party at large. She is the founder the New Georgia Project, which estimated there were 800,000 eligible voters who were not registered.
The South has not been very kind to Democrats in recent years. In Senate races in Louisiana, Arkansas and North Carolina in 2014, the Democratic incumbents lost one-by-one in embarrassing fashion. And in Georgia, Republican businessman David Perdue easily beat the Democratic candidate, Michelle Nunn, despite months of polls indicating the race would be one of the closest in the country.
Now there is a sense there that several statewide races could be up for grabs, including the general election for president, in which Georgia has emerged as a key swing state.
Abrams, herself a former operative on campaigns, will address the group.
The trainees will participate in a campaign simulation, create field and finance plans, and learn how to target voters using traditional and cutting edge tools, its organizers say. By the end of the institute, trainee will be paired with a campaign or organization via a job fair.
"We want to create a more inclusive pipeline of staffers that can secure the range of political posts available in campaigns," Abrams told BuzzFeed News in a phone interview. Too often, she said, blacks and Latinos "are assigned primarily to outreach and field in campaigns, but are less often in finance, data, communications or management."
The institute's program, which will be held on the campus of Georgia Tech in Atlanta, will teach how to write a complete campaign plan with a strategy outlining the candidate's path to victory. It will also cover the basics of an issue-based campaign, GOTV efforts via the DNC's Vote Builder tool and Catalist. The fellows will learn the ins-and-outs of managing a volunteer database.
"Applicants are often told they need experience to get a job, but they require a job to get relevant experience," Abrams said. "We are providing the experience and training they need for the jobs that will be available in 2016 and beyond."
Jessica Byrd, the principal with Three Point Strategies who will teach workshops next month along with Alida Garcia, of Inclusv, agreed that the hope is that the institute creates a pipeline of non-traditional roles for black and Latino staffers, like campaign manager and finance.
Abrams said that Hillary Clinton's campaign is an example of putting capable people of color like Maya Harris and Karen Finney in senior positions. Abrams said she wants to see Clinton's example replicated on the state level. "I think that there is a good effort being made in the Democratic side, but more can be done."
National groups like DCCC and DSCC have been hesitant to pour resources into races in the South, often leaving many Democratic candidates floundering.
"There's a huge population of people of color living in the South and by it not being considered as a battleground, there's not an investment in creating a long term culture of getting them out to the polls," Byrd said.
Byrd added the numbers "haven't historically reflected that it should be a battleground for Democrats but we know that is changing and organizing works best with people who are from the kinds of communities we're trying to engage, especially when we're building trust with people that have complicated relationship to political power."
At the end of the session, attendees with attend a job fair with the SEIU, Planned Parenthood, AFL-CIO and the DCCC. The progressive training organization Wellstone Action is also a partner.
"It's not just about 2016, but for when we're trying to staff up for state legislators, key Senate and House races," Abrams said. "This is about the future."