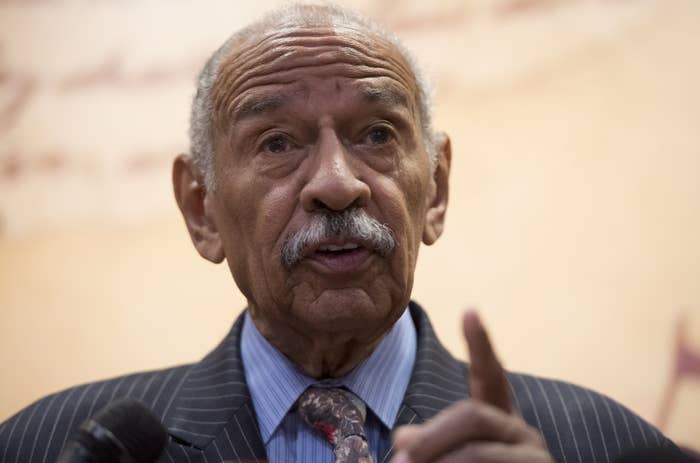 A top Democratic lawmaker says the National Football League doesn't seem to really be listening to what players are saying when they kneel before the national anthem.

This week, after more than a year of escalating protests before games, the NFL endorsed legislation meant to ease sentencing laws around certain kinds of drug convictions.
That move, says Rep. John Conyers of Michigan, is inadequate.
"Biased-based policing was one of the motivating factors behind the NFL protests," Conyers said. "The failure of the owners or NFL management to address them raises serious questions about whether they are really listening to what the players have to say."
During a press conference earlier this week, NFL Commissioner Roger Goodell did not mention policing at all when asked about his evaluation of what the players' concerns were.
A Conyers spokesperson pointed out that the major player-activists didn't protest over sentencing in the criminal justice system. The player who first knelt — Colin Kaepernick — made it explicit his cause was police violence inflicted on black people. Michael Bennett, a defensive player for the Seattle Seahawks who has sat during the national anthem this year, has said he was targeted by a police officer in Las Vegas.
Conyers, the ranking member of the House Judiciary Committee, has spent years working on criminal justice issues — especially in recent years as a bipartisan group of advocates and lawmakers tried to shift away from the tough-on-crime policies that dominated the 1980s and '90s, and were again championed by President Trump as a candidate. Last year, for instance, Conyers and House Judiciary Committee Chair Bob Goodlatte formulated a working group to examine excessive force, police accountability, and targeted violence against police officers.
The NFL has, partly in the hopes of moving forward as protests continue to dominate coverage of the season, backed the Sentencing Reform and Corrections Act of 2017. In a joint letter, Goodell and Seattle Seahawks wide receiver Doug Baldwin endorsed the bill.