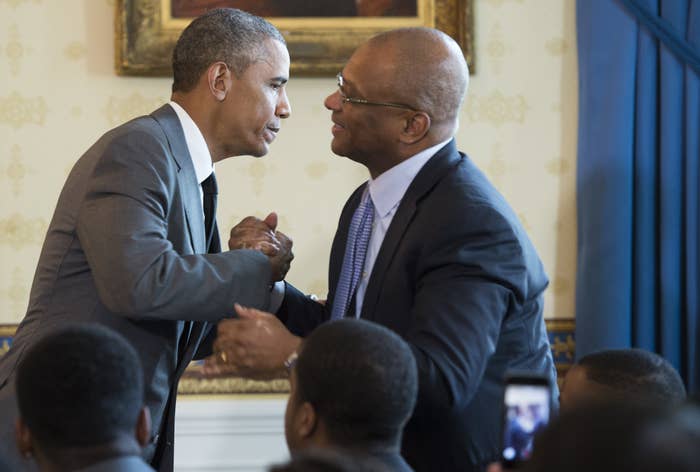 WASHINGTON — The White House on Friday will announce expansions to the My Brother's Keeper initiative, outlining in a report provided to BuzzFeed News plans to co-sponsor a summit addressing youth violence and millions of dollars in new incentives for state and local agencies.
In late June, My Brother's Keeper (MBK) will co-sponsor a summit with the Justice Department's National Forum on Youth Violence Prevention in Baltimore "to address effective and promising multi-dimensional approaches to addressing violence."
MBK also will announce the Laura and John Arnold Foundation is launching a $15 million challenge to state and local agencies to implement social programs proven to be effective.
"The reaction to this work and to the call to action throughout the United States surprised us to some degree," Broderick Johnson said in an interview with BuzzFeed News in his office. "It's of course very endearing, but it's raised the expectations on how lives can be changed."

The event will be live-streamed on the White House's website, and will have over 600 attendees from 30 cities, including communities that accepted President Obama's MBK Community Challenge.
Obama announced My Brother's Keeper in February 2014 ceremony inside the East Room of the White House, committing five years and $200 million to help and try to improve the outcomes of black and Latino boys.
In its next phase, MBK will focus on the personal stories of youths participating in the mentoring program. The "Faces of MBK" blog launches Friday. "It's so essential they be seen as being to able express their own views about these things," Johnson said.
Other highlights include a partnership with to place AmeriCorps VISTA members in MBK communities, the announcement by the Department of Education of the last pilot cities to participate in a program to reduce absenteeism, connecting 250,000 students to mentors.
The NBA is among the private sector companies who have contributed resources to advance MBK's agenda. NBA superstar Steph Curry and rapper Kendrick Lamar both shot PSAs highlighting young people's need for mentors.
Curry's video, filmed during the Golden State Warriors' trip to the White House to commemorate their title run, resulted that weekend in a 4000% spike in traffic to mentor.gov.