White House Says My Brother's Keeper Has Made Progress In Its First Year
When the Obama Administration launched My Brother's Keeper a year ago, it pledged to help clear a pathway to success for the most vulnerable black and Latino boys in the nation. One year later, a progress report says it's accomplishing what it set out to do.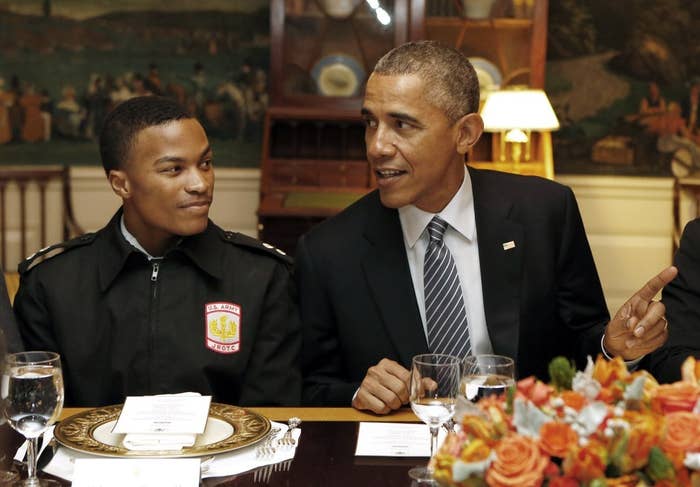 WASHINGTON — A new progress report released by the White House Thursday says President Obama's initiative to improve outcomes for boys and young men of color has made inroads in its first year, securing buy-in from state and local governments and private enterprise.
Launched in February of 2014, My Brother's Keeper is one of Obama's signature initiatives focused on stemming the tide of challenges faced by boys and young men of color by implementing programs with support from both the private and public sector. Last September, Obama introduced the My Brother's Keeper Community Challenge, calling on communities to meet the challenge of helping MBK advance.
The report updates progress in those areas as set forth in the My Brother's Keeper Presidential Memorandum.
"The president has been very clear throughout his administration that we need to look at evidence-based programs and efforts that make a real difference that we identify and then scale," Broderick Johnson, assistant to the President, Cabinet Secretary, and chair of the My Brother's Keeper Task Force said a said in a call with reporters Thursday.
According to the report, nearly 200 mayors, tribal leaders, and county executives across 43 states and the District of Columbia have accepted the challenge. Those who participate commit to reviewing local public policy and hosting action summits within six months. Participating communities are also expected to begin applying solutions to address opportunity gaps.
New York City Mayor Bill de Blasio is one of the mayors who accepted the MBK challenge.
"By embracing My Brother's Keeper, we are fighting inequality at its root in neighborhoods in every borough. New York City is answering President Obama's call and doubling down on its commitments to expanding literacy in our youngest children, ensuring our high school graduates are ready for college and career, and forging a deeper partnership between police and community to prevent crime," de Blasio said in an email statement to BuzzFeed News.
The report also underlined a partnership between the NBA and MENTOR: The National Mentoring Partnership to recruit 25,000 new mentors over the next five years, and a financial commitment of $13 million from Prudential. Over $300 million in grants and in-kind resources have been committed to the initiative.
The White House also cited the Department of Education and the Department Justice partnership on guidance to provide high-quality education for incarcerated boys and young men. Their work helped "ensure that incarcerated youth have the full protection of existing laws and benefits," according to the report.
"People have asked — and they have every reason to ask — 'So how are we going to measure the success of My Brother's Keeper?,'" said Johnson. He said those markers, by recommendation of the president himself, will be measured in part by the individual successes of the boys in My Brother's Keeper communities.
"The fact that so many communities have raised their hand and said we want to be an MBK community speaks to the community-based nature of this work," he said.