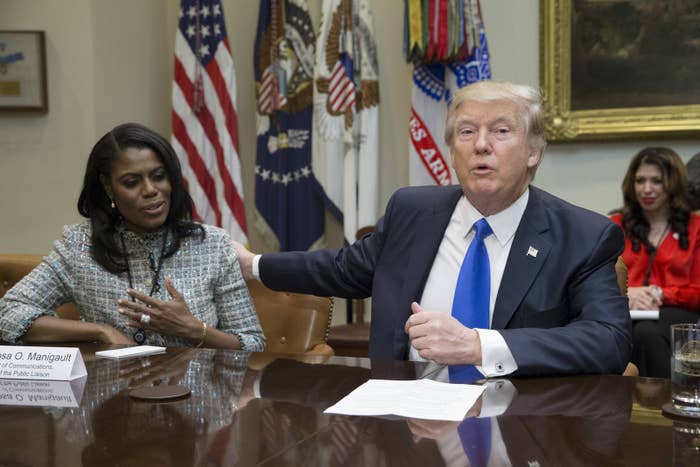 A White House official said that a Trump administration-backed conference for historically black colleges and universities will go ahead as planned next month.

In recent days, a Democratic lawmaker and prominent nonprofit donor to the schools recommended to the White House that the National Historically Black Colleges and Universities Week Conference be postponed because of concerns "related to recent national events."
Omarosa Manigault-Newman, assistant to the president and director of communications for the Office of Public Liaison, said in an email to BuzzFeed News that the conference was still on for its original date, and that the administration remained committed to the mission of HBCUs.
"President Trump's commitment to the HBCU community remains strong and unwavering," Manigault-Newman told BuzzFeed News. "Registration is currently at capacity and we are looking forward to welcoming HBCU presidents, students, and guests."
The conference is to be held Sept. 17–19 in Northern Virginia. But after President Trump seemed to defend some white supremacists as "very fine people," leaders in the HBCU world began to reconsider whether it was still a good idea.
The White House had already been engaged in conversations about appointing leaders to the board, finding an executive director for its HBCU initiative, and naming a chairman to lead, all before Trump's troubled week on race, two sources close to the White House said.
Johnny C. Taylor and Rep. Alma Adams, a North Carolina Democrat, were among the voices who tried to get the White House to halt the planning. Taylor, the outgoing president and CEO of the Thurgood Marshall College Fund, wrote a letter to Manigault-Newman, dated Aug. 18, saying that there was a "pretty strong consensus" in the HBCU leadership community that the White House should hold off until good faith measures — such as appointing an executive director and advisory board — showed that the White House had a "commitment to advancing the HBCU agenda."
Additionally, he noted that fears that the event would be counterproductive would cause some who had registered to not attend.
Adams, making a case for postponement, said in a statement that she had this month asked for an update on the progress of Trump's executive order. "It has become painstakingly clear that these promises are not being kept," she said.
"In this current environment, and with zero progress made on any of their priorities, it would be highly unproductive to ask HBCU presidents to come back to Washington," Adams said.
Neither Adams nor Taylor spoke in explicit terms about Trump's handling of matters of race following the death of 31-year-old Heather Heyer, a counterprotester at a white supremacist rally in Charlottesville. Trump's assertion that there were "very fine people" among the white supremacists, and that there was violence "on both sides," has sparked a national debate about the president's moral authority on racial issues.
Two sources close to national HBCU leaders, and another familiar with the process, said it was unclear if Trump's rhetoric would produce a similar situation to Trump's strategic policy and manufacturing councils, both of which Trump ended with no warning after members quit. Though Manigault-Newman's statement indicated that the White House would roll out announcements on the board and advisory committee during the conference, a source advising the White House on HBCUs said he's talked to "multiple people" in HBCU circles who have privately slammed Trump's comments with disgust.
HBCUs rely on critical funding from the federal government, and few, if any, presidents would risk angering Trump with a public display. Kenneth Frazier, the CEO of Merck, who is black, recently quit an administration council — and in return was the object of a vindictive tweet from Trump. Sources in the HBCU sphere said they wouldn't put it past the administration to cut off funding in revenge.

The HBCU group isn't a new creation of the Trump White House; Obama's board was chaired by William R. Harvey, the president of Hampton University. Wayne A.I. Frederick, the president of Howard University, and Beverly Wade Hogan, the president of Tougaloo College, were also on the board.
The Chronicle of Higher Education reported in July that the White House was having problems finding an executive director, adding that it had tapped Jarrett L. Carter Sr., but that he withdrew from the running, citing organizational issues. "I didn't want to be in that position, because once you say yes, and once they announce you, the White House is hands-off on answering anything," he said. "If you're not ready with an answer, or at a least a timetable for when you're going to have an answer, you're at a disadvantage."
Paris Dennard, a staunch defender of the president's positions on race and white supremacists in the wake of Charlottesville, said that rumors swirling that he was being considered for the position were not true.