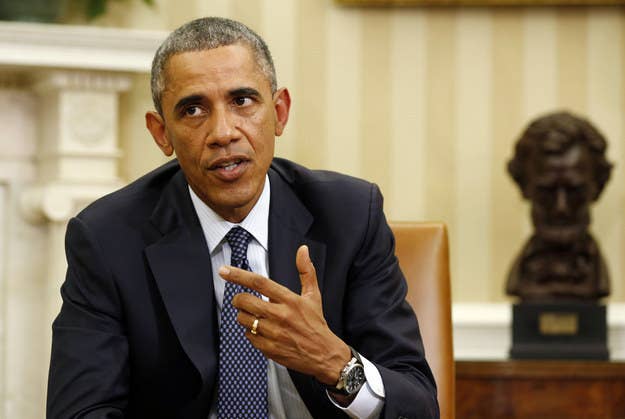 After weeks of speculation, the White House Friday named Ron Klain, a longtime Democratic political operative, as "Ebola czar."
The appointment of Klain, most recently in public service as the chief of staff to Vice President Joe Biden, follows weeks of debate about whether the White House should appoint a senior official to lead the central effort against Ebola. A Beltway insider who served as chief of staff to Vice Presidents Al Gore and Joe Biden, Klain is not a health care expert — but he is a political one.
Klain is a longtime veteran of Washington and Democratic campaign politics, also serving as chief of staff to Vice President Al Gore and as a key player in presidential debate preparations. During his tenure as chief of staff to Biden, he most drew headlines for his role in shaping the federal stimulus (and, in not ideal episode, for signing off on President Obama's visit to Solyndra, the federal-backed company whose failure became a political issue during the 2010 midterms). In the 2000s, he was a lobbyist for a variety of interests; his current role in the private sector is president of Case Holdings and general counsel of the investment firm Revolution.
Those that served with him praised what they said was a tenacious spirit and, most importantly, a deep understanding of how the levers of power work. As Ebola czar, Klain will involve coordinating a vast bureaucratic response to Ebola domestically and abroad — but it will also entail shoring up public perceptions of the White House's Ebola response, particularly after a series of public missteps by the Centers for Disease Control.
"If the problem is one of coordination and not one of science, then Ron Klain is a great guy for that job," said Ken Baer, a former top Obama administration official who worked with Klain beginning with Baer's time as a top speechwriter for Al Gore in the Clinton administration. Baer said Klain's expertise is a mixture of understanding the weeds of policy while also having a strong eye for communications and politics.
"There are few if no people in Washington who have as much experience at the highest level of the White House, the Hill, and the federal government generally. He just knows how all those places work," Baer said. "And that's a huge asset for what it seems like this job will be doing." Early criticisms of the Klain selection pointed to his lack of specific expertise in Ebola, but Baer said what the effort needs is someone to wrangle the various components of the government response rather than another infectious disease expert.
"He's going to be working as hard and as long as anybody else. He's not having a morning meeting and then going out for breakfast and saying, 'See you later, report back to me,'" he said. "He's very hands-on. In a very quick amount of time, no one will know more about Ebola and public health and the U.S. response to it than Ron Klain. He will get so smart on this so quick in a way that very few people can."
Former White House press secretary Jay Carney, who was hired by Klain for his first administration job in Biden's office, noted that Klain ran cross-government efforts during the implementation of both the stimulus and Obamacare.
"He has one of the quickest minds in Washington. And he's unrelenting in his focus. When I worked with him in VP Biden's office, he was very effective — he expected a lot from the staff but was also enormously helpful as a manager," Carney said. "I don't think there's anyone I've learned more from, about more things, in less time."
Carney said Klain has a strong relationship with Obama, a powerful tool when trying to wrangle things in Washington.
"I know the president thinks very highly of Ron," he said. "And people across government involved in the Ebola response will know Ron is acting on the president's behalf."
A senior Republican Senate staffer complained about the pick Friday morning, saying that Klain's role during the push to pass the Obama administration's economic stimulus bill was to undercut Republicans at every turn, and called Klain a partisan.
"I don't think that characterization is accurate at all," said Herbie Ziskend, who worked directly with him for two years at the White House and two years at an investment firm, and actually pointed to the stimulus in his defense of Klain. "I think he has shown that he works with people on both sides. The stimulus is a recent example of that."
Ziskend, who is now chief of staff for Arianna Huffington — a role unconnected to the editorial department at the Huffington Post — said Klain did a fine job working with Republicans outside of Washington during the stimulus implementation. Other White House allies also pointed to the Recovery Act to burnish Kiain's bipartisan cred.
Klain assured that Biden would personally return the call from any mayor or governor who reached out to the White House with questions within 24 hours, Ziskend said, "regardless of party."
"That was how Ron views attacking big problems," he said. "He did that successfully during those years as chief of staff."
Canceling events in New York and Rhode Island, Obama on Thursday met with members of his cabinet on the crisis, including National Security Advisor Susan Rice and CDC Director Dr. Tom Frieden. His remarks afterward hinted a czar reporting directly to him was necessary as Ebola threatens to spiral out of control in pockets of West Africa, and new infections to health care workers here in the U.S. forced the nation's largest nurses union to issue a warning that its workers may not be prepared to handle the crisis.
His naming of Klain is a concession to the chorus of voices arguing that a team of Lisa Monaco, assistant to the president for Homeland Security, Health and Human Services Secretary Sylvia Burwell, and Frieden was not the most effective way to monitor the government's response.
Lauding their work, Obama said, "It may be appropriate for me to appoint an additional person, not because the three of these folks have not been doing an outstanding job ... they are also responsible for a whole bunch of other stuff."
"It may make sense for us to have one person ... after the initial surge of activity [who will] make sure we're crossing all the T's and dotting all the I's," Obama said. "When I appoint somebody, l'll let you know."
Some lawmakers, including Republican Sen. Jerry Moran, have been calling for the appointment of a key point person to address the Ebola response in recent weeks.
The man for the job, Democratic lawmakers were quick to say on Friday, is Klain, who has strong relationships in Washington and is known as an effective manager. "I've known Ron Klain for over 20 years," New York Sen. Chuck Schumer said Friday. "He is smart, aggressive, and levelheaded; exactly the qualities we need in a czar to steer our response to Ebola. He is an excellent choice."
Sen. Chris Coons was pleased the White House named Klain to the post, calling him a "capable leader respected throughout government."
"He is a brilliant strategist and is known for his ability to manage large, complex operations," said Coons. "Ron also understands the importance of clear communications to the containment of a crisis like this. Ron has my trust and confidence, and I'm glad the president has selected him for this critical responsibility."
At least one Republican criticized the White House's selection on Friday, because Klain has no medical experience. "Worst Ebola epidemic in world history and Pres. Obama puts a government bureaucrat with no healthcare experience in charge. Is he serious?" Rep. Andy Harris tweeted Thursday.
John Stanton and Kate Nocera contributed reporting.