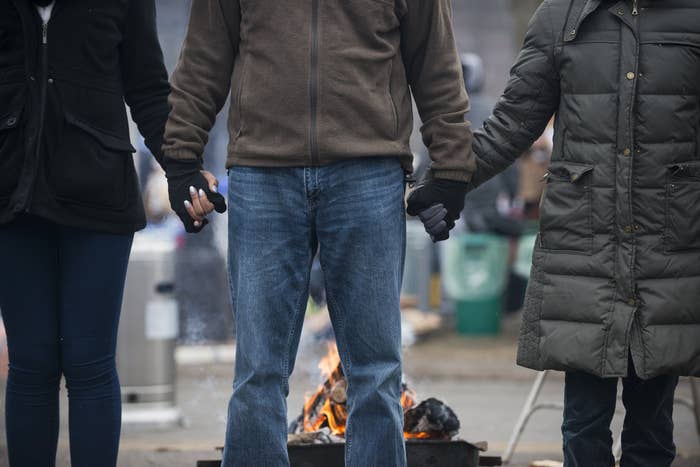 MINNEAPOLIS — Black Lives Matter activists hammered out an agreement to end the group's occupation of the 4th precinct in North Minneapolis in a nearly three-hour meeting with state and federal officials at the governor's residence last Saturday.
Though the loosely agreed upon pact seemed simple enough, it was never executed.
The deal was this: Gov. Mark Dayton would agree to a special session with Black Lives Matter and Neighborhoods Organizing for Change to address racial disparities facing communities of color. He would also issue a statement calling for the release of video recordings believed to reveal more about the death of Jamar Clark, an unarmed 24-year-old fatally shot by a police officer on Nov. 15.
When appropriate, the recordings would go to the family first, then be released to the public.
But as soon as they left the meeting, three Black Lives Matter Minneapolis activists — Lena K. Gardner, Kandace Montgomery and Mica Grimm — were filled with regret. Gardner told BuzzFeed News they thought they should have pushed harder for the public to see the tapes — which can only be released by court order or by Dayton.
After all, the release of the video recordings was the central demand of the nascent but highly effective #4thPrecinctShutDown action, not a prepared statement from Dayton. They wanted to find out what happened to Clark, not get another invitation to the governor's residence.
On the other hand, the organizers wondered, should they ultimately end the protests? Hadn't they scored huge victories?
It's a big conflict inside Black Lives Matter Minneapolis, which is both rising in stature with city and state power brokers, and within the neighborhood near the precinct. The activists contend that the building influence in the halls of power and building connections in the community aren't at odds — even as the organization debates internally how much to interact with elected officials, and as the protests here continue, with both sides claiming to represent the interests of Jamar Clark's family.
On a recent night, a young man was asked to just play the drums on a kit he set up — and he played as people watched and danced and jammed along. People noshed on granola bars and fried chicken, coffee and hot cocoa, that volunteers had brough — a few without saying a single word to the protesters at the site. Gatherers huddled by fires in frigid, but not unbearable temperatures. One white couple told BuzzFeed News they drove 80 miles into Minneapolis from their home to bring firewood after seeing a request from Black Lives Matter Minneapolis' Twitter account.

And yet, as night falls, the encampment remains tense. Far flung conspiracy theories about the shooting abound, and unfamiliar faces and oncoming traffic at times has caused panic.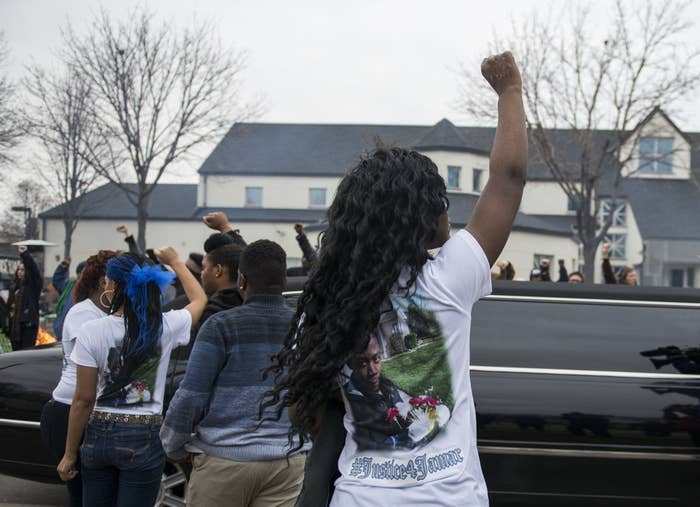 For a moment, it appeared the sit-in might end, after the meeting with Dayton last weekend. The meeting had brought together more than just the governor and the protesters: Clark's brother and his wife attended, as did Democratic Rep. Keith Ellison and a top aide, while the head of the Justice Department's civil rights division, Vanita Gupta, called in.

Afterward, Dayton issued a statement calling for the tapes to be released when they no longer hindered the ongoing investigation. The governor also agreed to a special session with Black Lives Matter and Neighborhoods Organizing for Change in December to hammer out policies that could help fix racial disparities in the state.
Several sources told BuzzFeed News that based on the results of the conversation Black Lives Matter had with the governor, the group was going to call for the end of the occupation of the precinct.
But on Tuesday afternoon, just hours after a shooting near the protest that left five injured, a spokeswoman for Black Lives Matter Minneapolis, Misky Noor, told reporters that the sit-in would continue.
"We will not bow to fear or intimidation. Black Lives Matter exists to fight this type of dangerous white supremacy," Noor said.
Ellison then issued a lengthy statement calling conditions at the sit-in unsafe and said the #4thPrecinctShutDown needed to "evolve beyond the encampment."
Michael McDowell, a founding organizer of Black Lives Matter Minneapolis, said that the activists were always going to do one more thing before they made any big decisions. "We said that we were going to [present] it to the community and see what they said. And they said they wanted to stay."
Black Lives Matter Minneapolis said that while they understood Ellison's frustration — according to a source, he phoned an organizer on Wednesday fuming that they hadn't ended the occupation — the consensus in the community is to not end the occupation, McDowell said. The organization's eight-member leadership is trying to be sensitive to the community's needs.
A spokesperson from Ellison's office on Thursday said he was not available for an interview on Thanksgiving, and Ellison declined two earlier requests for an interview through a spokesperson.
Ellison spoke to a live stream documenting the encampment late Thursday. Among other factors, he said, many people were exposed to poor air quality due to the fires.
"I think this is a good and righteous effort," he said. "I will tell you that I am concerned about safety. I really am. There were five people who got shot by a white supremacist the other night. That was dangerous. None fatal, thank God for that. And the next night there were shots fired. Even though I'm not 100% with this particular tactic, and I think it's certainly served its purpose, these are my folks. I stand with them. And if they're going to be out here I'm going to be out here."

Some key organizers who had been instrumental inside the occupation thought it would be a good idea "to end sooner rather than later," Gardner said. Black Lives Matter Minneapolis activists were working on a strategy to end the occupation, she said. "But then the shooting happened."
Following the shooting this week, Eddie Sutton, the brother of Jamar Clark, who was present at the governor's residence, provided a statement through Ellison's office on behalf of the family. Given the shooting, it was time for the protests to end, Sutton said.
The protesters are undeterred. Even two people who were shot on Tuesday night were back on Wednesday night, limping around the site of the protest.

Black Lives Matter Minneapolis also said it had spoken with family members, too, some of whom Wednesday were a steady presence at the protest.
The circumstances of Jamar Clark's family are also complicated. Observers said Wednesday that his family is comprised of a biological, foster and adoptive family, all of whom have been in contact with organizers of the protests.
"As with any family you can expect dissent and different ideas," Gardner said. "We've been adamant that we want to honor the family and be true to the community. A lot of the brothers who are most at risk are the ones pushing the hardest for us to stay out here."
A week ago, before the shooting near the protest site, close to 30 people, including Black Lives Matter Minneapolis and a collection of leaders that sprang from the encampment, Ellison announced that the end of the occupation of the 4th precinct was near. "In the meeting he made it seem like we were ending the occupation. He was advocating for it to end and folks weren't really having it."
Black Lives Matter Minneapolis grew annoyed with Ellison. "Folks were mad because that's not what we said we wanted to do," McDowell said.
McDowell told BuzzFeed News that ending the protest prematurely would squander the chance continue to make inroads in the community.
"We're pretty much staying out here so that we can make sure this community stays safe. If we leave it's going to go back to business as usual. So there's no way we can just pick up and leave tomorrow," McDowell said.
Gardner said they understood Ellison's position as a member of Congress. She praised his support of the community, saying that he'd been in contact with the protesters since the beginning. But Gardner stressed that releasing the tapes represents the most transparent step the Minneapolis Police Department and the city can take toward accountability.

For his part, Dayton has said the recording he has seen is inconclusive as to exactly what happened to Clark. But officials did release the names of the officers involved. Mike Ringgenberg and Dustin Schwarze are on standard administrative leave, according to the Bureau of Criminal Apprehension, which is conducting the investigation. It's not clear which officer killed Clark.
Gardner, sitting outside by a fire late Wednesday night, credited Dayton for how he's handled outreach to the family and worked closely with organizers from Black Lives Matter.
"In the history of Minnesota, we've never had a governor like this who has made a commitment to work with a group like ours and to agree to a special session addressing racial disparity," she said. "I look at those as two huge, huge, wins. It's a shift in the conversation."
"I think the problem we run into," she continued, "is that politicians here are really good at talking about racial equality, and then there are never any structural or policy changes."