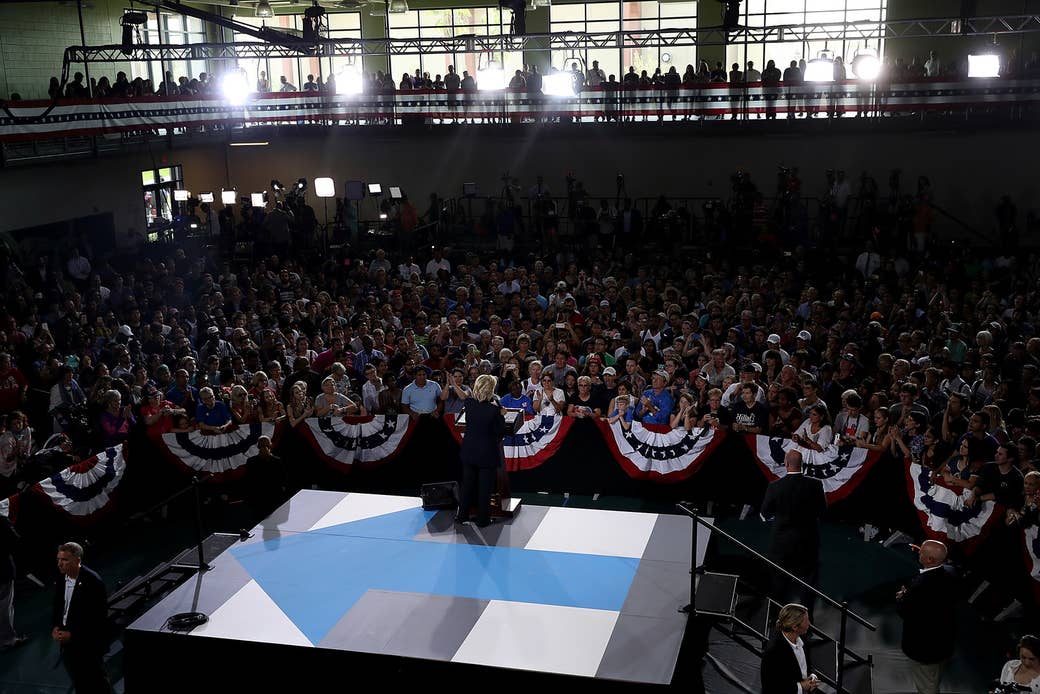 Late one recent afternoon, North Carolina Rep. G.K. Butterfield, the senior Congressional leader, hopped on a call hosted by the Clinton campaign's millennial vote team. The campaign invited students from historically black colleges and universities (HBCUs) to receive an update on the campaign and take questions. And to hear from Butterfield.

When it came to Donald Trump, three said Butterfield, the chair of the Congressional Black Caucus, didn't mince words: The man is a racist, he said.
But the thrust of the talk was generational; Butterfield proudly proclaimed that he was a baby boomer and an HBCU alum. According to one student, he said he wasn't sure how many young people were on the line — in fact, everyone on this call was both young and a Clinton supporter, and not in need of any lecture — but he conceded that they represented the largest living generation, and the election was up to them. "You've done it before," Butterfield said.
What seemed to be bothering him, according to people on the call, was something that many black Democrats have voiced privately in recent weeks, as polling continues to show Hillary Clinton's substandard performance with people under 30: Why don't these young voters don't understand that this is "the most consequential election" in American political history? Butterfield has no tolerance for apathy, and he wanted these young voters to know that.
Butterfield's lecture-like turn on the HBCU call embodies the anxiety of black Democrats firmly behind Clinton and the young black voters skeptical of her. What if these voters who helped deliver Barack Obama twice don't vote? they worry.
In turn, established black Democrats have lots of theories and ideas for how Clinton can correct this unenthusiastic support — or if it even is unenthusiastic in the first place. Many Democrats are also obsessed with the idea that some young black voters, spurred on by a burgeoning generation of activists, might purposefully boycott voting.
The frustration senior Democrats and progressive activists have with young voters spilled out into public view Thursday at a town hall during the Congressional Black Caucus Foundation's Annual Legislative Conference in Washington. Campaign Zero's Brittany Packnett, a Ferguson protester and member of President Obama's task force on community policing, pushed back at the idea that young black people are unenthusiastic about voting, citing the civic engagement that took place in the year after Ferguson. She said young aren't going to be drawn to the ballot box if they're being shamed for being frustrated.
"I'm voting," Packnett said. "But if I'm going to bring young people into this conversation, we can't just say, 'It's ridiculous that you're not going to vote' — we have to ask why."
Packnett's analysis set off Julianne Malveaux and Urban League CEO Marc Morial. Malveaux said she wouldn't tell young people somebody died for their right to vote, because they wouldn't remember. Morial said he wasn't going to "dismiss the notion" that young voters are frustrated, gestured toward Packnett, and added, "You're not the first generation of young people to be frustrated."
"The idea that some people would not vote, there are people saying, 'Yeah! Please don't vote! That's a great strategy," he added, sarcastically. He continued, saying that voting was a responsibility and the fact that someone died for their right to vote is important for young voters to understand. "It's not like buying ice cream. It's not like texting somebody. It's not a call on the cell phone." After panelists tried to get a word in, Morial grew agitated. "It is not a viable strategy for black people to withdraw from voting."
Next, Dr. Melina Abdullah, a college professor, chimed in saying she was voting, but that progressives have "a responsibility to run better candidates. How about that?" (Malveaux and Morial shouted back: "Well, run for office!")
She said that it's hard to engender enthusiasm in an election in which the choices are based on which candidate is the "lesser of two evils."
Later, Packnett sought to clarify her position, saying it had seemed she was misunderstood amid frustration about young people not being enthusiastic about voting. "If we want young people to vote, now and in the future, it means conversations with them must be inclusive and understanding," she said in an interview with BuzzFeed News after the town hall. "That's the way you are effective — by ensuring conversations honor our diverse issues, opinions and identities. That's the point I was making, because how effectively we engage young people in voting will have effects not just in 2016, but for years to come.
Left unmentioned was Clinton herself, but she looms in many of these conversations. Clinton isn't particularly popular with young voters of all races, and though some polling indicated she did significantly better than her primary opponent with young black voters, she did not do nearly as well with them as she did with older black voters — all the while becoming a prominent target for activists over her husband's tough-on-crime policies, which she defended in the 1990s. Younger black voters overwhelmingly despise Trump, but while Clinton's messaging and advertising has played into just that sentiment for much of this year, that's not enough for many. The choice is now less binary: Many young black voters are most interested in grassroots politics devoted to eliminating racism, and fixing problems with policing and the criminal justice system.
Rashad Drakeford, a former member of the Obama Administration, oversees Revolt TV's "Revolt 2 Vote" initiative, which conducted research focused on young voters of color. Drakeford said the study found that among those who said they were not engaged in the election, half of the respondents said it was because they "couldn't find truth in the noise of the media's political coverage," and a third said it's because "nothing will change regardless of who gets elected.'"
"The biggest thing the Clinton campaign has to convey over these two months is 'Why Hillary?' without [the answer being] 'Trump,'" he said.
And that's where the outside efforts and outside theorizing about what might help make the difference come in. Some groups are leaning heavily on the anti-Trump case. For instance, BlackPAC will be making a stark case for voting, with an argument that basically goes: "You can stay home and allow a racist, misogynist to become president or you can vote for a the candidate best equipped to act on a black agenda," said Gabby Seay, an adviser to BlackPAC. Meanwhile, Color of Change's Rashad Robinson announced the organization's first-ever "Black Battleground State Text-a-Thon" designed to turnout young black voters at a launch event in Washington, D.C., on Tuesday. Attendees are encouraged to bring their laptops to engage with black voters everywhere on their cell phones.
A Clinton aide said turning out black voters has been a "core focus" since the primary, and that organizing efforts are heating up in states with large black populations like North Carolina, Virginia, and Florida, but also in states like Nevada, Wisconsin, and Colorado "which black voters could provide the margin of victory due to their overwhelming support for Secretary Clinton." In Pennsylvania, staff visited barbershops and beauty salons to register voters and recruit volunteers with the rapper Freeway and actor Sean Patrick Thomas, and Clinton has targeted young black voters by granting an interview with, for example, The Breakfast Club, a popular syndicated morning radio show with a heavy digital presence. The campaign is currently in talks with Revolt TV to have Clinton address issues affecting young black voters.
"Events will include everything from sneaker store voter registration parties, issue roundtables, issue brunches and black girl magic meetups," a Clinton aide said. "The campaign will create a space where young people can take ownership of this election and build a pipeline for continued engagement from now, to GOTV and beyond."
Other Democrats think what Clinton really needs to do is couple an agenda for black voters with her message. Others think it's more about meeting people where they are.
"She needs to do two things: inspire and invest," said Democratic donor and activist Steve Phillips. "The inspiring happens by championing the issues young people of color care about, and she needs to visibly embrace as much of the Black Lives Matter agenda as possible. The investing involves hiring hundreds of young people of color to do organizing and mobilizing among their peers." He contended that people don't appreciate Obama's actual margins of victory in key states like Ohio, Florida, and Virginia.
"I do not hear the enthusiasm to the degree that I would like," Rev. Al Sharpton said. "I do a lot of speaking at rallies and schools and even to young people at NAN, and I'm not hearing the kind of determined fervor that I heard in 2008 and 2012." He said there has to be a clear reason for young black voters, and a connection between her policies to the issues they care about. One troubling sign to him: "When I looked at the VMA Awards, every star you could think of and not one time was voting mentioned. I think these are the kinds of things that cause concern. I'm not panicked yet, but I'm very concerned that if we don't turn it around in a close election anything could happen."
Rep. John Lewis thinks it's all just nerves. "(President Obama's) going to be out there for us and that will include HBCUs — and so will Michelle Obama," said the aide. "Her polling is off the charts." Lewis believes it's key. "The president of the United States Barack Obama made one of the most amazing appeals yesterday in Philadelphia. He's going to be out on the road carrying the good news. They will turnout. I'm very hopeful and optimistic that they'll turn out."
Still, there's a case for voting that goes beyond the presidential race. Rev. Jesse Jackson stressed the importance of voting to a gathering of young black voters Wednesday at a National Action Network reception — and said the ballot is more important than just who is at the top of the ticket. "We would be unwise to let someone talk out of our hand the winning card," Jackson told BuzzFeed News. "The vote is the winning card. It's not the only card, but it's a game changer." He said Ed Hanrahan, the state's attorney in office during the time Chicago police killed Black Panther organizer Fred Hampton. "He was on the ticket and we voted him out of office."
"It's the same thing for [Anita Alvarez] who laid back on the Laquan McDonald case — we voted her out of office and put in Kim Foxx, and the same thing happened in Cleveland. So it does show that when the vote is aptly applied, it matters."
But the question of efficacy plays heavily, as well. Rep. Yvette Clarke of New York says she's talked to young voters in her district about Clinton's determination to get things done — but noted that her constituents have been faced with a lot of battles. "Whether it's in education, criminal justice, where they're looking for the immediate gratification of what the vote can produce," she said. "So they would look at what has President Obama done and because maybe they haven't seen how the Federal Bureau of Prisons has changed, it's not as tangible for them."
"This is not a beauty pageant," she continued. "This is about power and how you leverage and use power. If we're there for Hillary Clinton I believe she has an obligation and responsibility to make sure that our issues are top on our agenda."
She'll be looking closely at the turnout number for young people, a significant portion of which is young and black. It'll be motivational — not a lecture.
"I tell my constituents, 'Listen: Don't embarrass me.' My message is that we have got to make sure that we hit that bar that we hit for President Obama. And exceed it."