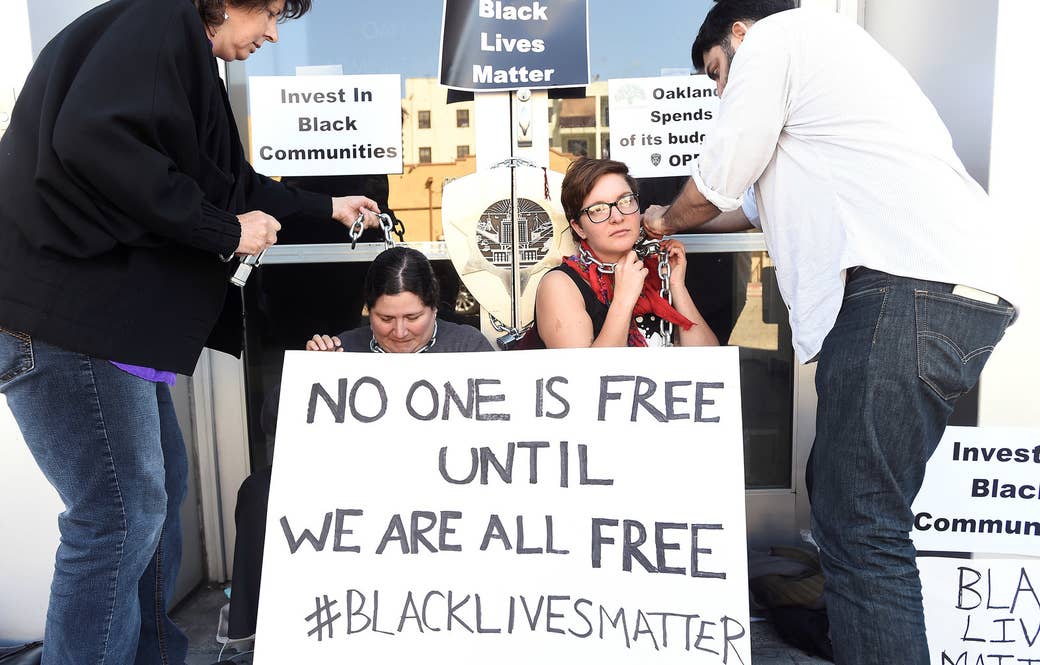 Organizations in the Movement for Black Lives took part in actions around the country and abroad Thursday as part of #FreedomNow, a day of action planned in the wake of high-profile videos of police killing black men and police being targeted that drew the attention of President Obama and gripped the country.
In Cleveland, a group of young people sat in a semi-circle in a studio just west of the Republican National Convention, and spoke about the shooting's effect on them and about the American Dream.
In Washington, D.C., women from Black Youth Project 100 and BLM DC occupied the legislative office of the National Fraternal Order of Police on Capitol Hill.
In Oakland, demonstrators chained themselves to the door of the police department headquarters, holding a sign that read "no one is free until we are all free."
Lead organizers inside believe the movement to be squarely at an intersection: Activists can't allow there to be a public perception that they advocate violence against police officers, while a lack of action could spell the end of the movement altogether.
In interviews with nearly 20 organizers, leaders described Thursday's demonstrations as a method to avoid characterizing the movement broadly as anti-police — or even hostile or violent towards officers. But leaders also described exasperation at how fatal police shootings aren't decreasing and that there has not been mass action to reduce them, saying #FreedomNow was also a way to put the weight of the movement to bear on local-, state- and federally-elected officials to do something tangible.
Leaders spoke less about tactics and more about honing in a specific message to activists leading up to #FreedomNow. The movement's messaging experts logged long hours in the days leading up to the action, providing talking points, catching up on specific cases where a police officer had killed someone, and even posting on Medium a statement that the movement has never called for attacks on police and questioned the outcry after a police officer is killed versus when a black person is killed.
"This movement has never called for the execution of law enforcement officers. Never. Still, many want to place the blame at our feet," the post reads.
At turns hopeful, frustrated, and professorial in his address memorializing the five fallen officers in Dallas, Obama attempted to defuse some of the tension between police officers and the movement. "But even those who dislike the phrase 'Black Lives Matter,' surely we should be able to hear the pain of Alton Sterling's family," Obama said adding that "we have to do what we can, without putting officers' lives at risk, but do better to prevent another life like his from being lost.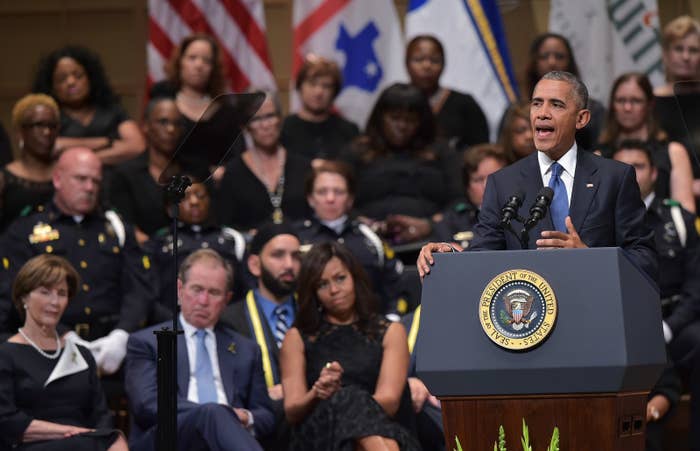 "With an open heart, we can worry less about which side has been wronged, and worry more about joining sides to do right."

The movement had hoped to also get Obama's attention with actions on Thursday. Movement organizers were highly critical of the town hall on race hosted by ABC News, and questioned the treatment of Erica Garner, a high-profile activist and the daughter of Eric Garner, a New York man who was killed when he was choked and brought to the ground by an NYPD officer.
Activists who spoke with BuzzFeed News say they feel his legacy should include taking meaningful steps "and not just presiding over the conversation" as one activist put it.

"For people who had been in the streets, the frustration with Obama and other elected officials was there are things they can do to transform our communities and they're not doing it," said Mervyn Marcano, a spokesperson for the Movement for Black Lives coalition. "Around the country, if you look at some of these budgets and start thinking about policy, folks felt like this was the time to start talking about divestment."
But organizations tethered to the nationwide, diffuse web of organizations referred to as Black Lives Matter or the Movement for Black Lives, many have, in some form or another pushed for a broad reduction in spending on police that rankles police unions and elected officials and local find specious, if not implausible. But organizers like to say that resources that come from a decrease in police spending could be redirected into programs and institutions that reduce crime and invest in the black communities where the police are often viewed as an oppressive, sometimes militarized, force.
They're not alone, though, in thinking that too much authority has been directed toward the police.
When Dallas Police Chief David Brown said, "We're asking cops to do too much in this country," it struck a chord with movement activists. Since the founding of the hashtag #BlackLivesMatter in 2012 — and a definitive wave of protests after the August 2014 killing of Mike Brown in Ferguson, Mo. — grassroots organizing has seldom included law enforcement sitting at the table. Activists have all sorts of ideas about reducing the police presence in communities, spending less on police, and forcing the police to cede types of authority.
But in recent months, another idea has entered the consciousness: Could the answer be working closer with police jurisdictions locally?
"Maybe (that's the answer), to be honest," said one activist, who spoke on the condition of anonymity to they could speak openly about such an arrangement. "What Chief Brown said was really important to us. Police are doing too much. They're called upon to be social workers and deal with situations they are not trained to handle and they shouldn't be."
"In the wake of these tragedies, we echo Police Chief David Brown in that police officers tasked with protection and service to our communities are overburdened with too many of the challenges faced by our society."
Another well-known activist shaken by the shooting of officers told BuzzFeed News that if working with police on the ground results in less dead civilians, movement activists should consider that as a model. The focus, the activist said, should be on solutions and not on finger-pointing police as the problem.
Peter Haviland-Eduah, the policy director of the prominent, New York-based Million Hoodies Movement for Justice, told BuzzFeed News that Dallas exposed a need for more investment in communities where police presence is seen as a cure-all. Haviland-Eduah said over-policing and hyper-aggressive policing tactics as the rule of law inside communities block chances at restorative justice through education and economic opportunity.
"In the wake of these tragedies, we echo Police Chief David Brown in that police officers tasked with protection and service to our communities are overburdened with too many of the challenges faced by our society," Haviland-Eduah said. "It is not the job of law enforcement to fill the porous gaps in our policies and practices that disproportionately impact communities of color and our country's most marginalized populations. It is in this spirit that we renew our call to invest in our communities across the nation in order to prevent these ills from transpiring again the future."
In a lengthy interview with BuzzFeed News, Thomas L. Glover, Sr., the president of the Black Police Association of Greater Dallas (BPAGD), said he was eager to see how the killing of officers transformed the movement and its relationship to law enforcement. Glover said he believed that white officers should "understand that [people] can dissent and disagree with enforcement without being anti-law enforcement," Glover said. The message from activists, he said, should be: "We're all pro-police, but against police misconduct and police brutality and that it's okay for us to co-exist with two different opinion."
"We should welcome any citizen group, whether they dissent with the views of a majority of police officers or they concur," Glover said. "Our organization wants to bridge the gap between the police and the community and have been since we were founded 40 years ago."
Glover said he believes there should be a national standard for police use of deadly force, echoing a recent push by Campaign Zero activists Samuel Sinyangwe, Johnetta Elzie, Brittany Packnett, and DeRay Mckesson. In a meeting at the White House, Mckesson asked the president if he would consider it. (Obama directed the Justice Department to look into what could be done on a national standard, and the department is pushing for national and consistent data on lethal use of force to promote transparency, but department officials did not provide an update on the status the president's directive.)
"The people in the community with the complaints should be the ones telling us what we should do to straighten it out," Glover said. "And if it's within guidelines, we should do it. If it's not within the guidelines, we should determine why it's not. But whether it's a policy change or a law change, let's do it. If we can't get it done let's vote for people in office who can."
"The people in the community with the complaints should be the ones telling us what we should do to straighten it out. And if it's within guidelines, we should do it."
Activists who promote the right leadership with credibility both inside communities and with the police are gaining traction with the Dallas Police Department after the killing of the five officers.
Antong Lucky, co-founder of Urban Specialists, says the glaring dearth of leadership of activists with credibility both law enforcement and the movement and communities, has created an "us versus them deal" that's going to take us into a dark, dark place as a nation."

Lucky, whose work has received the support of House Speaker Paul Ryan (the two met during a Dallas stop of Ryan's anti-poverty tour) believes that the mischaracterization of Black Lives Matter as a hate-group and the subscription by some in the movement that police killings of black people are part of a calculated, shadow campaign by law enforcement has created the atmosphere between the two sides that has showed its effects this summer.

"I do believe that the issues that Black Lives Matter is addressing is relevant, I just think that without he necessary instruction and guidance it's easy for other people in the media to blackball them, or label them a terrorist or hate group," Lucky said. "Some people use that hashtag to spew some pretty loose rhetoric and it's unedited and unfiltered and it's doesn't really stand for policy reform and police accountability. We know that's not what it stands for and it's unfair for us as Americans to just watch that happen and not doing anything about it.
"In my heart I don't think believe the true activists have a hatred for police," Lucky continued, "but when the media and other people keep grabbing that narrative, it makes for good ratings but not progress."

The day before the Dallas memorial, the group Urban Specialists met with the Dallas Police Department's community relations office with the message that they believed Micah Xavier Johnson, the shooter of the five officer, had subscribed to the belief that the shootings were part of a concerted effort on police departments to kill black people. A spokesperson from the department said it was a useful meeting, a dialogue it will continue.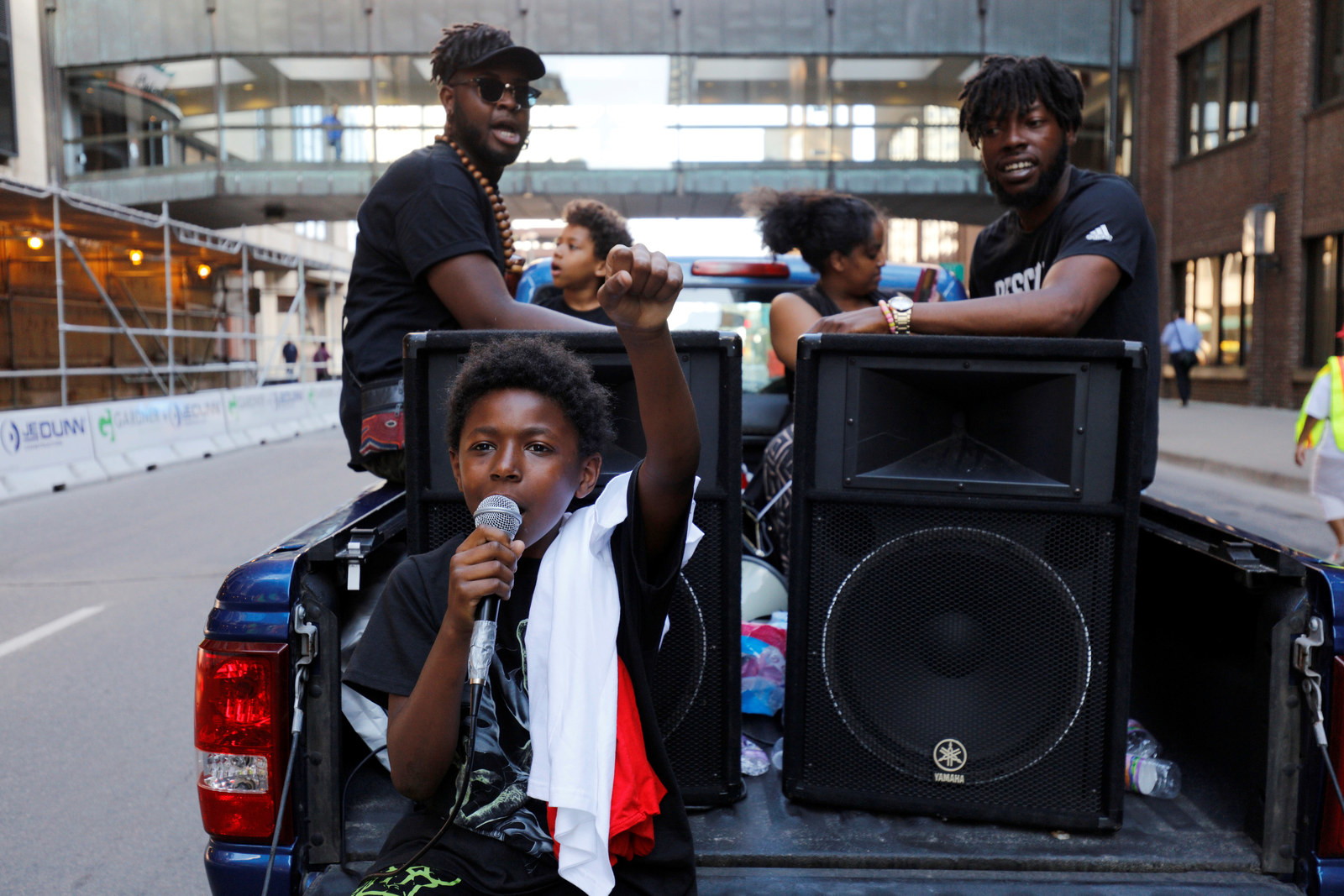 The Urban Specialists believes that it's an insidious narrative — one that, cultivated in the mind of the wrong person, as we've seen, could have devastating results. Instead, Urban Specialists are making friends inside the Dallas Police Department: Urban Specialists wants to take officers that walk the beat in urban areas and pair them with an organizer with credibility in the streets and the department.

"We can't let the wrong people take this narrative and keep bumping heads because the outcome is real," Abdul Chappell, an activist with Urban Specialists. "I'm out here in full support because I know what they're doing is real."
The group is recruiting people who are credible in the streets in communities. "A lot of people have passion but they don't have the strategy," Chappell said. "So our job is to take the validity of their passion and match it with the right course of action."
Whether that model, or more collaboration between officers and activists is the key to achieving concrete changes, activists and law enforcement agree that something has to change in a summer that no one knew was coming.
"It really opens your eyes to what the real target is," Glover said. "And it's not each other."