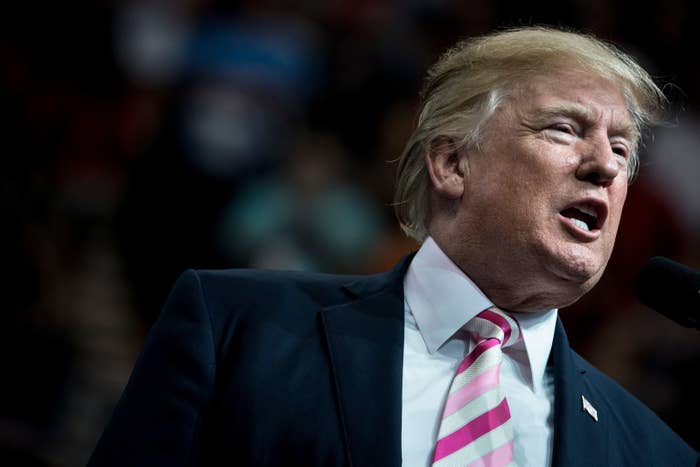 There aren't any specific policies about locker room music for the entire NFL, and sources with knowledge of player experience said that the issue is dealt with on a team-by-team basis.

So what would happen if players wanted to play "FDT," which stands for "Fuck Donald Trump," in the locker room?
Last weekend, a source close to the league told BuzzFeed News that a set of players were being advised not to play the song in the pregame or postgame locker room.
But BuzzFeed News never found anything that corroborated that rumor.
In the process of trying to figure it out if this were really a thing, though, we asked teams and other sources: What if players did play the song (or one like it)? Would they be allowed to do so?

The inquiries were made to journalists, former players, the National Football League Players' Association and all 32 teams. The rapper YG released the song in spring 2016. The song also features Nipsey Hussle, and an "FDT Part 2" was released later in the year. The song is very clear on how they feel about President Donald Trump.

Only one team — the New England Patriots — responded to the email inquiry; head coach Bill Belichick, as well as owner Robert Kraft and star quarterback Tom Brady all count Trump as a friend.
Asked about team policy related to locker room music, and alerted specifically to the content of the YG song, Patriots spokesperson Stacey James said in an email to BuzzFeed News, "I think players are respectful of others when playing their music in the locker room. As far as I know, we have never had to establish a policy. If ever it became a problem, I am sure we would."
Three organizations contacted by BuzzFeed News by phone strongly doubted the team would comment on anything related to either Trump or the White House.

The situation between the league, players, and the White House remains tense after Trump essentially referred to protesting players like former 49ers quarterback Colin Kaepernick as "sons of bitches" during a campaign rally in Alabama.
Activist attention is increasingly centered on the motives and actions of NFL owners, several of whom, activists note, have donated to Trump's campaign and inauguration.