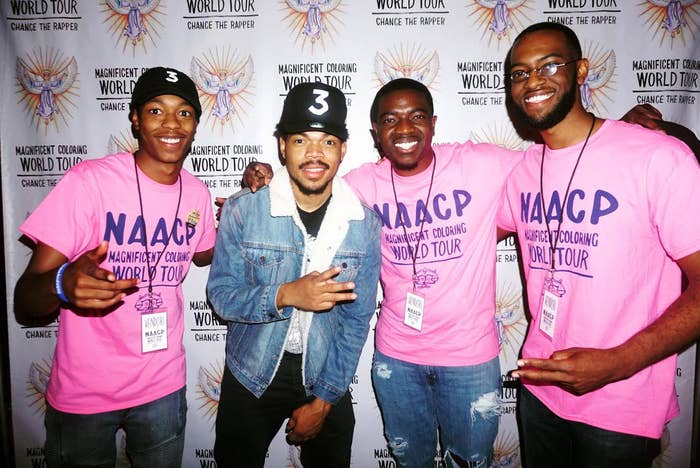 FAIRFAX, Virginia — "Yoo, we're about to go meet Chance," said Stephen Green right at suppertime on Thursday night.
Green, the national director of the youth division of the NAACP and the manager of the organization's #staywokeandvote campaign, was hustling volunteers to a meet-and-greet area where Chance the Rapper awaited, relaxing before his show.
Hours earlier, Billboard reported that Chance was voting for Hillary. Giddy Clinton staffers in Brooklyn messaged reporters if they'd seen the quotes. ("She has a certain sincerity that's hidden by the media," said Chance. The quote suggested that Chance had met her, though a pair of Clinton officials wouldn't say.) Last month, the 23-year-old Chicago native announced he was teaming up with the NAACP to register "thousands" of young voters at his Magnificent Coloring World Tour. "This is super important to me because I want my fans to know that their voices matter and that their vote counts now more than ever," Chance had said.
And that's where Green and the volunteers came in.
"I appreciate what you guys are doing because it's sooo important," said Chance, who presented like they'd all expected: frizzly mustache; a black t-shirt under a denim jacket; his signature hat with the number '3'; his 'fro peeking from the sides; his signature genuineness; a killer hug. "It was very personal," said Sydney Jones, an American University freshman. "It felt like we knew each other forever, you know? It was powerful." One girl hugged him four times. ("And he was, like, cool with it," one onlooker said.)
The meeting lasted for about five minutes. And off they went, armed with bright pink shirts, clipboards, and voter registration forms.
But registering voters in northern Virginia on Thursday night proved to be a little less exciting.
"Should we go to North? Because, like, what are we doing?" Jones, who'd grown tired of not registering anyone outside the doors of George Mason University's Patriot Center. She'd passed Zack Grays, a 55-year-old man from Greenbelt, Maryland, who is already registered and planning to vote for Clinton. He was dressed in a t-shirt with Colin Kaepernick kneeling in front of a backdrop of the American flag; written on white stripes of the flag was the names of Sean Bell, Tanisha Anderson, Philando Castile, Sandra Bland and Tamir Rice. "I just seen him on the ESPYs," said Grays of his Chance's tribute to Muhammad Ali. Grays called his daughter to the TV that night, pleased his 15-year-old has good taste in music. "He's aight with me."
Inside, near the South entrance, a handsome Howard University student (he declined to give his name), was having better luck with young voters, particularly with the ladies. "Guys don't register," he observed. "I mean they, do. But I'd say, out of every 10 girls, one guy will register. It's hard getting guys to vote."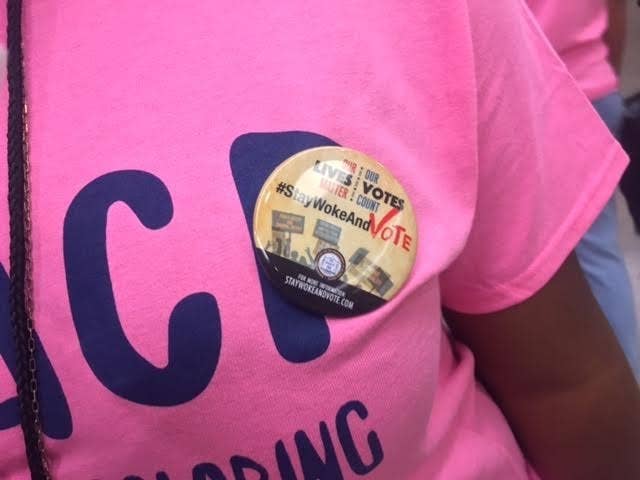 The students had congregated in front of the sole registration table in the arena. It had forms, buttons and a banner that read "Our Lives Matter" and "Our Votes Count." By 8 p.m., there had been enough voter contact to share stories from the field and excuses. "One guy said, 'My mom won't let me vote,' said Jones. "I was, like, what? It sounds like there are other things we should talk about.'"
If people were ready to vote for Clinton on Thursday night, it wasn't necessarily because of Clinton. Georgetown freshmen Khendrick Beausoleil and Larry Taylor saw a classmate volunteering at the table when they decided to register. They're going to cast ballots for Clinton because they believe her agenda is better for black people than Trump's. "He was the first one to present stop-and-frisk as a policy proposal," said Taylor. "At least her plans to improve the relationship between the police and the community will try to deescalate what's happening right now."
Meanwhile, Green nervously shifted his '3' cap on different angles on his head, checking his phone, and contemplated a beer. "They're complaining that people aren't registering," said Green, a Morehouse graduate. Earlier that day, he spoke on a panel with former Bernie Sanders press secretary Symone Sanders, interim DNC chair Donna Brazile, and the activist DeRay Mckesson about young voters and the election. Of late, he's been thinking about strategies to make some of the energy that's come out of the youth protest movement that will keep young voters involved through the first 100 days of the next presidency and beyond. "I'm really trying to figure out how to keep people engaged. Like, looking at state and local elections in 2018 or 2020, can we create a movement to get participation up? More and more I'm just thinking about, what are we doing to create political power? Can we give them a candidate?"
When the arena went dark, a stampede of fans headed to their seats. The volunteers were a little tired, and some stayed behind to sit at the registration table and decompress as Chance hurtled into his set.
The ones that went inside, though, caught the experience that is "Cocoa Butter Kisses" — part revival, part turn-up. From the stage, Chance demanded his young fans sing louder, louder, bathing them in pastel light sequences, almost all of them pink. "Louder than that! More enthusiasm!"