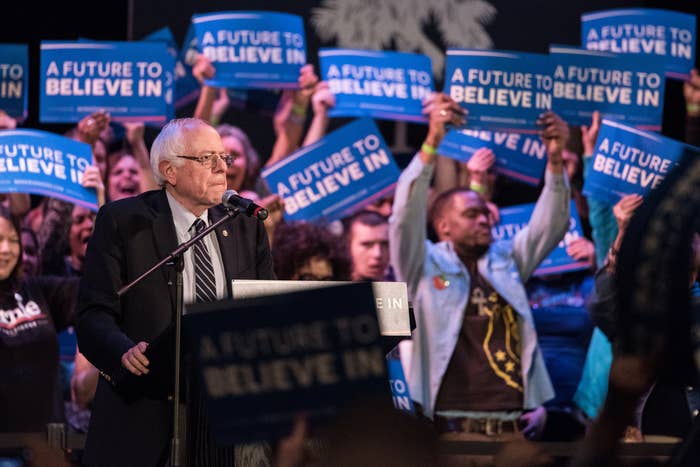 ORANGEBURG, South Carolina — As night fell, and as the Sanders campaign headed to Columbia, campaign surrogates remained quietly optimistic about their candidate's chances heading into a tough primary here Saturday. But a question accompanies wistful contemplations about what could have been: What if Bernie got here sooner?
It's a question bandied about by a few loyalists and high-profile surrogates supporting him here, and a natural one. Sanders, a virtual unknown in South Carolina just months ago, climbed to respectability. Clinton people aren't exactly worried, but he's made it a contest that, at the very least, can likely be spun into a narrative about growth and gaining ground. Campaign officials, already test driving such statements privately, will try to create more momentum with them into Super Tuesday.
Bernie Sanders and his team left a rally at Claflin University here and crashed Solicitor David Pascoe's Annual Oyster Roast and Fish Fry at the Orangeburg County Fairgrounds. As his campaign was arriving, Hillary Clinton's left.
Sanders's appearance was mostly unexpected; campaign officials only told reporters he was confirmed while still at Claflin, a sparsely attended rally attended by about 300 supporters, including Aria Dillard, Miss Claflin University (officially: undecided) who was in full regalia. At the roast, after a rousing address by surrogate Killer Mike, the candidate grabbed the mic: "I'm Bernie Sanders." He flashed his wide, toothy grin, as if to know, fully, where he was: In a state where few know him and where he will be happy to walk away with a loss in the single digits.
And yet it was a jarring self-introduction for a candidate who has consistently drawn crowds in the thousands at his rallies, whose slogans on the campaign trail are recited back to him and who has become a singular pop culture phenomenon after living in relative obscurity as an independent senator from the one of the least populated states in the country.
Two surrogates with Sanders said they think Sanders would have benefitted by coming to South Carolina earlier and more often.
"The important thing to keep in mind is that Bernie doesn't have to win South Carolina to become president and Hillary Clinton does," said state Rep. Justin Bamberg, who once supported Clinton. "He started at 6% and he's grown substantially here. I wish he had more time because the gap would have been closed even more."
"Unfortunately, there are 50 states and every one of them is important."
BuzzFeed News was first to report that State Sen. Joe Neal had endorsed Sanders at the beginning of February. Even then, Neal was lamenting that time was not on his guy's side. "I hope he will close the gap and I'll be trying to help him do that as much as I can. It's late in the game and I recognize that," Neal said. "I wish he'd been here earlier."
Dr. Mitchell Mackinem of Columbia who is a professor of sociology at Claflin who attended the rally, said he agreed that while Sanders has a majority of support among students on campus, coming to campus earlier would have started a more intense conversation amongst the student body. (Sanders did make it to other HBCUs in South Carolina.) "They haven't seen him until now," Mackinem said. "It's good the conversation is happening now, but it could have started 6 to 8 weeks ago."
"That's a challenge because he's only one man," he said.
On the rope line at Claflin, all kinds of supporters took selfies with Bernie's wife Jane. "Wish him well! Wish him God's speed!" one voter, jacket full of Bernie buttons told her. When Jane saw a young voter, she lit up and talked with her before posing for a picture.
"You can only go as fast as you can go," she told BuzzFeed News, echoing a similar sentiment on the question of whether they should have invested more time in South Carolina that was also delivered by her husband when asked the question himself by BuzzFeed News on a campaign call with Ben Jealous.
Jane Sanders said that while Clinton is the best-known candidate, she'll be watching to see how far he's come here, where he started in the single digits. "We'll see if that's correct," she said. "I wish there were 48 hours in the day. That would be fantastic."
Danny Glover, the campaign's HBCU coordinator who presided over the festivities at Claflin, said 500 people went to a Sanders rally at South Carolina State, even though the candidate wasn't there. But some voters at the oyster roast said, in fact, seeing him in person had solidified their vote. For others, it made them give Sanders a second look.
One undecided voter, Gracie Franklin, 63, of Orangeburg, said she would as Sanders wrapped up his speech. "It's hard to say," she said, trying to pinpoint what Sanders had aroused in her. "He's an older person to me. You wonder if he can do the job for four years, as opposed to his opponent."
Still, she has seen him on TV, and the impromptu appearance at the oyster roast raised questions. "I don't think there's going to be no $15 minimum wage. I don't think that gonna happen. It's been a long time since we had a raise." His surrogates on stage with him, mostly black, had no effect on her ("Everyone has a choice," she said.) But something about the occasion — about the spectacle of it — made her say she's going to take time at home Friday night to think harder about her vote. "I guess you could say anything could happen," when she steps in the booth tomorrow, Franklin said.
A little 10-year-old black kid named Chris was waving two American flags outside of the venue. He had felt the Bern.
"I like what he was saying about black people and about equal rights," he said. He'd seen Clinton, too, but was less impressed: He put a flag in his mouth and wiggled his hand as if to say "so-so."
Mario Backmon, a veteran from Orangeburg who said he will be voting for Sanders on Saturday, said he had heard Killer Mike was campaigning with Sanders, but was struck by seeing the pair in person for the first time. He was also impressed by how much time Sanders spent with the crowd shaking hands and taking pictures.
"She said some keywords that got my attention, but Bernie didn't sound scripted," he said, alluding to Clinton. "But Bernie just felt genuine, you know? To be able to feel it? That was amazing! To be able to feel the Bern in person?"