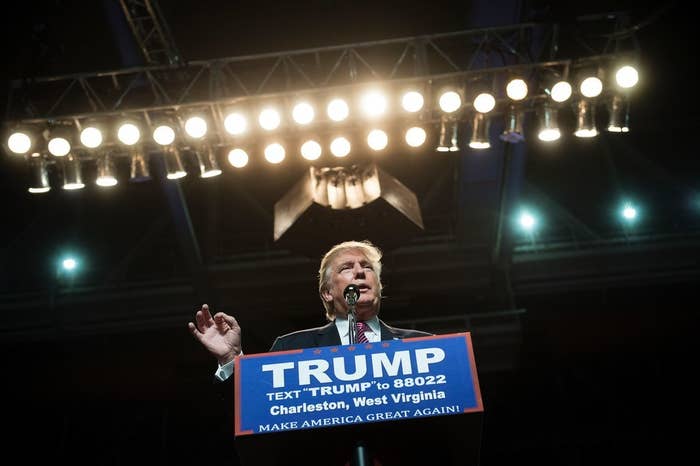 WASHINGTON — A group of top black Republicans is moving quickly to coalesce around Donald Trump — despite initial reservations about the presumptive nominee.

In Washington, party officials are already working to address black conservatives' concerns and attempt to put Trump in front of black audiences this year. The message from the RNC is sunnier than most public polling: Trump, the line goes, could win 15 to 20% of the black vote in November.
Many black Republican operatives — a small but boisterous faction of the party — are skeptical of the candidate and his motives. But what was less than a month ago a palpable reluctance to support Trump has morphed into an effort to exert pressure on his campaign to begin to talk their issues.
Last month, close to a dozen black Republicans descended on Holly Knoll, an estate in Gloucester County, Virginia, about 60 miles east of Richmond. The property belongs to the Gloucester Institute, which was founded by Kay Coles James, a top Bush administration official. The group of black conservatives began meeting three years ago, according to Elroy Sailor, a former senior adviser to Rand Paul's campaign for president.
Now, however, the group is focused on the presidential election.
A source with direct knowledge of the retreat — which took place before the Indiana primary, when it looked like a brokered convention was still a possibility — said most of the discussion was focused on getting black Republicans more involved in electoral politics in the future. But those present agreed on what their next step would be, regardless of the primary outcome.
"Many people there had worked for or given to different presidential campaigns in the primary," the source said, "but there was pretty strong consensus that we were going to support whoever the nominee was going to be — whether it was Cruz or Trump."
It's Trump — and they're going to work with him, using the resources and connections at their disposal.
The latest gathering at Holly Knoll was the third such meeting between the conservatives. Separately from the retreat last month, organizers say the brain trust of black conservatives is comprised of established leaders like Michael Steele, former Florida Lt. Gov. Jennifer Carroll, former presidential candidate Herman Cain, former Oklahoma Rep. J.C. Watts, and Coles James. Younger black Republican operatives also are part of the group — including Charles Badger, an outreach specialist for Jeb Bush's campaign and Ayshia Connors, who was recently elected to head up the Congressional Black Republican Association.
The group believes a slate of proposals or advice will reach Trump's desk with the help of influential people in his orbit, including Dr. Ben Carson.
"We think there's a large group of people waiting to see how [Trump] will evolve," said Sailor, who confirmed the retreat took place. "But our leadership present at our last retreat know the problems in our communities, and we have solutions. We expect by passing (along) our institutional knowledge that you will see our fingerprint on good policy" in the Trump campaign.
Sailor said of the movement, which includes influential leaders and emerging operatives, is akin to "building a farm team."
He and others say they're prepared to advise Trump on everything from the transition to staffing his campaign with experienced black operatives. At a future meeting, Sailor said there will be time slotted to help funnel black staffers to the RNC, or Trump's campaign.
Still, there is plenty apprehension about his candidacy — from the re-emergence of white supremacist groups, to an endorsement by former KKK Grand Wizard David Duke (which Trump eventually, but not immediately, disavowed) and a racist threat toward President Obama by one of Trump's former employees.
"I'll be honest, there are mixed emotions," said Sean P. Jackson, the chair of the Black Republican Caucus of Florida. "Part of it is some people just don't think he's trustworthy and are discontented with the rhetoric he has portrayed in these past eight months. They feel there's racist sentiment based on his lack of immediate disavowal of David Duke."
At the RNC, officials aren't ignoring these concerns. An RNC source said dozens of black activists and party officials called the RNC in recent weeks frantic about what to do or say about Trump. Others have voiced their concerns publicly. But the message out of Capitol Hill is clear: Trump can reasonably get between 15 to 20% of the black vote in the general election against Hillary Clinton, the party's new national director of African American initiatives and media has been telling concerned parties, according to a source familiar with the discussions.
But they agree he needs to speak up on a range of issues — and fast.
The RNC is mapping out a plan for Trump. Telly Lovelace, the RNC's new director of African-American initiatives and media, has been engaged in negotiations for Trump to appear at gatherings of the NAACP and National Association of Black Journalists, for instance, this summer. "Both the RNC and DNC are being extended invitations for the candidates to speak to convention attendees," Aprill O. Turner, an NABJ spokesperson told BuzzFeed News. Republicans predict he'll address the issues of criminal justice, job creation, and school choice. (Some party officials and activists say they want to hear from Trump on those issues before they do any work to get him elected.) They also acknowledge he is as unpredictable a candidate as they've seen.
An RNC official also said a small percentage of black staffers who went through its Republican Leadership Institute is set to bolster the party's organizing operation in some key states.
The RNC said they're going to unite the party around Trump. "The Republican National Committee is committed to providing the necessary resources to help Mr. Trump defeat Hillary Clinton this November," Lovelace wrote in an email statement to BuzzFeed News. "The RNC will work to unite the Republican Party — including African-American Republicans — to support and help elect all Republican candidates this cycle."
A Trump spokesperson did not respond to multiple requests for comment about the campaign's black outreach. But several of the black Republicans BuzzFeed News interviewed for this story said Trump representatives told them the campaign's priority was to close out the primary process before pivoting to strategy on black voters.
A veteran black Republican strategist backing Trump said the party can't go back to getting just 6% of the black vote, as Mitt Romney did in 2012. The strategist said Trump's campaign will target black independents and Democrats who are displeased with Clinton. "The trick is going to be figuring out if can we get them to support Trump or at least get them to stay home," the strategist said.
Many other Republicans interviewed by BuzzFeed News sound more like Jackson. "I need Trump to be sincere about wanting to focus on key issues important to the black community, and to get serious about appointing a liaison to work directly with us," he said. "We just haven't gotten that far yet."
Niger Innis, a Sailor ally, said Trump had "tremendous appeal" to the black community, especially to young black men who are underemployed or not employed at all. "There's been a lot of talk about the angry working-class white men" fueling Trump's emergence, he said, "but there's a lot of frustrated, angry black men out there, too."
Tarini Parti contributed reporting.