Walmart Execs Relieved Sanders Pulled His Punches At Sharpton Convention
Executives from Walmart, a big time sponsor of the Rev. Al Sharpton's National Action Network convention, were nervous Bernie Sanders might go on the attack about Walmart in his pitch, as he is wont to do. Bernie camp says they just got a free pass.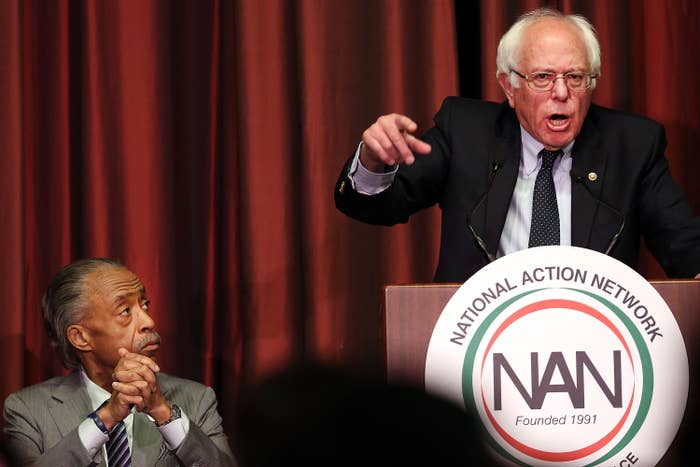 NEW YORK — Walmart executives are relieved Sanders did not mention Walmart or the Walton family in his Thursday address to the National Action Network (NAN), a pair of sources tell BuzzFeed News.
Walmart is a major sponsor of the NAN convention, which is celebrating its 25th anniversary. Employees inside Walmart's public and corporate affairs departments had grown increasingly concerned about Sanders' address, a Walmart source said, adding that they suspected he would inject his typical rhetoric about the retail giant to an audience with whom they had cultivated a relationship over the years.
Walmart said they had no interaction with NAN regarding what Sanders might say. "We didn't have any conversations with the folks at National Action Network regarding their speakers," Walmart spokesperson Kory Lundberg said in an email to BuzzFeed News.
An email message to NAN was not immediately returned.
A spokesperson for the Sanders campaign said the fact that Sanders left the oft-used point out of his Thursday speech is "not that deep" and that NAN representatives had no contact with the Sanders camp about what could or could not go into Sanders' address.
The subject of Walmart is a staple in Sanders' stump speech. He likes to cast Walmart and the Walton family as a symbol of the kind of capitalism and greed he believes is rampant and corrupting the political system. "Today in America one family, the Walton family of Walmart. You all heard of Walmart. This one family owns more wealth than the bottom 40 percent of the American people," Sanders said in a recent speech in Norfolk, Va.
"It is the middle class paying more taxes to subsidize Walmart's poor, unfair business practices," Sanders said at a Syracuse rally on Tuesday. He described the Waltons as the country's wealthiest family. "And I say to that family, get off of welfare, pay your workers a living wage," he said.
At another event in Manchester, N.H. in February Sanders said, "A rigged economy is when the middle class pays to subsidize the wealthiest family in this country."
The Sanders campaign, meanwhile, maintains Walmart simply got a free pass Thursday — and nothing more.