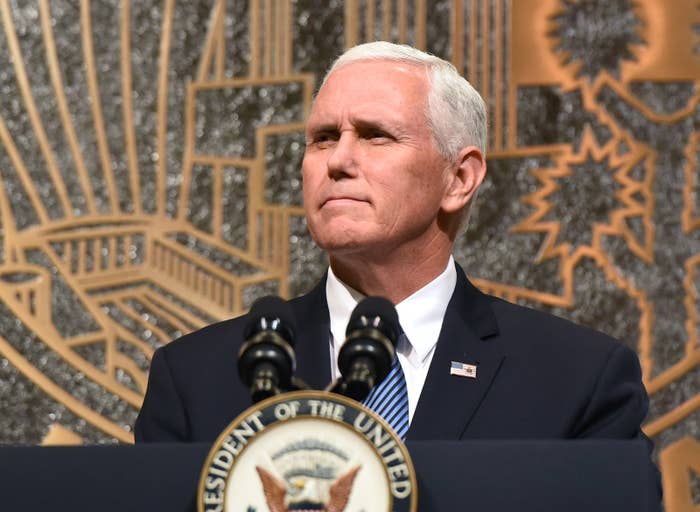 US Virgin Islands Delegate Stacey Plaskett doesn't believe it's essential to the US Virgin Islands recovery efforts that Donald Trump visit the island territory devastated by Hurricanes Irma and Maria.

Plaskett a week ago, amid a crisis of a lack of media and attention on the extensive damage of her territory, expressed alarm that the aftermath of Puerto Rico's had warranted a visit from President Trump, but that the US Virgin Islands seemed like an apparent afterthought. She made her concerns known in an national appearance with MSNBC's Joy Ann Reid.
Trump tweeted that he "will hopefully be able to stop at the U.S. Virgin Islands" but never made the trip. In an interview with BuzzFeed News, Plaskett said she was able to impart her concern about the American territory's recovery to someone else close to Trump with whom she had been quite impressed: Vice President Mike Pence.
Plaskett's satisfaction with Pence's visit comes just days after Trump visited San Juan, accenting his arrival by flicking several packages of paper towels into an audience of onlookers as if shooting a basketball at a hoop.
She said a solemn Pence visited a small white church that had had two sections of its roof blown off, leaving water and debris all over the floor.
"It has been heartbreaking to see the impact of hurricanes Irma and Maria on the Virgin Islands," the vice president said before his wife offered residents comfort from the book of Colossians.
In addition to attending a briefing on the recovery effort, the Pences also visited a shelter and participated in a helicopter tour to survey the damage on all three of the US Virgin Islands.
"I think you can tell when someone is putting on a show, but I believe the conversations [the Pences] had with people, young people, the workers, the volunteers were genuine," Plaskett told BuzzFeed News in an extended interview about the federal government's response and the recovery effort. "I think that is something that comes across from them. I think because he's been a governor he understands the human element of supporting people and understanding the day-to-day lives of people who have elected you. And I think that moves him and motivates him and that was clearly evident."
Plaskett said her constituents are part of the "American experience" and take their role as Americans seriously. To have a sitting US president visit the US Virgin Islands would be "very gratifying" to residents, she said — and indeed a signal that their calls for relief and assistance from the federal government are being taken seriously.
"But is it necessary for us to move on in terms of our rebuilding?" Plaskett said. "I don't think so."
Plaskett said she told Pence and his staff that the federal government has an opportunity help overhaul the island's infrastructure, while there have been struggles with the federal government's initial response. "When I have had conversations with officials from FEMA going into and talking to people in neighborhoods, we're seeing the issues people are having getting supplies, and getting support in a timely fashion," said Plaskett.
"There were challenges that the federal government had that I don't think we were ready for."
Plaskett said federal workers were used to providing temporary roofing to homes that were partially destructed but weren't used to providing that type of assistance to people whose roofs had been totally ripped off.
"This is a test for the people of the Virgin Islands as a whole," said Plaskett. "And it's also a test for the United States and the African diaspora to get engaged to ensure that we're not forgotten in that rebuilding."