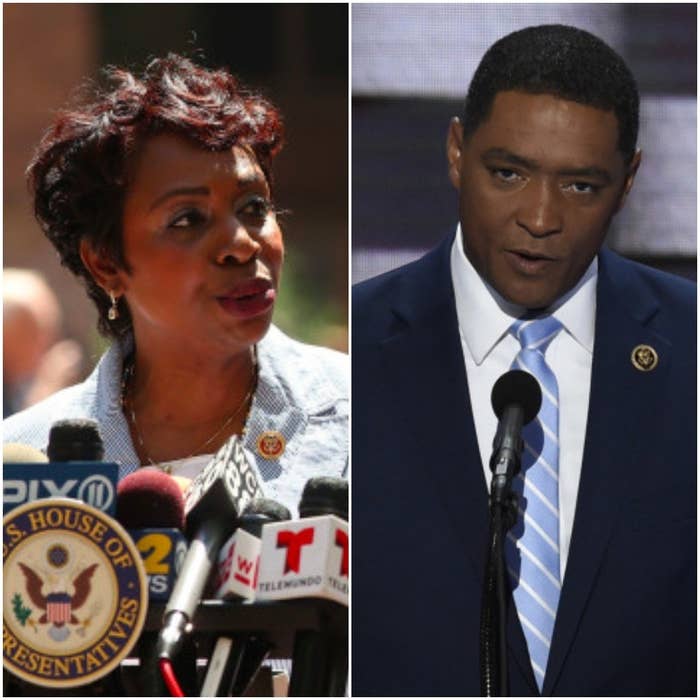 WASHINGTON — The race to elect the next chair of the Congressional Black Caucus has unofficially started — and will likely be between Reps. Yvette Clarke and Cedric Richmond, two senior Democratic operatives and four members of the CBC said.
Clarke and Richmond — two highly respected members of the CBC — have already began lobbying their colleagues in bids to succeed North Carolina Rep. G.K. Butterfield, who was voted into the chairmanship unanimously in November 2014. But the prospect of a Clarke-Richmond showdown is the source of some consternation among black lawmakers.
A member of Congress who is close to both members said that senior members have been privately attempting to broker a deal between Clarke and Richmond to prevent a protracted battle on the Hill, which could be distracting before the November election. Granted anonymity to speak openly, the member said some of the CBC did not want to have take sides between Clarke and Richmond, who are both well-liked. Of brokering of a deal, the member of Congress said, "Hopefully it's happening now before...—" the lawmaker said, their voice trailing off.
Lawmakers cautioned that a vote would not occur before the November election, and that members of the CBC are focused on electing Hillary Clinton, in whose administration the next chair would play a pivotal role. However, a second member said they believed that Richmond had already begun collecting signatures of support.
"It's going to come down to relationships and alliances," a senior Congressional aide said.
Asked by BuzzFeed News if she was the next chair of the CBC, Clarke said, "We're working on it. I don't know yet, but we're working on it."
Clarke, a Democrat from Brooklyn, told BuzzFeed News that her conversations with her colleagues are "inside baseball" and preliminary in nature.
"I've just been sharing with them my vision of what a strong Congressional Black Caucus should be, my philosophy about how we approach power within the House of Representatives and the members that we have in the Senate, and how we can leverage that to really make sure that our agenda is embedded and addressed as legislation is brought to the floor."
Clarke said she loves the feedback she's getting from her vision addressing how the CBC's relationship with the next president — she believes it's going to be Hillary Clinton — can be more effective at address the most pressing issues facing black people in America.
"I want our conversations with whoever the executive to be fruitful because there a lot of moving parts in our civil society and our community is often a second thought," she said. "I think we need to be an integral part of that conversation.
"I talk about inclusion all the time. I'm tired of diversity, we've been diverse for a long time. If we're not included in the decision making then that's when mistakes get made."
Richmond did not respond to messages seeking comment. But Democrats who know him derived his interest in the chairmanship as a byproduct of his emergence as a Democratic power broker in Louisiana (where he played a key role in helping to elect John Bel Edwards, the only Democratic governor in the Deep South) and good timing: "Any good political mind who understands politics after an election knows that when you are looking for your place in the power structure the question becomes, 'Where do I fall? What's [my] other route to leadership?'" a source close to him said.
In addition to being a younger face, two Democrats on the Hill said Richmond's close relationship with Jim Clyburn, considered by many the "godfather" of the CBC, could influence negotiations leading up to the vote. Even if it's unclear what Clyburn's role would be, one of the sources described Richmond as "doing all the things you have to do to become the chair of the CBC."
As one of the youngest legislators to ever be elected to the Louisiana state legislature, the Louisiana Democrat pointed out how Richmond chaired the Judiciary committee as evidence that Richmond likes to naturally take charge. On the Hill, Richmond, a former pitcher on the Morehouse baseball team is perhaps, in some circles, best known for pitching for the Democrats every year in the Congressional Baseball Game.
"That's indicative of his personality," the Louisiana source said. "He wants the ball."