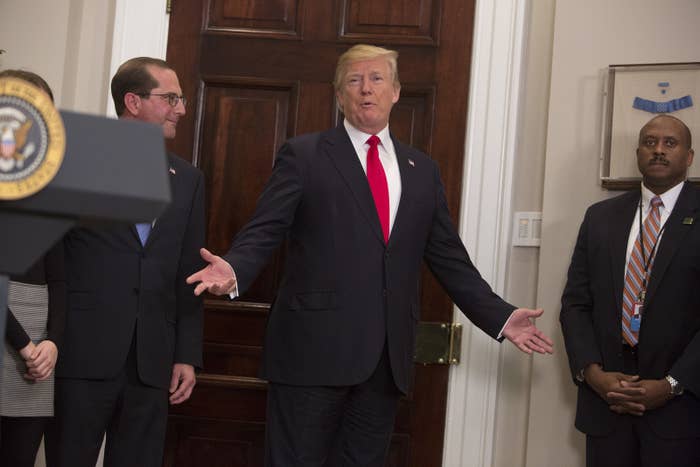 Donald Trump is talking about black people again.

"Somebody please inform Jay-Z that because of my policies," he wrote Sunday morning, "Black Unemployment has just been reported to be at the LOWEST RATE EVER RECORDED!"
He's been talking about these numbers in recent weeks — in Pennsylvania during a pseudo campaign stop, for instance. He's tweeted about the black unemployment rate being "the lowest ever recorded" three other times this month alone. "New unemployment claims are near the lowest we've seen in almost half a century," he reminded the global elite in Davos. "African-American unemployment reached the lowest rate ever recorded in the United States," he said, adding, "It's very heartwarming to see." And it sounds likely that he'll quote the same numbers (or a similar stat) at the State of the Union on Tuesday; a senior administration official said Trump will "will make it clear that all groups are benefiting under his presidency."
All of the unemployment talk fits squarely in the nationalist agenda that Trump and especially former adviser Steve Bannon tried to push: Black unemployment is at an all-time low and it's because of Trump, so vote for him next time.
Can Trump actually win back black Americans? That seems to be the plan. The polling shows a lot of room for improvement: In their most recent polling sets, Pew put black approval of the president at 7%, while Gallup put it at 6%.
This is, after all, the same Trump who has singled out and attacked black celebrities and lawmakers as president, who wondered why we accept so many immigrants from "shithole" African countries, who referred to protesting football players as "sons of bitches," and who said that a group of white supremacists included "very fine people."
That dichotomy — the jobs talk and the clashes between Trump and prominent black figures (or comments received very unfavorably by black commentators) — reflects an almost certain fatal flaw in the Trump-Bannon-style nationalist agenda that argues voters care more about class than anything else. And it ignores the past year in the US, in which black lawmakers, civil rights figures, athletes, entertainers, and more have relentlessly criticized the president amid a wave of liberal and progressive activism.
Jay-Z himself addressed the issue in an interview with CNN, echoing what a lot of black commentators have said over the last year. "It's not about money at the end of the day," he said. "Money doesn't equate to happiness. It doesn't. That's missing the whole point. You treat people like human beings. That's the main point. It goes back to the whole thing, 'Treat me really bad and pay me well.' It's not going to lead to happiness, it's going to lead to, again, the same thing. Everyone's going to be sick."
There are some lone voices who argue the Trump-Bannon vision can work.
"Steve's dream has always been not to have a race-based coalition, but a working-class-based coalition," said a Bannon ally. "That has always been Steve's driving factor. That's a hard thing for people who think Steve is a bigot to wrap their heads around."
That Bannon is widely viewed as a white nationalist by a not-insignificant number of black Americans doesn't bother any of these leaders, but they have sought to advise him on the issue; one told BuzzFeed News that they once told Bannon that he should publicly address accusations that he was a racist. Bannon, according to the source who had met with him, said the left was just using noise about racism to distract from the nationalist agenda.
Raynard Jackson, a black Republican operative who focuses on small and minority-owned businesses, is the founder and president of Black Americans For a Better Future (he famously clashed with the TV host and commentator Roland Martin), who said he's taken meetings with the Trump administration. Bannon addressed his group last month.
To Jackson, Bannon and Trump are exactly what the political movement that is trying to increase economic opportunity for black Americans needed. "We don't have to change what we've been doing," he said, alluding to the fight to address a dearth of access to capital for small businesses and harmful regulation experts say disproportionately affect minority firms. "The doors of opportunity just weren't opening as equitably as they could have been."
John Burnett, the founder and CEO of One Empire Group, sees Trump as perpetually game for a negotiation. He told BuzzFeed News the State of the Union is an opportunity for Trump to engage the black community and pitch policy that the Democrats have promised to deliver election after election with no results. "If I was Trump, I would say, 'Listen, I haven't been the perfect messenger, but I can be a strategic asset because I am willing to be a disrupter and go against the status quo,'" said Burnett, who describes himself as a "urban financial freedom fighter." (He has also flirted with a potential run for US Senate.) "In my opinion, the white working class and black working class have more in common than in any other time. Both communities have been victimized by the outsourcing of jobs, drugs, and are highly vulnerable to illegal immigration," said Burnett.
"We know racism exists," he continued. "But if you don't have money no one cares what you believe in."
But these are minority voices, by and large. Even on Trump-friendly Fox News this past summer, black commentators vehemently criticized the president's response to the Charlottesville white supremacist rally where a woman subsequently died. Black writers and some lawmakers routinely refer to the president as a racist, and some writers have argued that the president's victory last year was the result of a white nationalist sentiment. And in turn, his presidency has helped renew the prominence of, for instance, Rep. Maxine Waters, a frequent Trump critic. His clashes with basketball players like LeBron James and Steph Curry, and ESPN personalities like Jemele Hill (who called the president a white supremacist), have helped extend the conversation around race and Trump into the most mainstream of cultural conversations.
In other words, it could be a true test of whether broader economic success can overcome a very deep cultural aversion.
Asked why the Trump administration has been touting black unemployment specifically in recent weeks when the numbers continue to show that unemployment is still disproportionately higher, White House press secretary Sarah Huckabee Sanders responded: "because they're better than what they have been." "This is a president who wants life to be better for all Americans and he's going to keep fighting and pushing for that," she added. "And I think you'll hear him talk again about that tomorrow night."
Pressed on why most black Americans still view Trump negatively, Sanders said, "We hope and pray to build a greater relationship within that community."