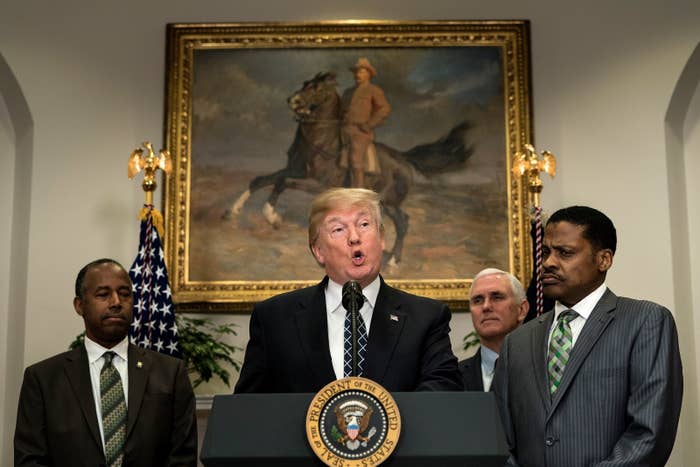 President Trump's private remarks about Haiti and African countries have angered prominent black leaders, setting off a tense and uncomfortable period — just days before Martin Luther King Jr. Day. 2018 marks 50 years since King's assassination in 1968.
On Thursday, the president was reported to have referred to places like El Salvador, Haiti, and African nations as "shithole countries" in an Oval Office meeting with lawmakers present, and wondered why the United States accepts so many people from those countries. Though the White House did not deny he made the comment, Trump has since denied using the term "shithole."
Those comments have caused acrimony behind the scenes: A Republican source with knowledge of the conflict told BuzzFeed News that Dr. Bernice A. King, the CEO of the King Center, was disturbed by Trump's reported language, and its proximity to the King holiday. On Friday, for instance, the president appeared at an MLK event Friday with Dr. Ben Carson, the secretary of Housing and Urban Development, who is also scheduled to speak at an annual King Center event on Monday.
A King Center spokesperson declined to discuss Bernice King's reaction to Trump's reported comments, but said that she remains concerned about any "hate speech" or hateful rhetoric coming directly from Trump without mentioning the "shithole" ordeal.
Over the weekend, it was even unclear if Carson would still speak Monday at the King Center's annual service. Four sources had told BuzzFeed News that it did not seem likely, and a spokesperson for the King Center told BuzzFeed on Saturday that they were unsure if Carson would speak. (A HUD spokesperson did not return an email on Saturday asking about Carson's schedule.)
By Sunday afternoon, though, the King Center confirmed that Carson will appear on Monday.
Carson will speak briefly and honor King's life and legacy, a HUD spokesperson told BuzzFeed News on Sunday.
According to an administration source, Bernice King had reached out to try to keep Carson from appearing with Trump on Friday because of the reported "shithole" comments. The King Center spokesperson declined to say whether she had reached out to administration officials.
According to the same administration source, at least one White House official also solicited advice from the people who came to see Trump: How should the White House respond in the event the King Center withdrew its invitation to Carson?
The people in attendance Friday represent Trump's strongest remaining black supporters. The reported comments shadowed that event, but he did not address them, and none of them took questions afterward.
The mood, according to one of the people present, was raw and tense, especially when April Ryan asked the president if he was a racist. It struck multiple people there: Here was the president of the United States — who had referred to a group of white supremacists as including "very fine people" — being asked by a familiar face if he was a racist.
"It's just a bad day for all of this," an attendee told BuzzFeed News. "[It was] a shithole kind of day."
Not everything was uncomfortable on Friday: According to Paris Dennard, a staunch Trump supporter and CNN commentator, Trump paused and smiled at him to ask how he was doing. "You OK?" the president said. Dennard said he replied, "I'm doing just fine, thank you." "I just had to check," said Trump. Dennard told BuzzFeed News Trump's concern was due to the constant verbal onslaught he takes on CNN when defending Trump and the administration against liberal — and some conservative — commentators. (Despite his denials, it has been widely reported that Trump watches a lot of cable TV.)
The Republican source said the "biggest elephant in the room" was the absence of Omarosa Manigault-Newman on Friday. The former administration official and Trump loyalist who left the White House under circumstances that are still unclear was missed because she was such an outsize presence.
The Republican source and the source close to Manigault-Newman said she'd had a vision for the Monday event in Atlanta that consisted of what now seems implausible: President Trump addressing the country from the pulpit of Ebenezer Baptist Church.