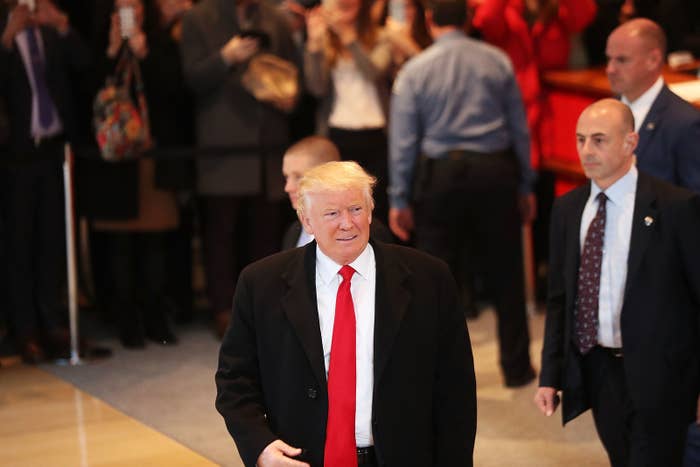 WASHINGTON — Up to nearly two dozen black Republicans are being tapped to assist Donald Trump's transition team, sources briefed on the matter said.
The black Republicans are getting named to "landing teams" — groups of experienced operatives who report to various federal agencies to oversee a smooth transition.
Operatives include Eugene Craig, the third vice-chair of the Maryland Republicans; Angela Sailor, a former Education Department senior official and the wife of the RNC's Elroy Sailor; Shannon Kendrick of Virginia; Ron Thomas, a seasoned veteran's affairs operative; and Parson Hicks, a Trump alternate at-large delegate.
Also notably, the next landing team is also expected to feature Stefani Carter, a Harvard-educated former member of the Texas House of Representatives one source said could be under consideration for a position inside the Justice Department.
The move comes after an internal push from black Republicans — who helped Trump get 8% of the black vote — get started with the new administration. It's not immediately clear what positions they'll fill and Trump's transition team did not respond to an email seeking comment.
Another open question is if Trump will end up appointing any black Republicans to his cabinet.
While much of the speculation surrounded the possibility of Dr. Ben Carson leading the Department of Housing and Urban Development, two sources said late support was moving in the direction of former Oklahoma Rep. J.C. Watts.
Until recently, Watts led Feed the Children, headquartered in Oklahoma City. He is said to also be interested in the Small Business Administration, but did not respond to a message from BuzzFeed News seeking comment.
T.W. Shannon, a former US Senate candidate from Oklahoma, met with Trump and reportedly spoke about the SBA. But Shannon, by all accounts, is a long shot.
Some black Republicans, however, remain tense over Trump's appointments, in particular that of former Breitbart News chairman Steve Bannon. As chairman, Bannon said the site was the "platform of the alt-right" movement, and featured racist and anti-semitic headlines.
A veteran operative close to Reince Priebus who spoke on condition of anonymity to speak openly about his feelings on Bannon said that for all of his questions about Bannon's motives, it put him at ease to know that the soon-to-be former chairman of the Republican Party was also going to be at Trump's side.
But did the appointment hurt the movement to bring more black people into the Republican Party? "That's a fair question," he said.