Trump, Kasich Offer Competing Visions Of Police Relations In America
In response to a question about the so-called "Ferguson effect" at Saturday night's Republican presidential debate, Donald Trump said police are under too much scrutiny and unable to act, while John Kasich said there must be more collaboration between communities and police.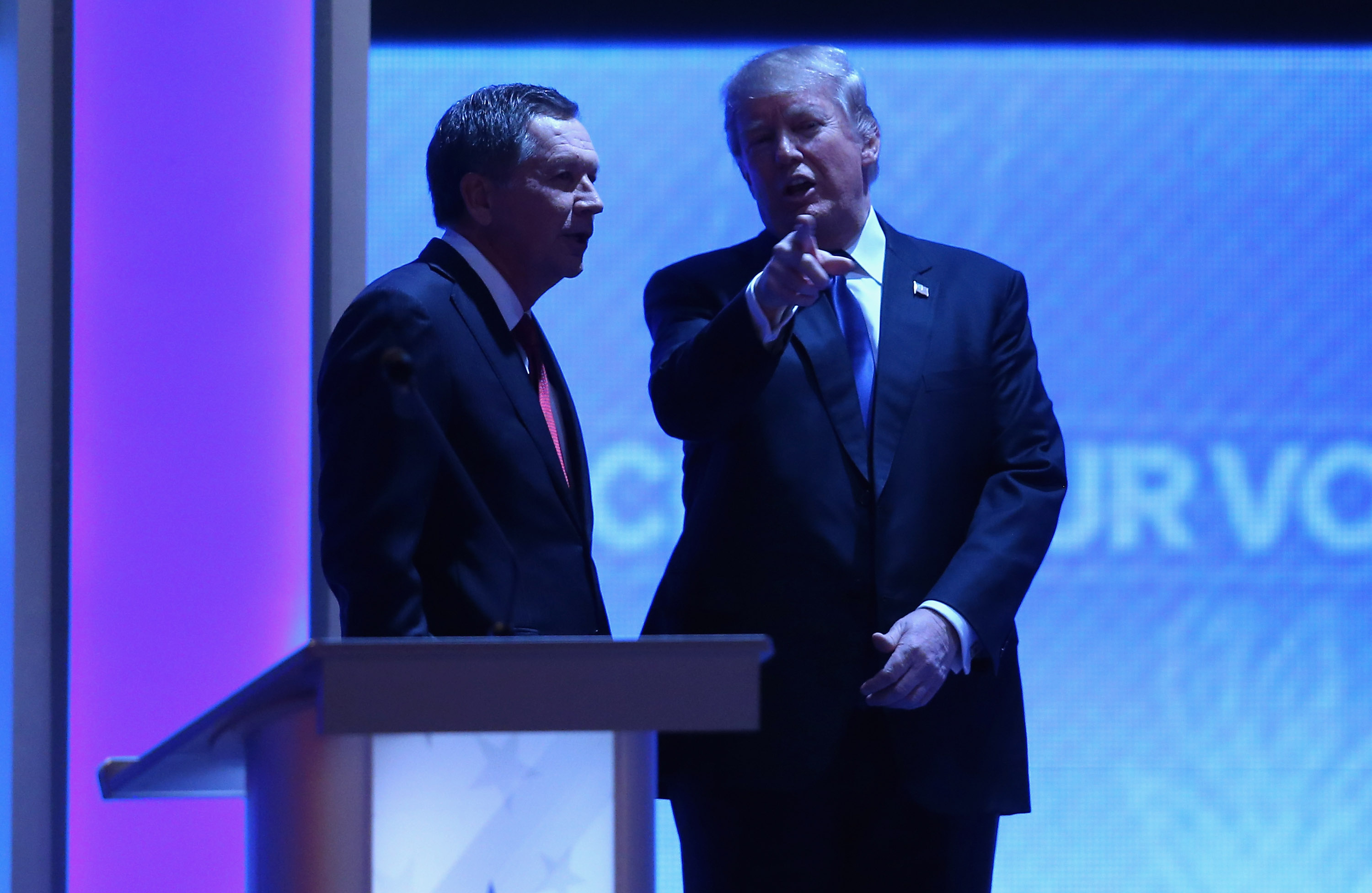 WASHINGTON — Presidential candidates Donald Trump and John Kasich offered two sharply different views of police relations in the U.S. and how to improve them at the Republican primary debate Saturday night, with Trump saying police officers in the country are under too much scrutiny.
Debate moderator David Muir directed a question on how to improve relationships between the minority communities and police to Trump.
"There are many who argue cell phones and smartphones are just now exposing what's been happening in this country for years — cases of excessive force against minorities," Muir said. "As you know, Mr. Trump, on the other side, the FBI director recently said there's a chill wind blowing through law enforcement because of increased scrutiny. You have said police are the most mistreated people in America. As president, how do you bridge the divide?"
Muir was referencing FBI director James Comey and the so-called "Ferguson effect."
Trump said police "are absolutely mistreated and misunderstood."
"And if there is an incident, whether it's an incident done purposely — which is a horror, and you should really take very strong action — or if it is a mistake, it's on your news casts all night, all week, all month, and it never ends," he said.
Trump received some applause for his statement from the New Hampshire audience.

He continued: "The police in this country have done an unbelievable job of keeping law and order, and they're afraid for their jobs, they're afraid of the mistreatment they get, and I'm telling you that not only, me speaking, minorities all over the country, they respect the police of this country and we have to give them more respect."
The White House, former Attorney General Eric Holder, and progressive groups say there is no validity to Comey and others' claims that police are less willing to do their jobs because of public scrutiny.

"[Police] can't act," Trump continued. "They can't act. They're afraid for losing their pension, their job. They don't know what to do. And I deal with them all the time. We have to give great respect, far greater than we are right now, to our really fantastic police."
Kasich chimed in saying that among the Ohio Democrats advising him was Bernie Sanders' supporter Nina Turner.
"There can be a win-win here," Kasich said. "I have formed a collaborative between police and community leaders because people have to respect law enforcement. A family doesn't want dad or mom going home in a box. And for our community leaders, many of them think the system not only works — not only doesn't work for them, but it works against them."
Kasich has received some credit from Black Lives Matter activists for his willingness to convene a bipartisan advisory panel that came up with a set of recommendations to improve police-community relations (such as limiting the use deadly force to when an officer's life is in imminent danger).
"And I created a big collaborative in Ohio made up of law enforcement, community leaders, the head of my public safety and a former Democrat, liberal Senate senator Nina Turner, run it," Kasich continued. "They got together, they made recommendations on recruiting, on hiring, on the use of deadly force and what we're about to do is to bring community and police together so we can have a win-win."