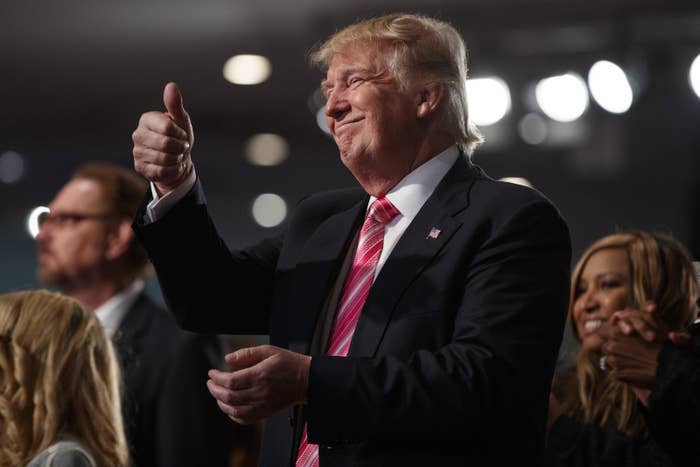 DETROIT — Donald Trump told a black church on Saturday that the U.S. needs a "new civil rights agenda for our time," which he said must prioritize the right to education, employment, and to "live in safety and in peace."
As he continues to seek to soften his image and reach out to minorities, the Republican nominee visited Great Faith Ministries on Saturday. Inside, he took his seat beside Dr. Ben Carson, his wife, and Omarosa Manigault, Trump's director of black outreach, perhaps best known as a former Apprentice contestant.
Trump bobbed his head and clapped to the gospel music, as news cameras watched on, and later praised black churches as the "conscience of our country" for their role in the civil rights movement.
"I am here today to listen to your message and I hope my presence here will also help your voice to reach new audiences in our country — and many of these audiences desperately need your spirit and your thought," he told the congregation in prepared remarks.
"I believe we need a civil rights agenda for our time," he said. "One that ensures the rights to a great education — so important — and the right to live in safety and in peace, and to have a really, really great job, a good-paying job and one that you love to go to every morning. And that can happen."

As he spoke, a small group of protesters demonstrated outside the church, denouncing Trump as racist and out of touch with black voters.
"Trump is insulting, racist, and does not represent Detroit," said Laura DePalma, a Detroit organizer. "He doesn't care about systemic issues affecting black voters and we're not backwards."
Trump has repeatedly come under fire for his brusque overtures to black voters, in which he's described them as politically destitute with nothing to lose by voting for him.

The Clinton campaign mocked Trump for now addressing his first predominately black audience "after a campaign spent courting white supremacists and playing into misleading stereotypes about people of color."

"While Trump can attempt to reach out to African Americans, he has proven to the community time and again that he is unfit to be president and he has no interest in working with the African American community," the Democratic nominee's campaign said in a statement.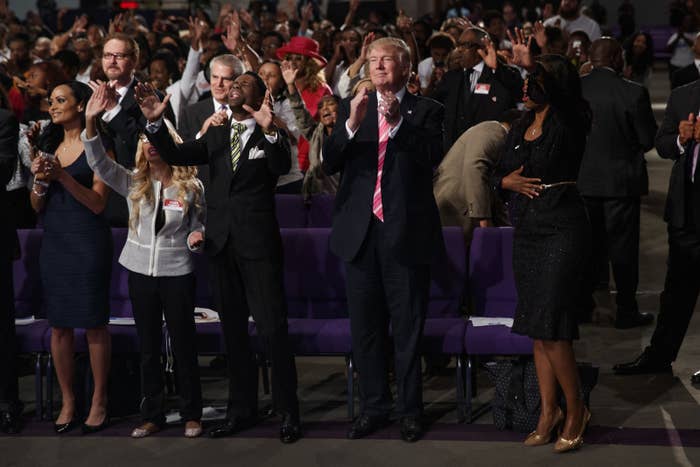 The church visit and tour were first mentioned last month, as part of efforts to reach black voters. Trump has declined to do traditional outreach — speaking at the NAACP, for instance — and his limited efforts have drawn the ire of black Republicans.
One of their chief complaints is the selection of Bishop Wayne T. Jackson as interviewer and host to Trump, due to the fact he was the subject of a viral video of a controversial church ceremony and isn't supporting Trump.
Earlier this week, the New York Times reported that there was a script for his interview with Trump.
For his part, Jackson, who presides over the church here, posted a video to the Impact Television Network's Facebook page late Friday. With his prayer shawl clutching and a copy of the Jewish Heritage Study Bible, Jackson declared it was time to do the Lord's business.
"You know, anybody who has a kingdom mind should be saying, 'I'm going to pray with you, Bishop,'" said Jackson. "Because this can be a situation—an opportunity that God uses to touch not only Mr. Trump but many people who are going to be watching all over the world."
"You should be saying this," Jackson continued, "God save, God deliver and let your glory fall in that service."
Having memorably fumbled the name of Second Corinthians during a January speech at a Christian university, Trump ended his remarks on Saturday with a reading from First John: "No one has ever seen God, but if we love one another God lives in us and his love is made complete in us."
"And that's so true," Trump added.
David Mack contributed to this report.