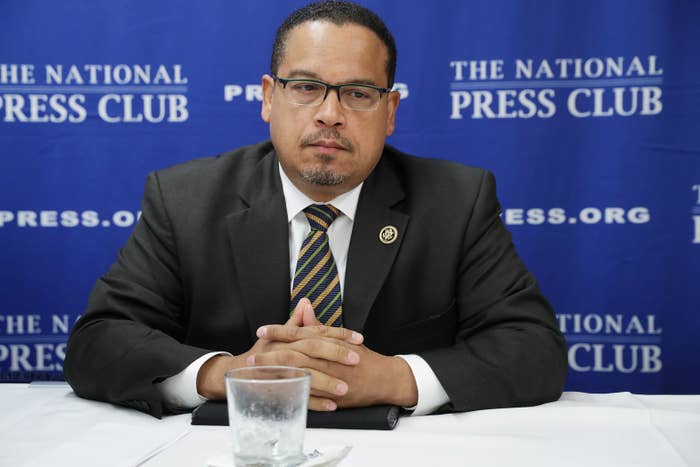 WASHINGTON — Amid the contentious race for the DNC chair, as Rep. Keith Ellison continues to hold support, two top candidates met with the Congressional Black Caucus leaders in closed-door sessions last week.
Ellison, who recently promised to resign from his seat if he's elected, made a presentation to members of the CBC, of which he is a member. Ellison gave a version of his stump speech he's given, according to those familiar with the meeting, highlighting the need for Democrats to be on the front lines, and touting a 3,143-county strategy.

A spokesperson for Ellison confirmed his attendance but declined to discuss his remarks.
In his meeting, South Carolina Democratic Party chair Jaime Harrison made a deeply personal appeal to members of the Congressional Black Caucus last week, laying out his vision as a potential leader of the Democratic Party.
Harrison spoke emotionally about his beginnings in politics as a Congressional Black Caucus Foundation intern, a beneficiary of the Congressional Black Caucus Institute, to rising to become executive director of the House Democratic Caucus. One top Democrat in the room said he was "well-received."
In a telephone interview with BuzzFeed News, Harrison confirmed the meeting, saying he was comfortable with the status of his dark horse candidacy, and that he had petitioned CBC chair G.K. Butterfield for the meeting.

"In essence I told them that I stood on their shoulders, and that I would be proud to represent them as chair of the party," he said.
Although the voting body that elects the new DNC chair is made up of state party chairs, vice chairs, and committee members, the support of the CBC is widely viewed as critical to any candidate seeking a coalition of support — and the courting of the CBC as a natural move for candidates who will look to the body to help mobilize the black vote in 2018 and beyond.
The state of the race for DNC chair will likely change with the expected entry of Labor Secretary Tom Perez, who had been considered for the vice presidential nomination and served in the Obama administration.
Already, Harrison scooped up one of the most important endorsements, that of Rep. Jim Clyburn, an influential member of the CBC who is also in House leadership.
Two Democrats supporting Harrison who asked for anonymity to speak openly about Harrison's candidacy, said although he worked on the Hill, there's a general consensus among the chairs and vice chairs that people don't want someone seen as a Washington insider.
Another sentiment about Harrison's candidacy is the resonance of his personal story — Harrison has spoken publicly about his rise from extreme poverty to Yale and Georgetown, which another Democrat described as "the epitome of the American Dream." The hope for Harrison's supporters is that his story would resonate with white rural workers and black working class alike.