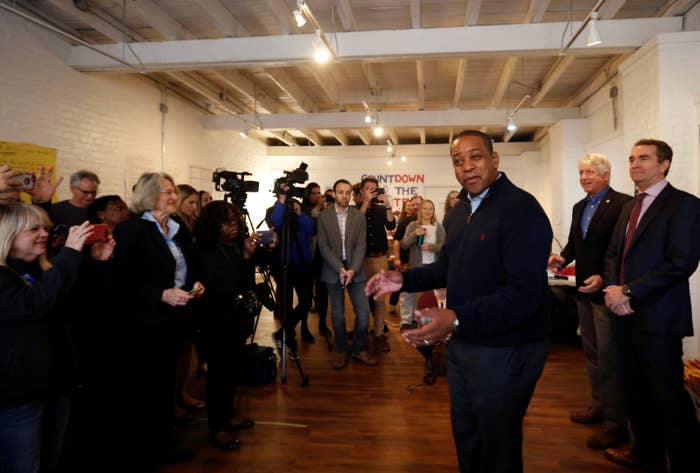 With a tight race in Virginia, some hope a narrowly targeted effort to turn out voters on black college and university campuses could get Democrats over the edge on Tuesday night.

NextGen, a group funded by liberal billionaire Tom Steyer that is now working to target young voters, launched organizing programs on college campuses, doubling the number of organizers from the Clinton campaign at four of the five Virginia schools known as HBCUs. Each school — Virginia State University, Hampton University, Virginia Union University, and Norfolk State University — has a lead organizer plus volunteers working to inform voters about issues and the candidates.
In recent years, Steyer has shifted his political work from a heavy emphasis on environmental issues to a broader set of liberal causes; currently, the Californian is running a campaign that presses Democrats to impeach President Donald Trump. NextGen says they've registered nearly 2,000 student voters at HBCUs across Virginia. The group, in particular, hosted a fundraiser for Justin Fairfax in September, raising over $250,000 for him overall. Overall, NextGen spent just over $250,000 in Virginia on black voter turnout, though the group did not specify how much was spent on the HBCU project.
Democrats have fretted over how to use Fairfax, the young black Democratic nominee for lieutenant governor. Alarmed black Democrats sharply criticized Ralph Northam's campaign for governor for leaving Fairfax's image off of some mailers handed out by the Laborers' International Union of North America. (The union did not endorse Fairfax.) Meanwhile, Gillespie's campaign has emphasized a slate of cultural issues, including NFL players kneeling during the anthem. In recent weeks, though, the governor's race has mostly turned into a back-and-forth over MS-13, the gang, and immigration-related issues.
But the NextGen–HBCU project has emphasized Fairfax — and some of the Virginia-based issues this year like the Charlottesville white supremacist march that ultimately resulted in the death of a local woman.
Kyla Williams, a Virginia State sophomore who is working for NextGen, said in the immediate aftermath of Charlottesville students were scared, upset, and angry — and many wanted to go to Charlottesville. "Our message was, 'What you just saw, it can't get better if you want to sit at home on Tuesday.'" Williams estimates that her group has registered 600 people on Virginia State's campus.
Williams said it can be difficult to engage students at times. To attract students, Williams has organized parties and lured students with pizza and games. But after Charlottesville, Confederate monuments became an issue they engaged on; students at Virginia State "really want them gone" and don't see any real purpose, "other than the intimidation" of black Americans.
"I think that what he's doing is making the white supremacists in the state happy," said Williams. "He's making it clear that he wants to keep those votes."
At Virginia State University, where enrollment is up 50% over the course of the past two years, students were asked to do civic engagement to "party with a purpose."
"I think the thing that stands out to me the most is just the scale of it," said Hannah Bristol, the young organizing director for NextGen. She said at Hampton, 17% of the students have been registered to vote, making it one of the most successful programs of the 26 colleges in the state.
Bristol said in just the last four days, over 200 HBCU students signed up as volunteers. "There's a lot of energy we see with the kind of numbers and enthusiasm that I haven't really seen in my time organizing in Virginia," said Bristol. "I think there are a lot of students who realize how much this election matters to them, and when you talk to them you're hearing a lot about college affordability, but also a lot of about local issues like racial justice and housing [in addition to] things that are affecting their lives in college."
Steyer, in an email to BuzzFeed News, said the campaign was part of a broader effort to "lift up the voice of each and every American." "This year, we're doing just that by working our asses off to elect young, diverse candidates, like Justin Fairfax in Virginia, who represent the next generation of leaders in America."