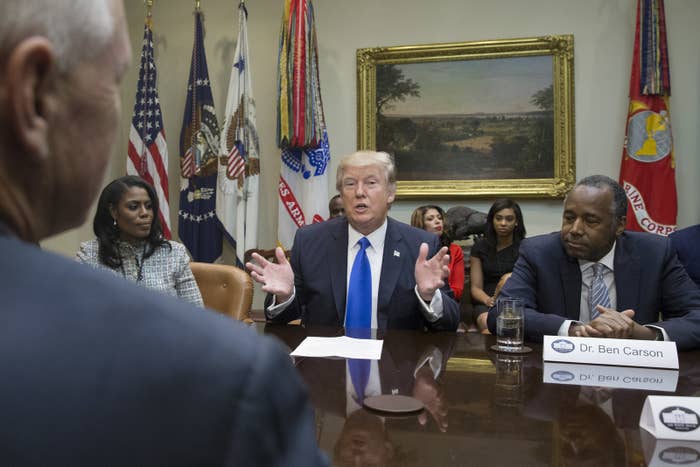 WASHINGTON — The White House is working on an executive order regarding historically black colleges and universities, according to three sources familiar with a Wednesday morning "listening session" with President Trump in commemoration of Black History Month.
In the listening session, convened by Omarosa Manigault, Trump made some of his most expansive remarks on black history, including a controversial statement about Frederick Douglass, which led some to believe he didn't know if he was dead or alive. That was one piece of controversy; the administration also took heat because the only people involved were Trump surrogates who worked on the campaign or were already working for the administration.
It's not clear what the executive order will do, sources with knowledge of the executive order said. But the subject turned to HBCUs when Paris Dennard, a political commentator who works on strategic communications for the Thurgood Marshall College Fund, brought up the future of HBCUs during the meeting.
Trump lavished Dennard with praise for defending him on CNN when the cameras were still on. "Paris has done an amazing job in a very hostile CNN community," Trump said, deriding CNN as "fake news" he no longer watches. "He's all by himself — seven people and Paris. I'll take Paris over the seven," Trump said to laughter.

When the White House press corps left, the mood changed. Dennard told BuzzFeed News he told the president that he could go down as one of the greatest presidents in modern history, and that his support of HBCUs was badly needed — especially given how HBCUs fared under the previous administration.
Dennard and two other sources said this piqued the president's interest. According to two people in the room, Trump asked what "the Harvard" of HBCUs was. At least three people in the room affiliated with the school said Howard University, located a short distance from the White House in Washington, DC. Trump asked how Howard was doing fiscally, with enrollment, and how it had done under President Obama.
"He was shocked and upset to learn what happened under the previous administration," Dennard said.
Attendees told Trump that while Howard was receiving federal funds and doing fairly well, many others were struggling, with someone in the room linking the state of HBCUs to President Obama.

Trump asked what he needed to do, according to a source in the room. That's when Manigault said she was working on getting an executive order on HBCUs on Trump's desk.
Since then, two sources familiar with the matter told BuzzFeed News that something was being worked on. Dennard declined to comment on whether there was an executive order in the works.
In recent weeks, Talladega College came under fire for its decision to perform at Trump's inaugural parade. Armstrong Williams, a longtime GOP leader and associate of HUD Secretary Dr. Ben Carson, offered to sponsor that trip.
Another source speculated that the White House Initiative on HBCUs, housed under the US Department of Education under Obama, might be moved to be run out of the White House.
Reached by BuzzFeed News, Manigault said she had no comment on an executive order related to HBCUs.
"I can however reinforce the president's commitment to support historically black colleges and universities, as well as school choice as he stated throughout the campaign."