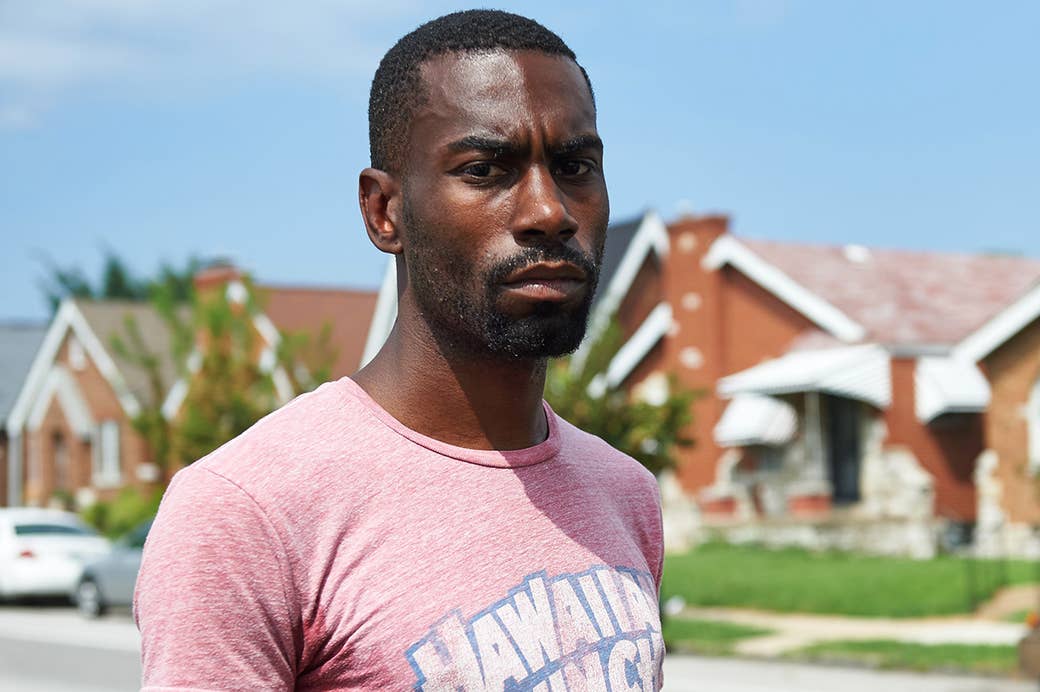 WASHINGTON — The protests in Ferguson did not appear to be stopping anytime soon.

Last year, in late September, several dozen leaders from the nonprofit sector, black activists, and donors gathered in Washington to figure out what needed to be done to amplify the activism broadly called Black Lives Matter, the organizers working against police violence and racial inequality, whose emotional and physical epicenter was now Missouri, where six weeks earlier, 18-year-old Mike Brown was shot and killed by a police officer.
Inside the Washington office of the Open Society Foundations, the grant-making network founded by liberal financier George Soros, there was a sense that Black Lives Matter was on the cusp of something bigger — and a real desire among people with money to make that happen. But there was an open question: How would Black Lives Matter effect actual change in a real, concrete way? How would the movement not disappear?
"I think what's bigger is our challenge of what policy solutions actually meet the moment," Rashad Robinson, from the group Color of Change, said at the meeting.
This is the high-stakes, unresolved process that could shape what policy gets changed, the public perception of what Black Lives Matter means, and the identity of the movement's public face: to find a policy or group that, in Robinson's words, "meets the moment." And the early front-runner is a platform called #CampaignZero, led by DeRay Mckesson, the well-known activist who, like his project, is controversial inside and outside the Black Lives Matter movement.
Created by Mckesson and the activists Johnetta Elzie, Samuel Sinyangwe, and Brittany Packnett, among others, Campaign Zero focuses on decriminalizing or "de-prioritizing" minor infractions like marijuana possession, trespassing, and public alcohol consumption (also called broken-windows policing), which affects poorer communities of color. The campaign makes 10 policy recommendations that include broad paradigm shifts to narrower issues (like how police should confront people with mental illness).
It's a polished set of proposals with recommendations on the local, state, and federal levels — and the slate of proposals provides the kind of specifics that please donors and national Democrats, and is a favorite of Washington's black political class.
"It's obvious to me that this is an intelligent movement," North Carolina Rep. G.K. Butterfield, chair of the Congressional Black Caucus, told BuzzFeed News in an interview. In the past, Butterfield has been critical of the movement's lack of centralized leadership, but said he believes it is getting better. "It's not a reactionary movement, it's strategic and very well organized and thoughtful. They have compartmentalized each of their agenda items, and I like that because strategy has got to be different at the federal level as opposed to the state level, as opposed to the local level. I'm very impressed with it and I think it's here to stay."
Campaign Zero has also become a source of contention within the broader Black Lives Matter movement, especially with the increased prominence of Mckesson, the Bowdoin graduate who left behind a six-figure salary as the senior director of human capital with the Minneapolis Public Schools system to protest in Ferguson. Critics say the plan is marked by a lack of transparency — who helped formulate the plan, they ask. More importantly, some critics argue Campaign Zero might be interfering with other activism and, therefore, lacks accountability. Campaign Zero's willingness to participate in the question of "Where do we go from here?" has created — and even exacerbated — the tensions that exist between the sprawling factions of the Black Lives Matter movement.
The Black Lives Matter organization, with 26 chapters around the country, is not in regular contact with Mckesson and the Campaign Zero team, nor does Campaign Zero consider itself part of the organization's network. But because they are both under the umbrella of the broader Black Lives Matter movement, their campaigns, rallies, disruptions, and direct actions often affect each other. It's why one criticism of Campaign Zero is that, in some cases, it duplicates work already being done.
Others are frustrated that the Black Lives Matter network and Campaign Zero are crossing wires. They fight for loyalty among prominent activists. More importantly, though, people outside the movement — from national leaders to major donors and presidential candidates — are unsure of how to navigate the different entities.
Therein lies a caveat: Campaign Zero is not an organization — it's simply a policy platform. The platform isn't static; the group releases, for all to see, policy solutions, ideas, and general feedback the team has received since its launch date, and how that feedback is incorporated into what the activists call "a living document."
Black Lives Matter activists who spoke to BuzzFeed News on the condition of anonymity so as not to compromise the work of their organizations say they have no problem with Mckesson's popularity and visibility; they readily acknowledge his impressive background in nonprofit spaces, and his penchant for communicating effectively, which has made him a darling of cable news. "He's flourishing right now in part because Teach for America was basically a finishing school for him in terms of how to deal with white people," one organizer said.
But some people take issue with the effects of Mckesson's visibility. Local organizers say Mckesson and others have interfered with groundwork they've already laid.
"[Mckesson]'s gone into places and countered the organizing on the ground, and tweeted out information he wasn't supposed to, perpetuated bad narratives and not offer support," said another prominent activist aligned with the Black Lives Matter organization who asked to remain anonymous because the activist was not authorized to speak on behalf of the network.
"That shouldn't be a surprise when you have hashtags like #GoHomeDeRay" in the aftermath of the Charleston church shooting, the activist said. "It was like he was perpetuating an Al Sharpton model [of leadership]."
"My critique comes from this seemingly type of individual activism as opposed to working with people and groups that have been doing this work for a while," said Black Lives Matter organizer Rosa Clemente. "For example, in 2012 the Malcolm X Grassroots Movement published the "Every 28 Hours" report, which as early as 2010 began compiling the names of African-American men women and children killed by the police."
Clemente said the platform is full of legislative or public policy changes that people have already been fighting for — "old ideas that have taken fertile ground," she said — that have taken hold recently because of radical protest. The ideas are reformist, while other activists are fighting for more radical things, like defunding the police and ending systematic police brutality and oppression by calling for the police to withdraw from communities. Clemente added that Campaign Zero's approach to the work has created, in her mind, and indeed in the minds of other activists, a problematic leadership model, though she said she was "dishearted and dismayed" by the veiled attacks on social media aimed at Mckesson in particular.
Mckesson's profile in the movement as something of a lone actor has added to the tension. He has repeatedly said he does not wish to join an organization. "You can't be accountable to folks you are not in community with," one activist said.
But Mckesson sees the the independence as freeing. "I think that there are many people who believe in social justice, work writ large, who are invested in the movement who have chosen not to be in traditional organizations, who want to be in the work without [living] whatever connotation membership brings," Mckesson said in an interview with BuzzFeed News. "I think there's a way to organize for those people, too. It doesn't make any other models of organizing any less effective, but it does say we have an opportunity to think about digital organizing in a new and profound way."
Even Mckesson's critics will say Campaign Zero represents a pivotal moment in the movement's young history. The question of policy and national politics remains a challenge — and one demonstrated, some activists say, in Black Lives Matter activists' confrontation with Hillary Clinton in New England.
Following a campaign event, Clinton told the activists that their analysis of history — and about the systems that hurt black families — was fair, but something further was needed. "You're going to have to come together as a movement and say here's what we want done about it," Clinton told the activists on video later widely seen.
A Black Lives Matter organizer who has lent policy expertise to movement organizers said he was "mad as hell" when the video came out. It's a popular sentiment with activists focused on policy: The people who confronted Clinton didn't seem to have specific solutions prepared — and it made the broader movement look bad, they say.
"That [confrontation with Clinton] didn't need to happen, and the fact that it was taped and then broadcast, it was clear that it was used as a way to make black people feel like they don't have answers when they do," the activist said.
For his part, Mckesson has not been shy about his willingness to discuss policy with anyone, from Bernie Sanders to Martin O'Malley. His willingness to engage politicians offers a stark difference to the Black Lives Matter network. Mckesson infamously accepted an invitation from Hillary Clinton to attend her official rally on Roosevelt Island in June; the network's activists had come to New England that day, in August, intending to interrupt her. (These were two different events, months apart.)
The tension between Campaign Zero and the network came to a head when Mckesson responded to a tweet from the Sanders campaign. A meeting between Sanders and Campaign Zero is in now the works. Activist and filmmaker dream hampton tweeted at the time that Sanders would do better to meet with leadership from the Black Lives Matter network. "While a meeting with @deray might be a blast, I would expect @BernieSanders to meet with actual BLM folks, those who forced this platform," she said.
Activists with the Black Lives Matter network, however, have said they have no desire to meet with the candidate — including at the request of the Sanders campaign after activists confronted him in Seattle.
According to the ally of the Black Lives Matter network, activists are finalizing a blueprint for action similar in scale and ambition to Campaign Zero. Activists are also setting up a hierarchal infrastructure for the sole purpose of accountability, a reluctant course of action in an organization that brags that it is full of leaders. The platform, and a new website, will focus on a set of reforms centered on correcting the plight of black transgender women.
Outwardly, the Black Lives Matter network leadership remains defiant — it will not seek to work with the DNC and other political figures. Activists say the organization is holding to a philosophy that BLM cannot operate in what it deems an oppressive system.
But internally, according to a source with direct knowledge of the conflict, Black Lives Matter network leadership is torn over the perception that the network and Campaign Zero are not working together.
The Black Lives Matter organization also remains unsettled about the idea of aligning with groups like the DNC. Leaders, for instance, were unaware of the fact that two black female veteran political operatives — A'Shanti Gholar and Donna Brazile — had championed the resolution through an arduous process. And in turn, DNC officials were surprised by the negative reaction from the activists, sources familiar with the inner workings of the DNC said.
Mckesson tweeted that he hoped the DNC would support Campaign Zero — and has been candid about the advantage he sees in established political institutions taking up causes. "I think there are many institutions that can leverage their influence and power to highlight and address issues that are core to the movement, including the DNC," Mckesson said. "I think that in doing so these institutions will need to confront the legacy of their inaction or come to terms with the role they played in creating, or sustaining supporting systems and structures that we know hurt people."
After Campaign Zero's launch, in a telling series of tweets, Brazile shared links to some of the early press about the platform's release — then she sent one of her own: "Please read & endorse #CampaignZero. Great job pulling this platform together. Our elected & community leaders should embrace this agenda."
Correction
Before he began protesting, Mckesson worked for Minneapolis Public Schools. A previous version of this story misstated where he was employed.