The Sanders Campaign Is Launching "Feel The Bern" Tour Of Black Colleges
"We are going to places and talking to folks that haven't been approached before." The campaign will focus its HBCU tour especially on South Carolina, where Sanders needs support.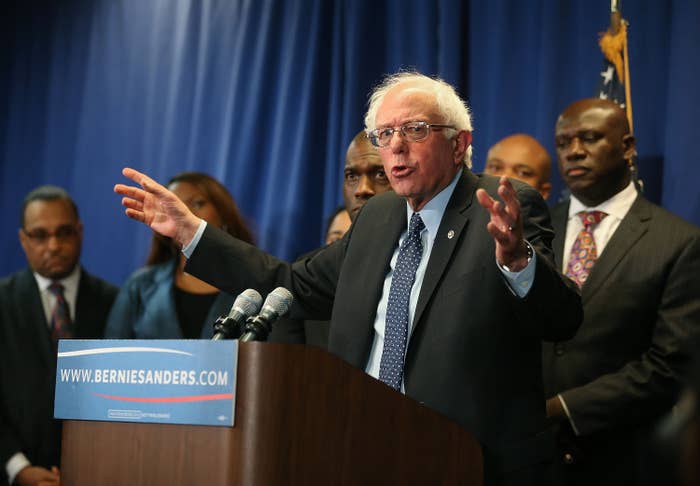 WASHINGTON — Bernie Sanders' campaign for president is set to embark on a tour of some of the nation's historically black colleges and universities, members of his campaign told BuzzFeed News.
Plans for the tour being dubbed "Feel the Bern" according to national campaign spokeswoman Symone Sanders, are still in the works. The candidate will not be present at every stop.
"We are going to be touching HBCUs in a way that's never happened ever in a presidential campaign," Marcus Ferrell, Sanders's black outreach director told BuzzFeed News. "It's going to be very potent and very positive. We are going to places and talking to folks that haven't been approached before."
Ferrell said that several entertainers have thrown their support behind the Vermont senator in recent weeks — Big Boi from Outkast, Bun B, and the actress Tatyana Ali. The campaign is going to use those voices "to talk to folks who know who they are, in addition to people Nina Turner and Dr. Cornel West. These are known thinkers."
Each stop on the tour of HBCUs will feature a marquee name, but the campaign wouldn't provide more detail. Campaign officials are however focusing much of their attention on politically engaging Benedict College and South Carolina State. Symone Sanders said the student body presidents on those campuses are supporting Bernie Sanders and have begun mobilizing young voters inside those communities.
"We all sat there and watched the taping, it was great, organic conversation," Symone Sanders told BuzzFeed News. "The senator and Mike ate together and they had another really great conversation. I remember he noted to us he enjoyed and thought it was great, but I don't think anybody knew how big these videos they were going to be."
The effectiveness of the video inside Killer Mike's Atlanta barbershop also spurred the idea to bring the candidate's message to every major barbershop in America. "That's where major communication happens in the African-American community on a daily basis," Ferrell said.
The HBCU tour comes as the Sanders campaign is trying to improve the senator's standing and recognition with minority voters, who play a significant role in key states like South Carolina and Nevada.
Sanders has made economic issues, in particular, that affect black people a part of his public and private remarks this year; he's often been critical of the media for focusing, he argues, too much on issues like national security at the exclusion of economic issues.
"He likes talking about issues that are important to black people," Ferrell said. "In Iowa he did this in front an audience full of white people."
"He's a policy wonk and a freedom fighter and a civil rights organizer and I think that's where his effectiveness [comes in]," Ferrell said. "Black folks have never heard this type of message on a major scale."
The dates of the HBCU tour will come before and after Super Tuesday, Ferrell said. "[The summer] was exciting, but it was, like, where are we going? Now, we know where we're going. It's like went from zero to 100. Real quick."