The "Ready For Kanye" Founder Is Now Even More Ready For Kanye
Eugene Craig III is still getting out his dreams three years later.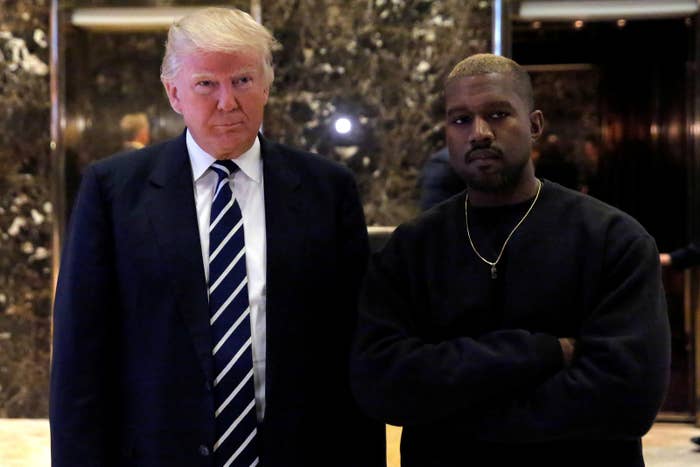 Years ago, when Kanye West declared that he was running for president in 2020, Maryland Republican Eugene Craig III made a very simple calculation: "It was, 'Hey, a party that has room for Donald Trump has room for Kanye West.'"

He scrambled to form the Ready for Kanye PAC; the Washington Post and Rolling Stone came calling. "I woke up with 30 press inquiries in my inbox that morning," Craig, now 27, told BuzzFeed News. "I saw it trending [on Wednesday], and I kind of said, 'Shit, let me see if I can grab that shit back.'" He still has access to the email, Twitter, and Facebook, and said he was still listed as the steward of the PAC. "Let's go!" he thought.
Kanye's political tweets, followed by Trump's tweets about Kanye, managed to overshadow French President Emmanuel Macron's address to a joint session of Congress and questions around whether Trump's pick to head Veterans Affairs will withdraw.
Craig acknowledged that he, like Kanye, did not agree with everything Trump said during the Republican presidential primary. (He supported Kentucky Sen. Rand Paul.) But he said he also understood that Trump had a political legitimacy that could not be ignored. Recalling his thinking three years ago, Craig said, "If there are no standards, and a party that was tolerating statements like what Trump was saying, it could tolerate Kanye's enlightened statements, too. I thought that if Kanye had decided to run, he would have been just as credible as Trump."
But now that they're apparently — at least somewhat — specifically aligned, Craig thinks there's more than something to salvage from his initial action.
"The thing is this: You ain't gotta agree with everything somebody believes, and quite frankly, Trump was one the people actually called him back for a meeting," said Craig, adding why he thinks Kanye and Trump are attracted to each other: They're truth-tellers. "Kanye stood up for black America when he stood up for Beyoncé. Everybody knew Beyoncé, she had the better video that year, but Obama called him a jackass for it. So imagine what it feels like going from being called a jackass and the next president gives you a meeting and hears you out."
What about the politics? It's not lost on Craig that in the Kanye moment, Chance the Rapper tweeted that black people don't have to be Democrats. Or that Sean "Diddy" Combs tweeted about the loss of manufacturing jobs in the US. Or even that Cyhi the Prynce and Killer Mike (by emphasizing support of the second amendment in an NRA video) have publicly challenged allegiance to a political party many believe hasn't delivered on promises for black Americans.
This is all, however, against the backdrop of a major black cultural renaissance — at the intersection of sports, entertainment, and politics — defined in part by opposition to Donald Trump.
Craig is undeterred. "Kanye's now an active participant... He's always been involved in the national political conversation, whether in music or directly so. But I think more recently I think it elevates him and opens him up to a new swath of voters that probably three to four years ago wasn't giving him the light of day — and five years [ago] was condemning him."
What's certain for Craig now, he said, is Kanye's impact on culture and politics. Even if the popular culture at large despises Donald Trump, Kanye embodies Trump's nonconformist legacy.
His favorite Kanye album, after all, is still My Beautiful Dark Twisted Fantasy.