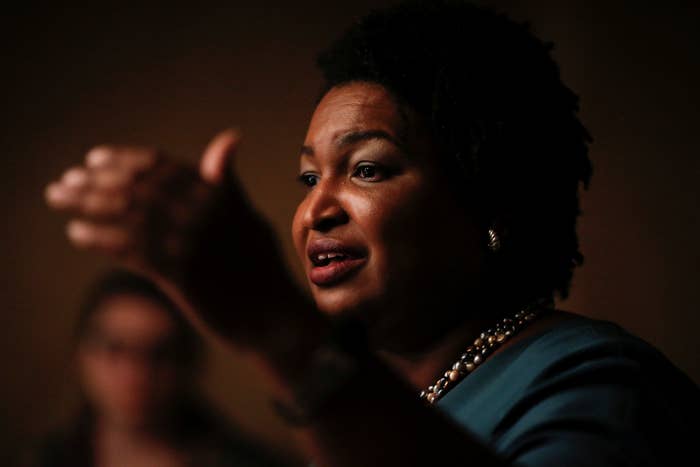 An outside political group backed by Sen. Bernie Sanders is set to announce two endorsements Monday in Democratic gubernatorial primaries: Connie Johnson in Oklahoma, and Stacey Abrams in Georgia, a spokesperson for the group told BuzzFeed News.
The endorsement from Our Revolution, a 501(c)(4) Sanders started to build off the momentum of his near-victory in the 2016 Democratic presidential primary, is one of the strongest signals that national progressive groups are in favor Abrams' political strategy. Abrams is aiming to expand the state party's electorate by identifying and turning out unlikely voters, as well as investing in the base, instead of working to win back white votes that have gone Republican in recent years.
Abrams, a former state House minority leader, is in a competitive primary with Stacey Evans, a former state legislator and lawyer.
The support is a major coup for Abrams, who is fighting to show national and Georgia Democrats that she's the most progressive candidate in the primary. "I am proud to have Our Revolution by my side as we fight for bold new solutions for Georgia and bring progress to our state," she said when reached by BuzzFeed News. "With their help, we will continue to build an inclusive grassroots campaign strong enough to win."

Nina Turner, the president of Our Revolution who has in her current position emerged as a vocal critic of the Democratic Party, said that the party should not just tell black women that they're the "backbone of the party but show them by supporting their efforts to run for statewide office."
"As the Democratic Party continues to examine how to win back the hundreds of seats lost over the last eight years, they would do well by embracing a diverse pool of candidates from a variety of socio-economic backgrounds, not just those who can self-finance or are well connected," said Turner.
Our Revolution Georgia endorsed Abrams last month, and Turner helped Abrams launch her campaign last June. Our Revolution's state coalition offered a blistering critique of Evans' campaign approach last month, saying the "failed electoral strategy of pursuing legacy Dixiecrat voters and their sympathizers must be consigned to the dustbin of history" because "it has failed spectacularly on multiple occasions."
By endorsing Abrams over Evans, Our Revolution joins the Working Families Party, EMILY's List, Daily Kos, Democracy for America, and MoveOn.org, among others. Evans has the backing of some big names in the state, including former senator Max Cleland, former governor Roy Barnes, and the Dekalb County district attorney.
Our Revolution's move could also signal to national black Democrats that the group isn't just serious about black candidates, but is looking to make inroads after Sanders' poor performance with black voters in the South.
The group also publicly endorsed Johnson, a former state legislator in Oklahoma, who is running in the state's gubernatorial party against former state attorney general Drew Edmondson. "Both Stacey and Connie have decades of experience getting things done in the statehouse," the group said. "They also have the leadership and the vision to fix the growing inequality between people experiencing poverty and those at the very top, end private for-profit prisons, and protect reproductive rights."