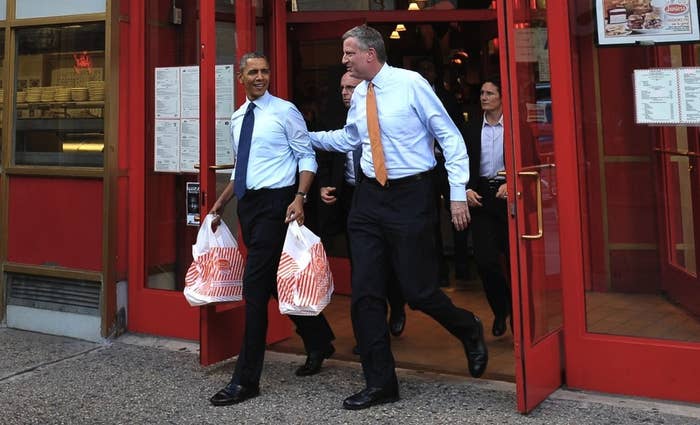 Barack and Michelle Obama are seriously considering moving to New York after his presidency, and building the Obama Library at the city's Columbia University, sources told BuzzFeed News.
Columbia's bid on the library — and the notion of the Obamas in New York — has been widely viewed as a kind of courtesy to the Big Apple, with the universal assumption among even the Obamas' inner circle that the couple would move back to Chicago in January 2017. But sources familiar with the process said their thinking has changed in recent months, the result both of messy Chicago politics and a personal craving for a new beginning when they leave the White House for the last time as residents. The first family fears the Chicago they left is not one they want to return to, and a source close to the family said the long-shot New York library bid has emerged as a serious alternative.
"It's real," an administration official told BuzzFeed News.
Barack Obama has lived in New York before: He graduated from Columbia in 1983, when he was eating breakfast at Tom's Restaurant on Broadway, drinking at The West End, and running in Central Park, according to a former roommate. He moved to Chicago soon after graduating, and shaped his private and public identities there — but New York officials said they are eager to have him back.
"The community would welcome him with open arms and be extremely proud to be part of another historic first," said a spokesperson for Harlem Rep. Charles Rangel, Hannah Kim.
Another New York Congressman, Long Island Republican Peter King, suggested New York would offer Obama a better environment for staying relevant, should he want to.
"New York is the media capital of the world. I think that's what he wants and you don't get that anywhere else," said King, who added that he'd "heard second and third hand" that Obama is seriously considering New York. "I can certainly understand why."
The Barack Obama Foundation is expected to reveal the president and first lady's decision on where to build the Obama presidential library and museum after an April 7 runoff election between Chicago Mayor Rahm Emanuel and Jesus "Chuy" Garcia. Very few details are available on Columbia's bid for the library, but city officials have touted what they call a strong bid by the president's alma mater. Earlier this month, Capital New York reported that Mayor de Blasio sent a letter to the Obama Foundation, calling Columbia "a very natural choice" for the library.
In some of his first public comments on the library bid, Columbia President Lee Bollinger told the Columbia Spectator that having the Obamas would be in keeping with an effort to engage the university community more fully with domestic and international issues of potential import to the Obama post-presidency.
"I would be thrilled with any president to have a relationship with Columbia after their presidency, but we'd be definitely thrilled to have the Obamas both on our campus, perhaps in Manhattanville and having an engagement with the institution," Bollinger said. "I'm trying to think about how to build our capacity to more broadly grapple with global issues and very important national issues, to serve as that kind of home for these larger efforts, and the Obamas would be fantastic participants and possible leaders."
Both Columbia and the de Blasio administration were extremely tight-lipped on the possibility of a New York move this week. Both declined repeated requests from BuzzFeed News for details on how the process for Columbia's bid was coming along, even as Chicago's bid teetered amid a series of mishaps, threats of legal action, and protests. Most interestingly, the library has become a political flashpoint in the election of the next mayor. Garcia, a former city councilman, had been opposed to using public park land for the library — but switched his stance, reportedly for fear of losing the support of black voters.
And for backers of Columbia, it had been nearly impossible to think of the Columbia bid as anything but an underdog for months, what with the Obamas' deep ties to Chicago, Rahm Emanuel's insistence on some of Chicago's treasured park land on which to build, and, perhaps most of all, a built-in fundraising infrastructure that would allow the Obamas to raise money on their home turf.
A de Blasio spokesperson, Marti Adams, said only, "The Administration has had detailed discussions with Columbia about its plans and is tremendously excited about the proposal, and we stand ready to support the bid however we can."
Where a U.S. president resides after his time in office is often a plum for the local economy and culture — and can be contingent on the future aspirations of a president's family. Hillary Clinton launched a U.S. Senate campaign shortly after the Clintons decided to make their home in Chappaqua, N.Y. President Clinton's decision to open an office at 55 West 125th Street in Harlem in 2001 was seen as legitimizing a cultural and economic resurgence in Harlem's main corridor, and as a gesture of thanks to the black community that backed Clinton during the toughest years of his presidency.
The Obamas will be empty nesters soon, but are not quite there yet. Daughter Malia Obama was reported to have toured both Columbia and NYU earlier this year. Malia, who is a junior at Sidwell Friends School in Washington, also recently visited Stanford, UC Berkeley, and Princeton, her mother's alma mater. Her sister, Sasha, will graduate from Sidwell in 2019, and some Obama friends think they may stay in Washington until she does.
"I know he likes New York City, but when he gets out of the White House he'll have a daughter who's still in high school," said Reggie Love, the president's former personal assistant, who has maintained a close relationship with the president. Love said in an interview that he predicts the post-presidency of his former boss will have a global reach — but that his family will also set his agenda. "You could be the leader of the free world, but kids and spouses have a huge impact on where he goes."
The decision may rest most centrally, though, on the outcome of the Chicago mayor's race, and on the first couple's broader sense of Chicago's future. For as long as there had been word of problems with the University of Chicago's bid for the library, local supporters worried about how closely the Obamas were watching them struggle.
"I hope it goes to Chicago," Obama said of the library earlier this month — but added that there had been "some entanglements."
It may be that the biggest entanglement of them all is that the Obamas are very much in a New York State of mind.