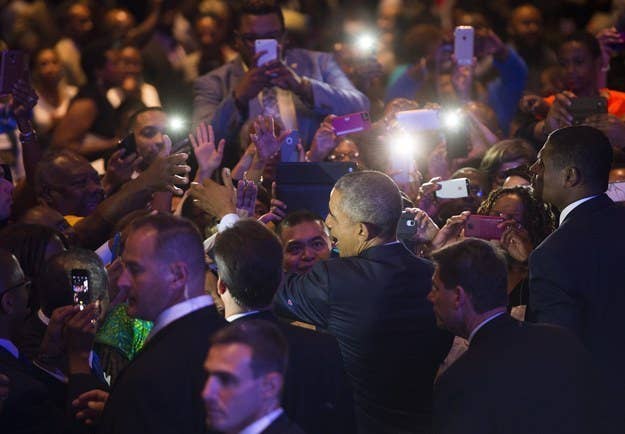 PHILADELPHIA — Black Lives Matter, the social media driven movement focused on police violence and ending white supremacy, was not far from anyone's mind — not even the leader of the free world — at the NAACP convention this week.
Whether it was in the likenesses of Trayvon Martin and Mike Brown on display outside the main convention hall, or the eyeballs on the few young people who wore t-shirts emblazoned with "Black Lives Matter" or "I love my blackness. And yours," the protest movement that sprang to life over the last year was hard to miss.
Also hard to miss was the underlying tension as the old-guard of a movement that had once championed an anti-lynching bill through Congress nearly a century ago confronted a new, digitally-focused generation of protesters.
The activists say the NAACP is beholden to the mainstream corporations; the NAACP seems perplexed by the decentralized relevance of Black Lives Matter. They are not fighting. They both agree there is a crisis. But their crossing paths in Philadelphia underscored how both movements differ on the grassroots moment the country is in, and which steps are the right ones to bring about change.
During his speech to the convention Tuesday, President Barack Obama alluded to the fundamental differences between the two groups.
"Justice," he said, "is making sure every young person knows they are special and they are important and that their lives matter — not because they heard it in a hashtag, but because of the love they feel every single day not just love from their parents, not just love from their neighborhood, but love from police, love from politicians."
Attendees also took their cue from Roslyn Brock, chairwoman of the NAACP's board of directors, who said the shooting of unarmed blacks at the hands of blacks placed an indelible impression on the psyche of blacks in America and indeed that of the NAACP. "We will never forget their faces," she said.
"However," she asked, "how do we explain" the murders of young people in Milwaukee, Philadelphia and 55 people who were wounded in Chicago? "How do we give life to the narrative that Black Lives Matter when we are doing the killing?"
"Let me be crystal clear: Black-on-black crime must end in our community as we imbue new life and meaning into the often quoted hashtag Black Lives Matter," she said.
Activists working on police violence against unarmed civilians and, they say, combating white supremacy have something of a running joke (that has gotten stale): They can always tell when someone is about to say, "Well, what about black-on-black crime?"
Race-on-race crime, the activists say, is not unique to black people. The question also provokes skepticism with Black Lives Matter activists: Why do some leaders attempt to police members of their own community, the activists argue, and want to talk about anything other than white supremacy?
Activists often refer to this "policing" as engagement in the politics of respectability, or a preference by blacks to critique and to lay blame with black people, rather than address white supremacy "head on," as one activist said. In an informal poll, principal movement activists said they were not invited to the convention — but had been drawn to Obama's speech Tuesday.
"I think we are highly supportive of Black Lives Matter, but I do think what we also are focusing on is the number of black-on-black crimes in our community as well," said Brendien Mitchell, the 21-year-old Howard University student who sits on the NAACP board and spoke at the convention briefly before Obama told BuzzFeed News. "The need for us to say that black lives matter as it relates to black lives being taken non-people of color" is important, he said. "But I also do believe that we do kill ourselves in our communities."
Mitchell said no death of a black life is more significant than another, no matter how much attention the killing of unarmed black people killed by police gets on social media.
Jay Gaskin, 17, a young NAACP member from St. Louis who is the brother of John Gaskin, a national board member, said that the reaction of the death of Mike Brown in Ferguson shocked members of the NAACP in St. Louis, even as they struggled with exactly what they should do.
He told his brother young people were protesting his death. Before long they had organized a march. "But I think we can do more than marches," he said. "We're not in the 1960s anymore. Marches do help but this is a different generation and they're not going to be as effective as they were back then."
"But the organization has done everything that it can."
David Johns, the executive director of the White House Initiative on Educational Excellence for African Americans, praised the movement but exhorted young people at a luncheon to do more than just engage with a hashtag on social media.
That message stood out for Gaskin. He said for all of the talk about the movement over the course of the convention there was a sense that people did not know a whole lot about how it works, what it wants — and wondered if perhaps some of that responsibility could fall on Black Lives Matter.
Gaskin wouldn't really have a way to know what Black Lives Matter was doing. "Unless they like, looked it up on Google or something, you really don't know anything about it other than the hashtag. It's hard. Especially for the elders."