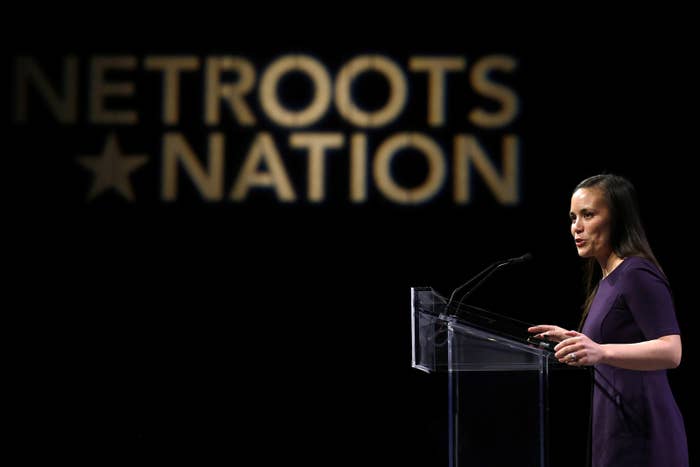 The political arms of three congressional caucuses representing nonwhite lawmakers will on Tuesday announce they are joining forces to endorse seven Democratic House candidates in a new effort aimed at increasing the party's chances of winning the majority in November.

In a statement Monday, the groups known as the "Tri-Caucus" said they were "proud to work together to increase diversity in Congress and empower underrepresented communities to participate in the political process."
The slate of endorsements marks the first time the groups have worked this closely together in a political effort.
Taken together, the groups are endorsing a slate of Democrats who have been touted by national party leaders, and who have real shots in November — even if some are in districts with strong Republican opponents.
The candidates include Iraq war veteran Gina Ortiz Jones, who is running in Texas's 23rd Congressional District, which is near the border; Aftab Pureval, an Asian American Democrat running in the Cincinnati area; Gil Cisneros, a Navy veteran vying to represent California's 39th Congressional District, from which Republican Rep. Ed Royce is retiring; and Xochitl Torres Small, a Georgetown graduate and former aide to Sen. Tom Udall, competing in New Mexico's 2nd Congressional District.
"The American people have made it perfectly clear that they are sick of the divisive rhetoric and destructive policies. They want real leaders and real solutions, and that's exactly why BOLD PAC is proud to stand with ASPIRE and CBC PAC to endorse these highly qualified candidates for Congress," Rep. Tony Cárdenas, chair of the CHC BOLD PAC in a written statement.
The Congressional Black Caucus has been actively working to turn out voters in districts with strong black candidates — and others. It's endorsing a pair of Obama alums in this round of endorsements: Antonio Delgado in New York's 19th Congressional district, and Lauren Underwood in Illinois's 14th, a long-Republican district seen as an opportunity for a strong candidate like Underwood.
The group is also pushing for the return of former representative Steven Horsford to Capitol Hill, in the seat that Democratic Rep. Ruben Kihuen will vacate after this term, following an allegation of sexual harassment, which he has denied. Horsford, a talented legislator whose 2014 loss rocked the black caucus, is campaigning again for Nevada's 4th congressional seat.
(In one of the last remaining primaries of the year, CBCPAC has stayed decidedly out of the challenge that Ayanna Pressley, a young black politician from Boston, is making against incumbent Rep. Michael Capuano. That decision has not pleased everyone.)
New York Rep. Gregory Meeks, the chairman of the CBCPAC, said the group has "long supported a diverse range of candidates who champion our shared interests" and that the "candidates exemplify great leadership for all Americans."
Rep. Grace Meng, chair of ASPIRE PAC, said the group would continue to work through Election Day to get the candidates elected. "Diversity is our party's strength, and our organizations are stronger when we collaborate."