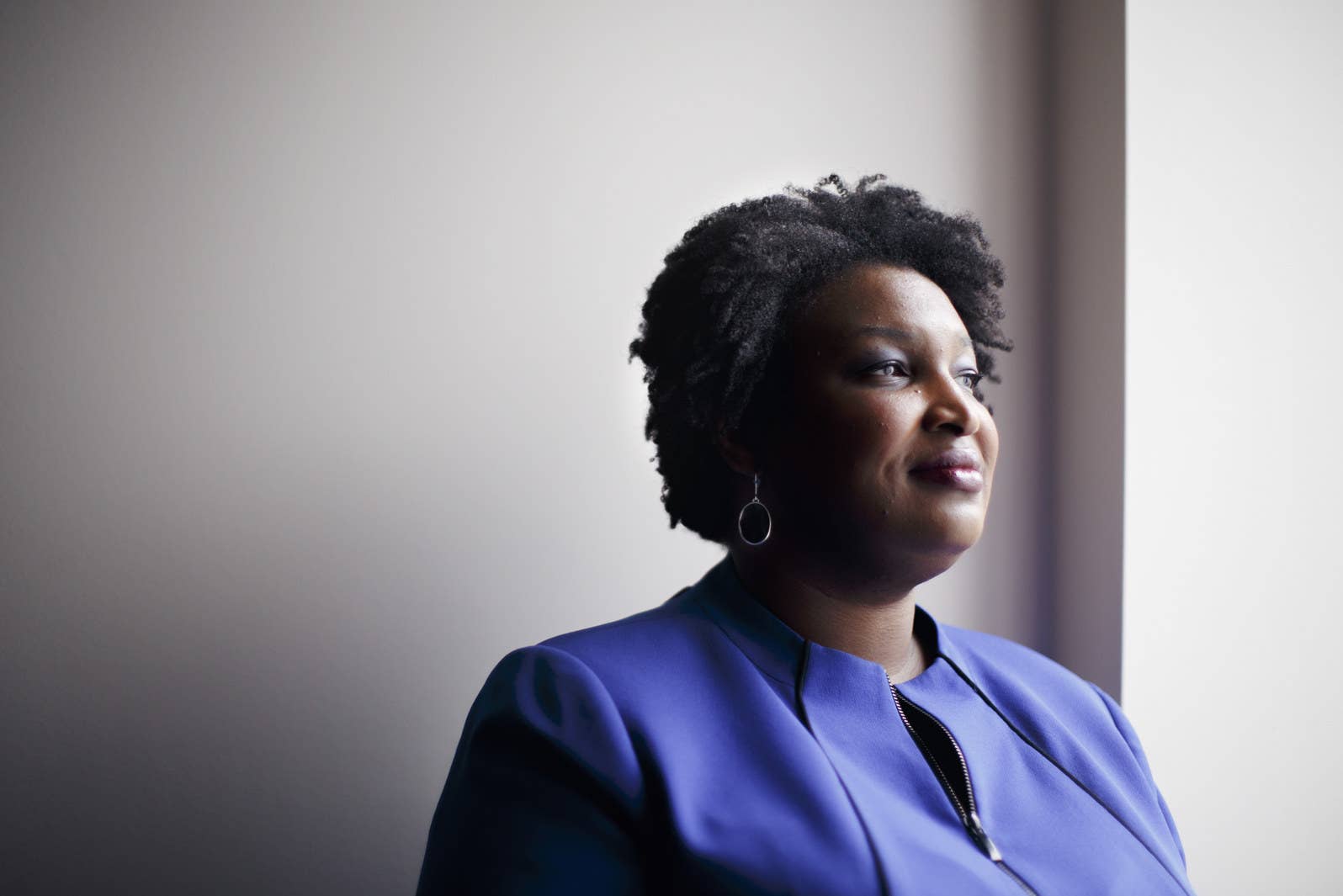 On a recent sleepy afternoon inside the Georgia State Capitol, Stacey Abrams was wearing a meticulous twist-out and standing near the well of the house. She was speaking to 35 black students, mostly teenagers.
The 43-year-old legislator had the students participate in a mock debate over a bill she named "HB1," which proposed to outlaw peanut butter from school grounds. Abrams slow-walked through the particulars of the bill, halting when floor procedure was broken. (A complicated sequence confused one of the young students, and Abrams leaned her six-foot frame leaning down to tell her not to worry. "You've got people who have been here for four years who still don't understand that.") The "bill" was killed on the floor and the kids applauded.
"OK, questions," she said. No, she doesn't have kids. She likes reading and pasta, yes. Has she passed any bills? Abrams slipped into a version of her stump speech, and when she got to "and now I'm running for governor of Georgia" they cheered louder than when the peanut butter bill died. Pleased, her smile was visible for a moment.
Someone asked who she was running against. Abrams pointed to a spot elsewhere in the chamber: "She sits right there."
A mere 11 black women have been independently elected to statewide executive office in the history of the United States — Abrams wants to be the 12th. In recent years, Georgia has become a state perpetually on the verge of theoretically turning blue on the strength of the state's influx of affluent, diverse, and college-educated voters. If Republicans continue to win in Midwestern states like Wisconsin and Michigan, Democrats will need to reliably win states like North Carolina and Arizona to stay competitive. Under this vision for Georgia, Abrams seems like a potentially strong candidate: National progressives like her but she has an ability to work with state Republicans (until she stepped aside a few weeks ago to run for governor, she was the minority leader of the Georgia Assembly, a body dominated by Republicans), along with a vision for the state and a history of helping register hundreds of thousands of minority voters.
Her colleague and challenger for the nomination, Stacey Evans — the pair share the same first name in a parable-like twist about the short-term direction of Democratic politics — represents a slightly different vision for the party's future. Evans, who is white, is less experienced than Abrams. But a powerful rendering of her life story got the attention of prominent Democrats, and decisively shifted the trajectory of the primary, once considered Abrams's to lose. Titled "16 Homes," the ad features Georgia-born Evans sitting alone and explaining that she'd grown up poor, and once experienced the trauma of watching her mother be physically abused. Her life changed when she received the state's HOPE scholarship, and now, she explains, she simply wants to make her story possible in Georgia again. The Democratic strategist Paul Begala watched, then tweeted, "This. This. This. This is why I'm a Democrat."
The race between the Staceys comes at a tense time for the party. After an unexpectedly raw presidential primary and Hillary Clinton's stunning defeat, Democrats are still sorting out the party's ideological and organizational direction, on everything from whether supporting abortion rights should be a candidate requirement to whether white-working-class voters or suburbanites should be targeted. The Georgia primary is a microcosm of that existential crisis, bringing delicate but explosive questions about race and party politics to the fore. What kinds of candidates should the party favor? What kinds of voters should they seek? Abrams is banking on an outpouring of black voters inspired by the possibility of making history, and Evans on the prospect of peeling off moderate, and some conservative, whites. How, exactly, should Democrats in Georgia be trying to win statewide elections?
"We're a black party, that's kind of the deal. But you don't put [Ossoff's] number up without white folks voting for you."
The primary is already causing anxiety in the party at places like Manuel's Tavern, a Democratic watering hole where it's considered impolite not to go drink-for-drink, and the conversation often goes back to old campaigns. (One recent afternoon, Jon Ossoff, the young candidate who lost a close special election in the state's sixth congressional district, ambled in and had a few with Evans' campaign chairman.) Lots of these Georgia-based Democrats still long to reach white voters that abandoned them. Georgia last went blue in a presidential election in 1992, when southerner Bill Clinton ran the first time (but not the second); the state's last Democratic governor, Roy Barnes, left office 14 years ago.

"I think there's a debate about Democratic base turnout versus persuasion, but that's a false debate because we have to do both," said Jeff DiSantis, one of the state's top Democratic strategists. "I don't see how you [win] without both increasing the Democratic base turnout and winning over some people that we've lost over that last few decades."

At Manuel's, people are quick to note the silver lining in Ossoff's loss: He swung the Republican-leaning district by 20 points, months after Hillary Clinton improved on Barack Obama's performance there by double digits. "We're a black party, that's kind of the deal," one strategist who asked not to be named so he could speak freely told BuzzFeed News. "But you don't put [Ossoff's] number up without white folks voting for you."
Some in the white liberal political class here worry about something they would never say publicly: If Abrams wins the nomination, they think she's going to lose some of the 23% to 25% (Democrats vary on this number) of white voters who vote Democrat every election. National progressives watching the state argue that number isn't going to budge — and that Abrams could improve on previous Democrats' performance with especially black voters, but also Latino and Asian voters. After all: Georgia is one of the most diverse states in the country: Statewide, nearly 45% of Georgians are people of color, and the states' 1.5 million black people make up a third of the total population (and more than half of those people of color live in suburban or rural areas).
The fraught tensions around the primary, and the feelings among some black progressives that Democrats aren't giving Abrams enough support, bubbled up last weekend at Netroots Nation convention. The event has become a landing place for protest; at Phoenix's 2015 gathering, protesters famously interrupted and challenged appearances by Bernie Sanders and Martin O'Malley, pressing the candidates on the recent death of a black woman, Sandra Bland, in prison following a routine traffic stop.
This year, in Atlanta, as Evans took to the lectern, protesters shouted "Trust black women" and "Support black women" as Evans attempted, unsuccessfully, to address the audience. The protesters distributed fliers comparing Evans to Betsy DeVos; they argued that Evans was moderate speaking at a progressive conference; and said that Evans' views on education are harmful to black children. (A specific point of contention is that Evans has voted in support of charter schools and backed a plan that would have given the governor more power to make dramatic changes to troubled schools.)
Evans asked the protesters to let her talk, asking for a dialogue with anyone who would listen as they shouted her down. She eventually chose to power through her speech, and at one point even chanted back, "HOPE! HOPE! HOPE!"
In response to a series of questions regarding the protest and whether the Abrams campaign supported the action or knew about it in advance, a spokesperson said, "The campaign received a call on Friday night from Netroots staff indicating that a protest against Evans might take place. Regarding participants, as we were not present, we know what was publicly reported."
The Evans campaign declined to comment further, referring to remarks she made to the Atlanta Journal Constitution that the protesters deserved to heard, and so did she. In a series of tweets, Abrams defended the protest, saying her commitment to public education and opposing privatization "stands in stark contrast to all my opponents" without naming Evans. "My parents were civil rights protestors [sic], and taught me to lead peaceful demonstrations against apartheid, the Confederate flag, and in support of the LGBT community. I will not condemn peaceful protest. From what I observed from Savannah, activists in Atlanta peacefully protested this morning on the critical issue of preserving public education for every family in our state. The mantra of 'trust black women' is a historic endorsement of the value of bringing marginalized voices to the forefront, not a rebuke to my opponent's race." On Aug. 14, she wrote on Facebook, "I will never engage in any form of campaigning designed to ostracize my opponents based on race."
"I don't look like what people expect. And that expectation often is transmuted into whether they think I can be successful."
Meanwhile, Patrick Husbands, the vice president of the Young Democrats of Atlanta, said matters of race won't matter, at least as much as everyone thinks. "In Georgia, they're ready to have real people run for office," he said. Husbands thinks it's a narrative being pushed by the national media — and members inside Abrams camp agree. "We'll let the press do that," said Marcus Ferrell, a former Bernie Sanders hand who drove his Jeep to Atlanta from Phoenix to help Abrams. "Building a new coalition is what excites us, and I think if you ask anyone on our campaign, if we execute the plan to the best of our ability it won't matter what the press says."
Even if everyone says they don't want to talk about it, it's clearly weighing on Democratic minds here in Georgia. And for her part, Abrams has thought a lot about the role race plays in chatter surrounding the primary. "I am always aware both internally and often externally that I don't look like what people expect," she said in July. "And that expectation often is transmuted into whether they think I can be successful."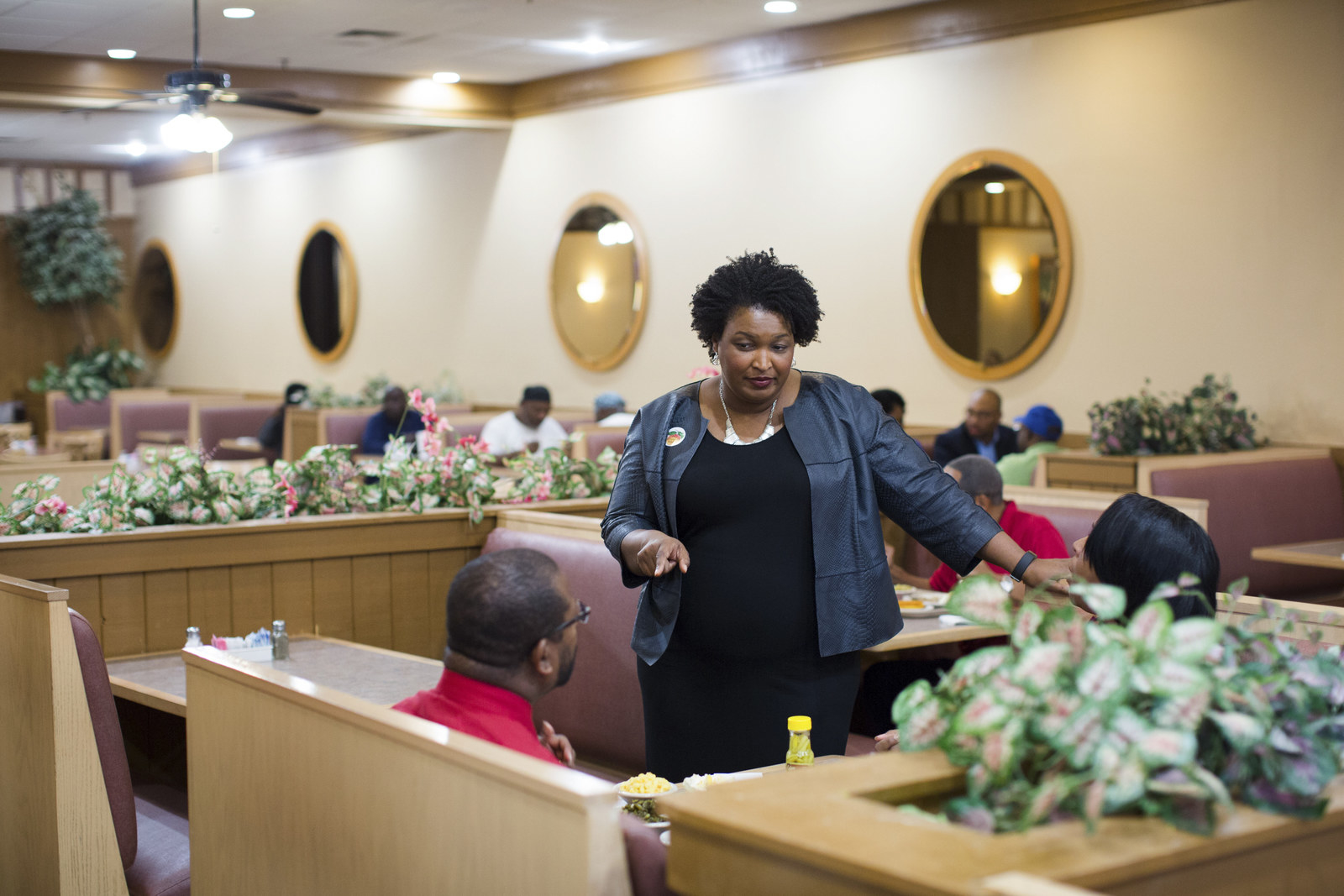 Over the last decade, the "rising star" label has been attached to Abrams possibly more than any other Democrat in American politics. In some ways, she's emerged as progressives' answer to, say, Illinois Rep. Adam Kinzinger: accomplished, charismatic, and possessing at a young age the quality of having A Future in politics, even if what that future in American politics should be wasn't quite clear.
Born in Madison, Wisconsin, to parents who were then a library sciences student and a shipyard worker, Abrams grew up in Gulfport, Mississippi. She gets laughs when she says that her mother, Carolyn, called their family the "genteel poor" — "We had no money, but we had class. We watched PBS and read books." Carolyn and Robert emphasized public service for their children.
Their daughter jokes she got tricked into going to Spelman by her mother, but was convinced to stay when she saw cute boys at Morehouse. Her career at Spelman, though, belies her drive: Either unable or unwilling to decide on a major, she became the school's first ever interdisciplinary studies major in school history, all while clashing with the administration as student body president. She convinced the school's president, Dr. Johnetta B. Cole, to sit in on one board meeting with CEOs and prominent alumni. "The person next to me just slid their materials over," she said. Soon she was going all the time. They helped shape her understanding of how an enterprise needs funding. (Amid her political career, Abrams has also pursued business in consulting, finance, and bottled water — and is an accomplished novelist under the pen name Selena Montgomery.) She once barged into a meeting of the school's board of directors. The University of Texas, a Truman Fellowship, and Yale Law School followed.
By 29, she was deputy city attorney for the city of Atlanta under then-mayor Shirley Franklin. When state Rep. JoAnn McClinton decided not to run past 2006, Abrams' decided to jump in. She ran and won against a pair of opponents. "She was a little bit fearless," Columbus Rep. Carolyn Hugley recalled, saying that Abrams cared little for deference to the House Speaker. "Everybody knows that it's not a good idea to challenge the ruling of the chair even if you are correct, but she was all business." Abrams quickly built a reputation of a legislator who worked harder than most.
Along the way, she also began playing in wider Georgia politics, something that may be causing her some real problems now: She endorsed a candidate in the 2010 gubernatorial race then refused to change alliances when Barnes, the last Democratic governor, decided to run, too. She also backed a challenger to Kasim Reed, the Atlanta mayor who still holds a lot of sway in Georgia politics. (So angered was Reed at Abrams, one source said, that Abrams believed he was using his connections in Washington to keep her out of fundraising networks. Reed, who himself had designs on statewide office, views her as a rival, "and, accordingly, hates her," a Georgia insider said. "Plus, she's not 'of' the Atlanta Black establishment, so they're sniping and backbiting." After asking BuzzFeed News about this story, Reed's office did not return requests for an interview.)
"I am tired of being first. I want to be last."
Regardless, Democrats elected Abrams to lead their caucus in 2011, and she does have support in the party in Georgia. John Lewis recently endorsed her, for instance — a big time endorsement. In general, though it's been a tough time to be a Democrat. The party has been slaughtered in state elections — Republicans nearly hold a supermajority. Abrams, however, has made noise on both ends: trying to compromise to hold ground on priorities with Republicans, while leading efforts to protect voting rights through the courts and in registration efforts. Abrams was the chief architect and founder of a plan, the New Georgia Project, that registered thousands of the estimated 800,000 eligible voters of color who lived in Georgia but were not registered to vote.
These kinds of efforts, her role in the assembly, and her appeal have garnered national attention, the kind that can help a state politician become a national politician: The activist Ben Jealous, a notorious networker who is running for governor of Maryland, asked the Democratic activist and donor Steve Phillips to meet with Abrams about four years ago. "It was clear to me that she had the most detailed and sophisticated understanding of her state's politics and how to win in her state than anyone I've ever met in any other part of the country," said Phillips, who is among the national progressives helping Abrams. "The level of depth and strategic sophistication was a higher level than you find for people in politics." EMILY's List — the fundraising group that aims to elect pro-choice women — awarded her the first Gabby Giffords Rising Star Award in 2014. During her acceptance speech, Abrams posited that acquiring power means that you can be the "last" woman to deal with a laundry list of political, sexist, or racist shit. "I am tired of being first. I want to be last," she said. "We will populate the heavens and we will all become last! And the first to say thank you." (In July, Stephanie Schriock, the president of Emily's List said that Barbara Boxer, Dianne Feinstein, and Nancy Pelosi had all spoken that night but all that anyone remembers or talks about is Abrams. "She stole the night.")
And now she's running for governor.
Both of Abrams' parents later became ministers, and Abrams often speaks with the cadence of the ministry. On a recent visit to Columbus, about 90 minutes southwest of Atlanta, she recounted a story about once when she and her older sister had gone searching for their father, who had a habit of walking or even hitch-hiking home, along a highway in the middle of winter. They found him, coat-less, on the side of the highway. No, he hadn't lost his jacket. He'd given it to a homeless man on the highway. "My dad said, 'That man was alone and I knew that he'd be alone when I left.' But he said, 'I knew y'all were coming for me.' I'm running for governor because I'm coming for Georgia."
Too many families are left behind who have what it takes to succeed but "because they're the wrong color or they live in the wrong zip code or they make the wrong mistakes," things don't always go their way, Abrams said. And though some Georgians have seen progress, "it has not seen them."
Abrams, she said, wants to be "the governor of the whole state of Georgia."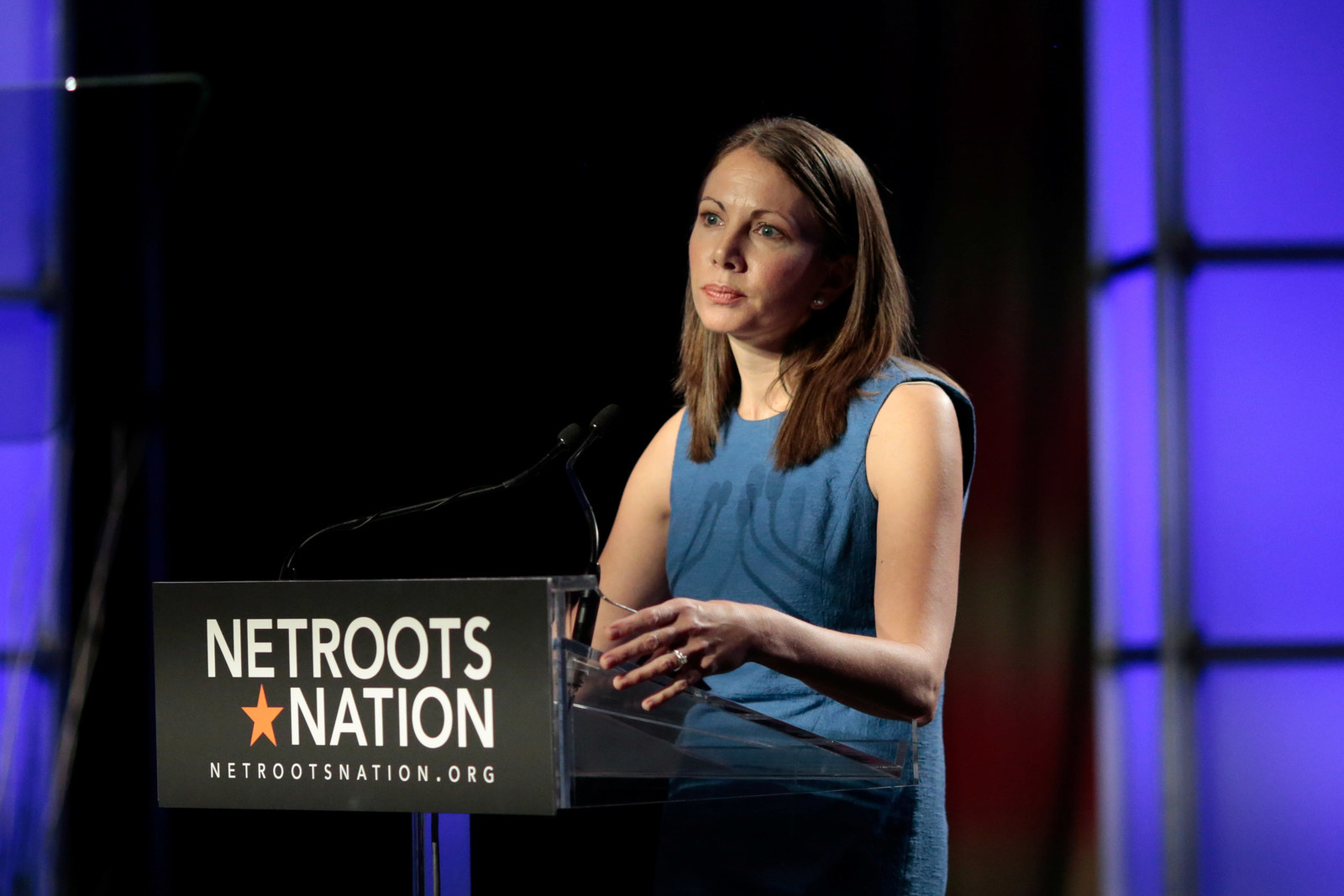 Stacey Evans recently wrote to Zell Miller, the former governor of Georgia, she told BuzzFeed News over lunch at Mary Mac's Tea Room in Atlanta, where framed pictures of political legends line the walls.
Evans noted to the only newcomer at the table they make you drink potlikker, the broth made from collard greens and with a piece of cornbread. (Miller so loved potlikker that he wrote in 1982 to the New York Times on how it had spelled "that great Southern delicacy" in a story.) "I wanted him to know what a difference he made to me," she later said of Miller, tearing up a bit. "I'm writing the note [and] I'm saying how I'm so glad you were governor because what if you hadn't been governor? This might not have ever happened."
By "this," Evans meant her improbable rise from poverty. Born and raised in Ringgold, near the Tennessee line, Evans was the first in her family to graduate college. There was abuse in the home, and they struggled to make ends meet. Evans was able to go to the University of Georgia on a HOPE scholarship, then to law school. "She was the one who was always willing to help you out," recalled Ronnie Mabra, a law school classmate of Evans' and former member of the House who flirted with a run for Lt. Governor. Even in college, Evans struggled. It was hard for her to adjust in an environment when her peers had parents and grandparents who had both gone to college there, she said. ("I used to joke with her that she was the only white person I know that's in a worse situation than me," a black law school classmate told BuzzFeed News.) A successful whistleblower lawsuit she was part of made her a millionaire practically overnight. She got to the legislature in 2011. And in the legislature, she immediately began hammering away at making the HOPE scholarship available to more students.
"I used to joke with her that she was the only white person I know that's in a worse situation than me."
In some ways, Evans' core pitch involves HOPE, the scholarship funded by the Georgia state lottery. She has also advocated for making technical college tuition-free in the state of Georgia, and could generally be described as one of the Democrats more supportive of charter schools, a raw, intraparty divide that is particularly sharp in parts of the South and in major cities like New York.
The HOPE scholarship is not one that's been without controversy (besides the traditional criticisms of lottery-funded education initiatives, which some consider to be exploitive). In 2011, Republicans proposed changes when the scholarship verged on insolvency like, for instance, requiring a higher GPA for recipients. Governor Nathan Deal reached across the aisle — to Stacey Abrams.
Abrams argued with Deal privately that aid needed to stay in the program for students who don't do well on standardized tests, and getting rid of pre-K was not tenable. Abrams wanted to be able to preserve a full day of pre-K, and, who students who still needed to meet costs, Abrams proposed a 1% interest loan program to cover costs. Under the new bill that Abrams helped broker, the requirement for a full ride went from a B-average to a 3.7 GPA and at least a 1200 on the SAT. (Kimberly Peeler-Allen, the co-founder of Higher Heights for America, which recruits and trains black women candidates, defended Abrams' willingness to save the bill by working with Republicans. "When you're governor and Republicans are still in control of both chambers, how do you expect to get anything done if you pride yourself on not compromising with them?")
In 2011, Evans passionately opposed Abrams' negotiations with Deal. She's argued the scholarship was meant to keep tuition free for the students who need it most, and contends that Abrams didn't work hard enough to keep full HOPE grants available to students who grew up poor like her and failed to meet the rigorous academic requirements. (In an impassioned floor speech that year, Evans said poverty played a role in her barely making 1000 on her SAT.) "We should not determine who was meant to go to college from birth and that's what happens," she said. "HOPE was intended to change that." Over lunch, asked whether Abrams had helped to save HOPE, Evans said no, then paused, looking out onto the street. "All I can say is it's not true. She didn't save HOPE." Evans conceded that the program needed changes, but thinks the changes should have been different — because they leave behind too many kids who might most benefit. "We just forgot about the idea of helping the kids who couldn't otherwise afford it, and we just focused on the supposed best and brightest in Georgia."
"I see what I'm doing now as an extension of what I've been trying to do for the last seven years," she said, "which is make my story possible in Georgia again. Because right now it's not."
When Barnes, the last Democratic governor to be elected in Georgia, endorsed Evans, national progressives brushed it off as a perfunctory, if not predictable, preservation of traditional Georgia politics. "People don't want it to change, the kissing of the rings and blessing of the leaders, it's the way things are," one influential progressive observing the primary told BuzzFeed News.
Image-conscious Georgia Democrats like to say that it's not like that — that in fact, the myth that a Democratic primary candidate has to have the blessing of someone like Barnes is ludicrous. Evans is defensive. She admits she went to see him to seek his counsel when she was running for the her House seat in Cobb County but the notion that Barnes somehow handpicked her to block Abrams isn't accurate. "I didn't have a relationship with him before I first ran for the state legislature," she said. "His support for me now has to do with the fact that he's seen me working hard and focusing on the issues that he knows that Georgia families care about."
"I don't feel chosen — certainly not anointed or picked to do this," said Evans. "I came to the decision to run for this office on my own after talking with my family and of course asking what people thought about whether I should do it. I certainly sought counsel, but I wasn't asked to run for this office."
In response to Barnes' endorsement, Abrams told the Atlanta Journal-Constitution, "It's not 1998 anymore." (That was the year Barnes was elected governor.) Barnes, who couldn't be reached for this story, did not particularly like what Abrams said. "It motivated him and it motivated a lot of his friends and supporters," said Bobby Kahn, a longtime Barnes ally and former chair of Georgia Democratic Party. Kahn said he believed they talked about supporting her candidacy, too, and met with the Abrams campaign. "But it's not 1998," Kahn offered. (The Abrams campaign said there was no such meeting.) "There will be an African-American governor, there will a woman governor, black woman governor. I don't believe that will be Stacey Abrams because of the voters of Georgia and her colleagues in the general assembly do not share the views of this national elite constituency."
But it's not just white Democrats who support Evans.
Several powerful black Democrats in recent weeks have come out in support, too, popular ones in vote-rich counties. Sherry Boston, the highest-ranking black woman in DeKalb County came out for her in June. "My endorsement is not against any other Democrat. In fact, our party is stronger when we have competition," she said in a statement. And while Reed hasn't endorsed, he offered to Evans on Twitter, "Best wishes on your run."

Evans said she'd love to have the kind of support Abrams enjoys nationally. But she downplays it, too. "It's a Georgia race."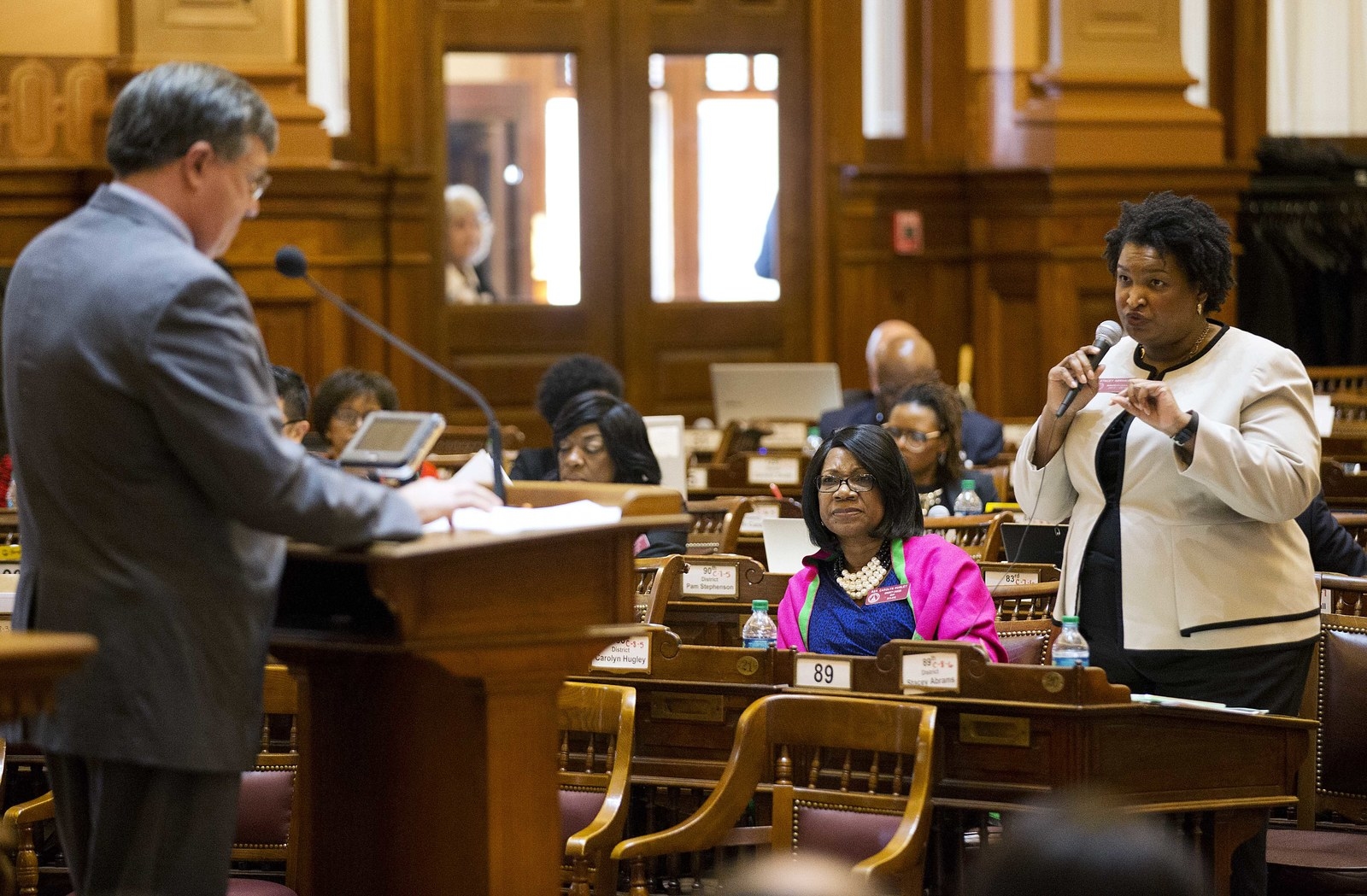 This isn't the first time a black candidate has gone up against a white one in gubernatorial primary. In 2010, Roy Barnes carried 66% of the vote, outperforming Thurbert Baker, a well-known attorney general, in each of the nine counties in metro Atlanta, and potentially as much as 40% of black voters statewide. Baker's popularity among black voters was lukewarm at best, and Barnes' Clintonian air and willingness to take down the state flag was not forgotten.
Even some of Evans' staunchest black supporters say they wish they weren't in the position to have to explain to anyone why they don't support the woman who would be the first black woman governor in the country. Some white liberals here say that Georgia is different and that, voting for someone just because they're black is insulting to blacks. "In Georgia, you vote on record, you don't vote on race," one told BuzzFeed News.
National progressives think if Abrams were a white man, the question of whether she could carry Georgia would not be in question. In 2014, no one challenged Jason Carter, they point out. "The standard picture of leadership is a white man, and when you have a finally black woman, people who have reason to be supportive of, they all of a sudden find reasons not to be," said Phillips.
Not a single black woman has ever been elected to an American governorship. They're rarely party nominees for statewide — there's never been one in Georgia.
To counter any potential momentum against Abrams, national fundraising groups Democracy In Color, Higher Heights for America, and Collective PAC have gotten behind her. People in those groups contend that there's a powerful imbalance in state politics: Kingmakers rely on the hard work of black women and believe they are empowering them when they recruit them for organizing jobs or ideological congressional seats — but not statewide executive office. Nina Turner, the president of Our Revolution, the group founded by Bernie Sanders, endorsed Abrams in June, knowing in part that Georgia's black political elite had begun strategizing against her. "Their [intra-state] politics are what they are," Turner said. "It's a moral stain."
Even if the party apparatus isn't holding back Abrams, though, even if it isn't about race, even if Evans is just a better candidate for the moment — even if Abrams ends up being successful in her bids to win both nomination and governorship, the reality up until now is grim on this particular point: Not a single black woman has ever been elected to an American governorship. They're rarely party nominees for statewide — there's never been one in Georgia. According to Higher Heights for America's "Black Women in American Politics" report, four black women ran for statewide elected executive office in 2016. Each lost.
And yet black women are the ones, arguably, who are most engaged in our civic process. Seventy-three percent of eligible black women are registered to vote, according to the latest numbers from Higher Heights for America. They had a turnout rate that was highest (70%) of all groups in 2008 and 2012 and second highest (64%) in 2016. Black women were the key force behind Barack Obama and Hillary Clinton's campaigns.
At that stop in Columbus, Abrams spoke with a group of black women, the kind who always come out to vote. One of the women in the audience was an 87-year-old organizer named Juanita Booker. She clasped both of Abrams' hands and told her that she was proud of her. Booker retired in 1999. "It's beyond my wildest expectations," said Booker. "It's just so thrilling that I'm able to see young black women move up and I'm going to do all that I can physically and financially to help her."
As she was leaving to go watch Abrams launch her Columbus effort across the street, Booker wanted to make sure that everyone listening knew that she had started the first guidance program of the Muscogee County School District. "You don't understand what I had to go through," she said.
"You have no idea." ●