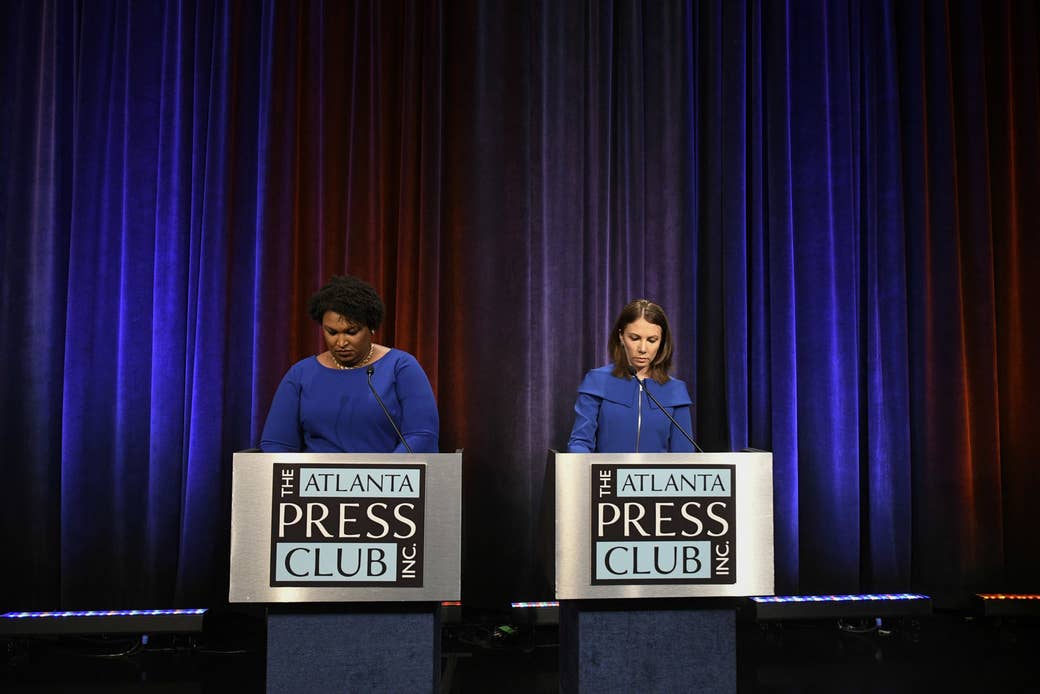 Not long after Zell Miller died earlier this year, Stacey Evans, who is running for Georgia governor, tweeted a picture of herself and Miller.

She was among the first recipients of the HOPE scholarship (Helping Outstanding Pupils Educationally), a policy allowing any high school student with a B-average attend one of Georgia's public colleges or universities tuition-free. "Governor Zell Miller gave millions of Georgians hope," she wrote. "That hope saved my life."
Evans, a lawyer and former Democratic legislator in the state, has as a gubernatorial candidate staked her bid on a vision of HOPE, both as a piece of political policy in need of repair, and as a broader message of optimism for the future of the state.
Stacey Abrams, her opponent in the Democratic governor's primary here, has run as a liberal but with a broader agenda, promising to expand pre-K and opportunities in higher education, help small businesses get access to capital, growing jobs, and make fixes to health care, transportation, and criminal justice. Abrams, on the stump in Atlanta with Kamala Harris, recently said, "Georgia needs more than just hope."
Those five words are the most direct Abrams has been on her opponent's messaging, and essentially are the crux of the primary here: The direction of Democratic politics in Georgia, the party's prospects for expanding the electorate, and whether Georgia turns blue after trending that way for years might be linked to the legacy, future, and political relevance of a merit-based scholarship.
Not much actually separates the candidates on policy, but they do represent different ideas within the party about how Democrats can win in Georgia. Abrams' vision involves organizing black and Latino voters in the state, a vision many national Democrats agree is the long-term future for the state. Evans is instead more in line with other recent Georgian Democratic efforts to win statewide — she is white, for one thing — and has seized on the HOPE scholarship, an economic-based, education-focused message that fits within the increasing economic populism of the last two years — even if left-leaning education policy experts say the program just does not serve its intended purpose, and that non-white and low-income students just don't benefit the same way middle-class white students do.
The core tension point between Abrams and Evans is a series of negotiations in 2011 after the HOPE scholarship faced insolvency: The state could no longer afford to send anyone who made B's to college tuition-free. As minority leader of the Georgia House of Representatives, Abrams negotiated a deal with Republicans that her campaign argues saved public education financing for Georgia's college students at a time when such programs were under siege.
She stood behind Deal signing a bill that established the Zell Miller Scholarship, requiring a 3.7 GPA and a minimum SAT score of 1200. To prevent a universal testing requirement, which experts argue would have affected people of color and low-income students, Abrams negotiated the second tier of partial aide for students who maintained a 3.0 GPA in high school with no standardized test score requirement and secured funding for the establishment of a low-interest loans program. Evans expressed gratitude to Abrams at the time, according to emails released to the Atlanta Journal-Constitution by the Abrams campaign to argue that Evans has changed her position when it comes to HOPE. "Thank you for being such a great leader," Evans wrote.
But Evans has gone far in the other direction since then, and argued that the results of that deal are not nearly enough for poor students.
She's, for instance, released a television ad that features an unidentified, skeptical-looking young black girl, who says she "just learned Stacey Abrams cut a deal with Republicans" that caused 97% of black students lost access to full scholarships. Suddenly, Evans appears. "I'm Stacey Evans, and as governor, I'll fully restore HOPE scholarships for all our kids." The ad set off furious Abrams supporters who called it disingenuous. (Abrams went in turn on air with a response ad saying Evans' attack "was lying about Stacey Abrams." It then flashes pictures of her looking authoritative and warm. "When the HOPE scholarship and funding for pre-K were threatened Stacey Abrams got to work with Democrats and Republicans," the narrator says in the ad. "And the HOPE scholarship? Saved that, too!")
When Evans was asked what experience qualified her to be governor during a debate at the Atlanta Press Club, Evans said that "living the life that Georgians live every day" and "knowing what it means to struggle and need your government to work for you." She quickly pivoted to HOPE, echoing her attack ad on the debate stage. "My opponent in this race co-authored cuts that led to 97% of African Americans."
On her heels, shaking her head, Abrams shot back, "We are all entitled to an opinion, but we're not entitled to our own facts. And unfortunately my opponent continues to misstate the facts and scare families," something Abrams said she was "deeply ashamed of." Evans said she wasn't trying to scare families, but that Abrams "tries to pretend that she has left in tact a scholarship for all and that's not true." Later in the debate, Evans was asked how she'd fund the scholarship under her plan if there were a national economic downturn. She sidestepped the question, saying only that it was important, and that the state can afford to invest in Georgians with money in the state's coffers now. Abrams took that opportunity to say that that's the situation legislators found themselves in 2011, and reeled off reasons as minority leader why she saved it.
But putting all of Evans' chips on HOPE might not be all that bad of an idea. It's a simple message at a time where politics are fraught, racially-charged, and consumed by Donald Trump, and as the moment at the debate showed, the argument draws a contrast even if the candidates and voters disagree on the context and particulars. Today, half of Georgia's voting-age population is 18 to 44 years old. (The oldest HOPE recipients would be around 40, which Evans just turned.) A third of the electorate holds a Bachelor's degree or higher. A poll by the Atlanta Journal-Constitution interestingly showed that white voters favored Abrams over Evans 27% to 23%.
She may really have nothing to lose.
HOPE is still popular, even with tweaks to the law that made the award less generous and harder to get. It was young people like Evans — unlike the average student who receives the scholarship, she grew up poor and while academically motivated, not a valedictorian — that the award was designed to assist. That's one reason why it's difficult to gauge how politically motivated people of color are by a candidacy devoted to restoring it: There is no real consensus, and feelings on the policy is an almost completely mixed bag.
In informal interviews with two dozen younger Georgians and parents of color, about half admitted to not having thought a whole lot about HOPE since their families thought about how to pay for college. (Pro-Evans Democrats say said Evans is changing that.) Some students lost it because they couldn't keep up with the work, or got distracted, and have bad memories of that. Others had an overwhelmingly positive experience.
People interviewed said striving for the scholarship instilled in them a sense of duty and purpose, and imbued a sense of pride that you were working for something you had to work hard to earn. Several students have fond memories of having received the scholarship, many of them who attended the University of Georgia or Georgia Tech, told BuzzFeed News that they didn't know anyone in college that hadn't received HOPE. Some who lost it said it was a hard lesson to learn, or went out of state for school, and didn't care. Parents of school-age children said HOPE is something they see as part of living in Georgia, that they can participate in as taxpayers and lottery-players. Other parents are resentful, with painful memories about the award not being enough, and needing to supplement it with loans, or cobbling together money from friends and family.
The people with the most to say about Evans' messaging are the educators supporting Abrams. "The idea of the scholarship, in theory, is awesome, it's amazing," said Eleina Raines, an educator. "But it's still not addressing the root cause of why we are not getting our black and brown babies past high school. HOPE is not affording them the opportunities it should and it's actually giving more money to affluent white kids than it is black and brown kids."

Adzua Agyapon, an educator who has donated to Abrams twice, said that Abrams' stance on HOPE reflects a tenet in education policy about bridging the practical gaps between what's stated in theory versus what's actually happening in schools. "Evans' message sounds beautiful on paper," she said. "But Stacey Abrams knows that that's not really what translates into what's best for our children, and knows that knows that there's a lot more that needs to be done to ensure that HOPE is doing what intended to do."
There is almost no publicly available demographic information on who has received HOPE; spokespeople for both the Georgia State Finance Commission (GSFC), which administers HOPE, and the University System of Georgia said no such records were kept. In 2016, however, the commission provided to the left-leaning Georgia Budget & Policy Institute (GBPI) demographic and income bracket breakdown of all students from the fall of 2013 who had received HOPE-related awards.
GBPI's 2016 policy analysis, titled "Troubling Gaps in HOPE Point to Need-based Aid Solutions," found that HOPE in 2013 had been unequally distributed, leaving many people of color and low-income Georgians shutout. In fact, most awards, especially the most generous, went that year to students whose families would have otherwise been able to afford college.
That analysis found that 78% of the recipients of the Zell Miller scholarship — which requires a 3.7 GPA and 1300 SAT score — were white; 5% were black, and 4% Hispanic. Only 21% of Zell Miller Scholarship recipients were low-income students, according to the analysis. Additionally, lower-income students and students of color were much more likely to lose their awards because they couldn't maintain their academic performance once in college; black Georgians were the most likely to lose their award, and the most likely drop out altogether if they lost it.
"The educational opportunities all up the way up through high school are not equal in Georgia, so the benefit is going to students who are better prepared and have had better opportunities."
"When you look at the benefits, it's disproportionate because they award academic achievement in a way that low-income students and students of color are already disadvantaged," said Jennifer Lee, an education policy analyst for the group. Lee said inequality in school funding, opportunity disparity in wealthy and poor school districts, and preparedness for standardized testing all factor into who gets HOPE and who doesn't. "The educational opportunities all up the way up through high school are not equal in Georgia, so the benefit is going to students who are better prepared and have had better opportunities."
Dr. Andre Perry, the David M. Rubenstein Fellow at The Brookings Institution, whose research focuses on race and structural inequality in education said that merit-based programs like HOPE face insolvency because often families who don't necessarily need the scholarship take advantage of it. Advocates of need-based awards simply aren't being given a fair shot, said Perry, and families at low-income school districts often don't have knowledge about how the program works, and even feel the programs are not for them.

"These merit-based programs like HOPE are so far afield from what they were intended to do: take someone who did not have an opportunity, and give them access to an education," said Perry. "Now it's become a way for middle-class families to save money and the reality is that middle-class families will send their kids to school with or without a merit-based scholarship — it's not going to stop them. But it will discourage or stop many young folks who are poor."
The political picture, though, depends on who you talk to. Georgians love HOPE. Georgians are indifferent on HOPE. Georgians wish HOPE still awarded full-tuition. Some Georgians didn't go to college. Some Georgians aren't going to vote regardless.
And Georgia is a much different state than it was in 1990 when Zell Miller won the governorship as a conservative Democrat. That's why Abrams preaches expanding the electorate, focusing on turning out people of color, young people and what political types call "unlikely voters." Today, the state's just about half white — the kind of environment Democrats see tipping their way, if they can just organize the voters with the right kind of candidate, and get a little help from factors somewhat beyond their control (like a Republican president unpopular in the often Republican suburbs). Of the states ten most populous counties just three (Cobb, Cherokee and Forsyth) are majority white. (Henry County is a 50-50 split between white and non-white voters.) Five of the state's most populous counties (Gwinnett, DeKalb, Chatham, Clayton and Richmond) were mostly white in 1990. They are now majority non-white.
It adds up to a set of questions hovering over the May 22 primary, and — if Evans is successful this month — the general election. Can a generation of Georgia Democrats, including young voters of color, be politically motivated by a campaign built on the singular idea of reviving a merit-based scholarship? Are people of color, about 60% of Georgia's Democratic electorate, going to receptive to the idea of reviving a program that many didn't use or some even felt wasn't available to them?

The core question facing Evans, should she win the primary, is if she can attract people like Yolanda King.
King is supporting Abrams and currently studying in Japan. (She cast an absentee ballot.) Like many Georgians, she had set her sights on private schools like Spelman. She got a HOPE scholarship but declined it, but couldn't use it at Spelman, so she elected to accept the Gates Millennium Scholarship instead. ("Spelman was the best decision that I ever made," she said.)
In Abrams, she sees a determined woman with a chance to upend Democratic politics in Georgia, perhaps forever. She sees a black woman standing up for people in the state — stop us if you heard this before —who have left been behind, "and not just the elites." She sees Abrams as the embodiment of Spelman's spirit, a woman with a chance to make history by assuming one of the most powerful executive offices in the country.
But if Abrams loses, King says she's unsure if would she vote for Evans against the Republican eventual challenger. "I will think about it in the event that the time comes," said King, laughing in an interview, amused by what she was about to say: "For right now, I'm not even putting that into the universe."
She is not, however, completely closed off to Evans, to bringing HOPE back to Georgia.
The first step, King said, would be to look at her platform to learn exactly what it is that Evans stands for. ●