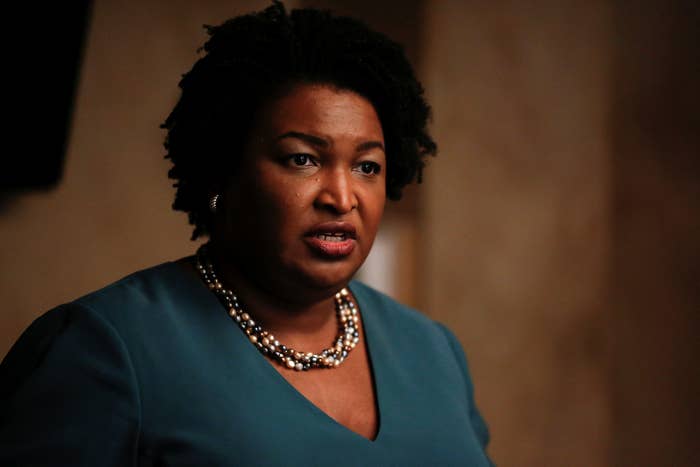 Stacey Abrams, the daughter of a shipyard worker and a librarian from Mississippi whose ancestors were born into slavery, has been nominated to be Georgia's Democratic nominee, becoming the first black American woman to win her party's nomination for chief executive in the nation's history.

Abrams, 44, performed strongly in metro Atlanta and its surrounding areas, as well as in Democratic strongholds around the state, to stave off Stacey Evans of Smyrna, a successful attorney and legislator. She will face the winner of a Republican runoff between Georgia Lt. Gov. Casey Cagle and Georgia Secretary of State Brian Kemp.
"We are writing the future of the next chapter of Georgia where no one is unseen, no one is unheard, and no one is uninspired," said Abrams at her election-night party, draped in blue.

Evans' personal story of triumph over poverty — made possible by landmark Democratic legislation in the 1990s, which she promised to resurrect — was not enough against her opponent's appeal to Georgia as a competent leader armed with a broad, history-making vision for the state's renaissance.
"[I'm] so proud to see the good people of Georgia stepping forward this way, in support of a superbly prepared candidate," former Massachusetts governor Deval Patrick, only the second black American elected governor in the nation's history, told BuzzFeed News.
In stark fashion, the race brought to the fore complex narratives concerning race, gender, ambition, sexuality, political strategy, and protest. The state's political legacy on a range of demographic, economic, and educational issues was brought to bear as a record number of women are seeking political office in resistance to Donald Trump. But the symbolism of Abrams' candidacy was the driving force behind the excitement among voters, the main pillar by which she prevailed, and by which she disrupted the established political order in Georgia. Abrams also leaned on a diverse Georgia coalition and on a focused network of national progressives and establishment groups.
The victory of a black candidate statewide would have almost certainly been unthinkable only a generation ago, and it's perhaps the most significant example of how rapid demographic shifts in Georgia are reshaping its political and societal landscape. A place where Jim Crow segregation once ruled the day, and a cradle of the civil rights movement, is today among the most racially and ethnically diverse states in the country.
Abrams' victory Tuesday night is the high point of her extraordinary rise in US politics. She ran and was elected to the Georgia House of Representatives in 2006. She toiled for a caucus crippled by debt, apathy, and lack of direction during years of Democratic success at the top of the ticket while Republicans swept statehouses at the legislative level. Several Democratic lawmakers switched parties, it had gotten so bad.
"My colleagues had seen me debate in the years before I ran for the position of minority leader," she wrote in her book Minority Leader: How to Lead From the Outside and Make Real Change. "They'd seen me take tough stances against Republicans, deconstructing their arguments and facing volleys of questions from the floor. But the instant I assumed a leadership role, perceptions and expectations changed."
Four years later ("She actually read the bills," a supporter and friend said), her colleagues say she was the obvious choice to lead the caucus. That experience was transformative for Abrams, but also fraught with pitfalls her predecessors did not face. "Yet, when I became minority leader, I carried with me not only the legacy of what every previous leader had done but dimensions of difference that were patently obvious," she wrote in Minority Leader. "As a woman, would I be seen as too loud or shrill? As a black person, too assertive or aggressive? Worse, as a natural introvert, would my quieter persona be seen as thoughtful or weak?"
She has been one of the Democratic Party's most talked-about rising stars for a number of years.
As minority leader, Abrams oversaw difficult negotiations over complex legislation brought before the legislature, a position that left her vulnerable to Evans' attacks, which often characterized her as a centrist. Her negotiations with term-limited Gov. Nathan Deal on the HOPE scholarship and ruling in favor of Republican-drawn districts later found to be badly gerrymandered both came up as issues in the race against Evans. Now, some of those same critiques will almost certainly be used if Abrams runs more to the center to gain political traction in a state that hasn't elected a Democrat to a statewide office since Roy Barnes in 1999.
"The Democratic Party is trying to find a unified voice to rally against Trump," Evans said at her own election-night party, in a clear sign she intends to help Abrams. "We must do that."

The Democratic nominee is now in the vanguard of an effort to put black women, often praised as the voting backbone of the Democratic Party but often pushed aside when it comes to positions of leadership, atop tickets. Kimberly Peeler-Allen, cofounder of Higher Heights for America, a Democratic group electing black women and advancing their policy agenda, called the election a landmark event in the effort to reimagine the complexion of leadership in US politics. "America's 23 million black women are one step closer to having their voices truly represented at a decision-making table that will have a ripple effect across the country."
Still, the question will linger this year: Can Abrams perform better than Michelle Nunn and Jason Carter did in 2014? Carter and Nunn, both progeny of Georgia political legends, could not put together a winning coalition of voters against a Republican challenger and incumbent, respectively.
Democratic organizers have long believed Georgia to be among the next swing states. Abrams in 2014 started the New Georgia Project to register and mobilize those voters, a project that helped elevate her in the eyes of national Democrats.
On Tuesday evening, national Democrats celebrated the Abrams campaign and Georgians for electing the right candidate.
"Democrats and progressives are at a crossroads in terms of strategy and direction. Stacey Abrams is proving that the Obama formula of inspiring and mobilizing people of color and progressive whites is a far more promising course of action than trying in vain to change the minds of voters who support Trump," said Steve Phillips, progressive activist. "Those who want to win and avoid wasting hundreds of millions of dollars will look to Abrams' model and learn the lessons from her victory."
EMILY's List president Stephanie Schriock said: "Stacey Abrams' primary victory tonight is a clear sign that Georgia voters are ready for the next generation of progressive leadership. Stacey is a tireless champion for expanding economic opportunity and is ready to make history in the state's highest office."
Abrams' victory Tuesday night has her squarely on a path to potentially become one of the most powerful women in the country. But her victory was also an affirming event for black women who since the early 1990s have been the Democratic Party's most loyal base, but have not enjoyed representative power at all levels in government. That there has never been a black woman governor in the nation's history always draws a hint of disbelief that it could be true. In 2018, it's possible.