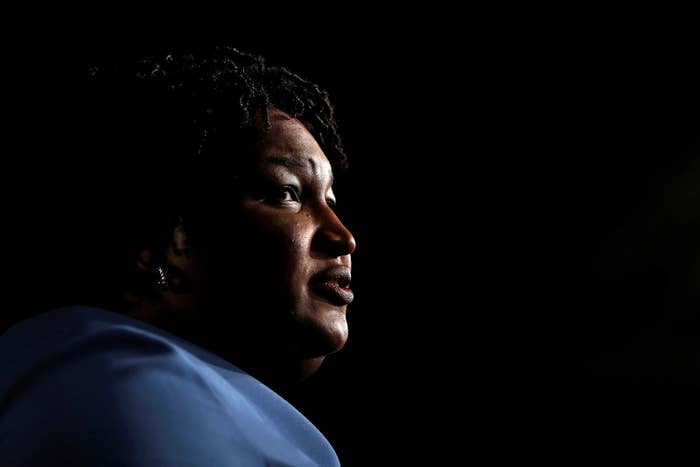 WARNER ROBINS, Georgia — On her day off from work at a veterinarian's office she runs, Summer Moore spent two hours in line to cast an early vote for Stacey Abrams for governor in the midterm elections here. "I knew I had to hang in there because I wasn't going to come back," she said. She had passed the time thumbing away at her phone — she posted a picture of the line snaking down a long corridor on her Facebook page. At one point, her bestie, Latasha Colbert, checked in to suggest she reconsider going back another time. "I said 'no'!"
The friends spent the final hours of Summer's 40th birthday this past week anguished over the result of the governor's race. Their conversation with BuzzFeed News sharply reflected the mood of almost two dozen black Georgians interviewed in eight different counties: the idea that a qualified black woman could garner 2 million votes — more than Democrats Barack Obama in 2012, Michelle Nunn and Jason Carter in 2014, and Hillary Clinton in 2016 — and still lose to an opponent who stoked fear in his supporters about her, and refused to step down from a powerful position overseeing the election, confirmed an ominous belief that the election was rigged by white people loathe to hand the reins of power to a black woman.
Dispirited Georgians said over and over that they cast votes for Abrams because her emergence represented a clear marker of progress in their lifetimes in a state still haunted by the vestiges of slavery, the Civil War, Reconstruction, and Jim Crow. People whose parents were sharecroppers cast a vote for her. Some had parents who had worked for white people and had sacrificed everything for their offspring to have more than they did. Many said that Abrams' story that she had been invited, as her high school's valedictorian, to the Governor's Mansion only to have someone question whether she belonged there, presumably because of her race, felt personal.
Therein lies what for Abrams' voters felt like the most dispiriting aspect of how this unfolded: Georgia had a chance to elect — in the cradle of the civil rights movement — an advocate who inherited all of the resolve and daring of a generation of doers in the face of oppression, only for Georgia to elect someone who many of Abrams' supporters view as a modern avatar of the state's cruelty toward black people, with Abrams' loss as the evidence that she's an heir to the prior generation's burdens, too.
"The thing is, we already knew it was going to happen," said Latasha.
"Do you think that we would be having this discussion if [she] were another color? I'm just asking."
Summer said she'd seen too many people who appeared to be primed to vote for Abrams, many of them elderly and suffering, simply give up in long lines.
"Who's to say they came back?"
Ending her campaign Friday, Abrams said the next phase in her career would be to try to fix problems that allowed Brian Kemp, who will be the next governor, to "baldly pin his hopes for election on the suppression of the people's democratic right to vote" in Georgia, where Abrams on election night said that "civil rights has always been an act of will and a battle for our souls." How bad has it gotten here in middle Georgia? Some people think Trump had it out for the state, landing Air Force One twice in central Georgia — once to survey damage from Hurricane Michael, and later to campaign for Kemp. Latasha and Summer seemed to hint at a conspiracy.
"Who's to say it didn't happen?"
Does it even matter that some of the bad stories about voter suppression and intimidation are true or not? People recall them anyway. Someone heard about how an organizer canvassing for Abrams had the police called on them. Another heard about a local elected official driving elderly people to the polls getting harassed by police. Then there were the countless stories of people who had shown up to cast a ballot only to find out they weren't in the right place, or that their ID was unlawful. Surely these stories don't indicate illegal behavior, Latasha said. "But it's Georgia."
It was little consolation, but Abrams delivered a call to action in her speech ending her campaign, which she said was not a concession but rather just an acknowledgment that there was little more she could do. "But we are a mighty nation because we embedded in our national experiment the chance to fix what is broken," Abrams said. "To call out what has faltered. To demand fairness wherever it can be found. Which is why on election night, I declared that our fight to count every vote is not about me. It is about us. It's about the democracy we share and our responsibility to preserve our way of life. Our democracy. Because voting is a right and not a privilege."
The speech ended days with her out of public view. The Democratic political class hailed her as a forerunning hero. But the voters who felt seen by a statewide candidate for office didn't vote for a forerunner. "We are just in a crazy, messed-up situation right now that everybody's talking about," Latasha said. "I personally feel disrespected because our ancestors worked hard so that we could have the right to vote."
Abrams signaled her own place in the fight for voting rights in her election night speech, coming out to address supporters dressed in the Columbia blue of her alma mater, Spelman College. "Spelman College students and students from the entire Atlanta University Center were on the front line of the civil rights movement, and the battle to win the 1965 Voting Rights Act was hard fought," the college's president, Mary Schmidt Campbell, told BuzzFeed News. "Our students are in the vanguard of what is the next chapter of that fight."
Spelman students interviewed for this story said they saw Abrams signaling she would be, as is sung in the school's hymn, "undaunted by the fight." Latasha agreed. "For me, once you have your mind made up as a black woman, there's nothing that can stop you, and I see a lot of myself in her. She was just, like, 'nothing is going to stand in my way,' and she's been communicating to me like that, to me, this whole time. She's been speaking to me."
Abrams' candidacy brought her personal ambition to the fore — she had planned to run for governor for a decade or more, and makes no secret of her desire to one day be president. Abrams told BuzzFeed News in 2017 how she interpreted how her fearlessness played with black women in particular. "For black women who have consistently been the backbone of movements and parties, there is something both heartening and pressing about finally having someone who gets to be in front. There's a tendency to think that it's a reductive thing to mention that I'm black and that I'm the first black woman, and there are people who say, 'No, no, no, that's just part of who you are.' And it is. And it should never be the only thing you know about me. But for black women, the fact that it's something means sometimes it's everything."
The idea that Abrams would be the first black woman elected governor took a backseat in her fight for a runoff election, which would have taken place if neither candidate surpassed 50% of the vote. But Abrams' election night choice of blue was a clear signal that her push for a runoff was not just about her unwillingness to concede a brutal election she's spent years working toward, but about the responsibility she feels to the history of a movement.
Aimee Allison, the president of Democracy in Color, which advocates for broad changes in politics based on data showing the possibility of a progressive, multiracial electorate, said Abrams' ability to build a coalition in Georgia has "shown the country that black women are the saving graces of our democracy," she said.
Emaan England, a native Atlantan and Spelman graduate, said, "What is radical about Spelman College is that black women are taught from the moment they step on campus that they are being uniquely prepared to change the world and that they have an obligation to do so. Stacy has built her experience through her service for the state of Georgia, but the fight in Stacey is from Spelman."
There is also now the question of how the legacy of the race affects the next generation of voters. Abrams' loss felt so final so suddenly that already Georgians were ready to talk about how it would affect them. Abrams spoke on election night of the choice between "division and trickery, or a leadership that defends your rights, your kids, your community and your right to vote in America." Abrams, her supporters said, was down to earth. She was authentic. She, in the words of one interviewee, "told all her business." And still. "This is going to affect the younger generation's attitude about voting. They already feel like it doesn't matter."
Latasha's mind was on her 9-year-old boy, Carling, the smart, determined son of a military family who, like Abrams, wants to be president. "It's things like this that makes me scared for him," she said.
"I just don't want this to hold him back."