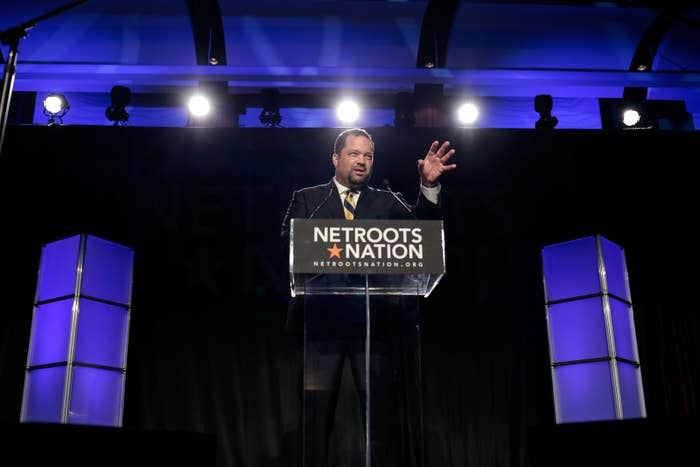 California Sen. Kamala Harris is expected to endorse Ben Jealous in Maryland's Democratic primary for governor, two sources familiar with the development tell BuzzFeed News.
The endorsement would lend Jealous, the former president and CEO of the NAACP, another boost in a tough primary. Jealous is clawing to pick up traction against Rushern L. Baker III, the well-liked Prince George's County executive leading in many of the polls. Baltimore County Executive Kevin Kamenetz is also polling among the top Democrats candidates are fighting for the chance to take on Republican Gov. Larry Hogan.
Saying he wanted Barack Obama to name a black woman to the Supreme Court, Jealous told Politico in 2013 that Harris would be a "brilliant pick," saying, "I personally would like to see somebody young who could stay on there for decades," he said.
Jealous campaign spokesperson Kevin Harris told BuzzFeed News that the pair have a "really good relationship," but declined to confirm an endorsement — or a planned event — was coming. "They have known each other for years," said Kevin Harris, "and the candidate admires and respects her."
A spokesperson for Kamala Harris did not respond to a request for comment Thursday evening.
Three other potential contenders for the 2020 Democratic presidential nomination have endorsed Jealous, 45, in Maryland. Bernie Sanders, appearing with Jealous at a raucous rally last summer, exclaimed, "It sounds like Maryland is ready for a political revolution!" Jealous has picked up the endorsements of New Jersey Sen. Cory Booker and Los Angeles Mayor Eric Garcetti.

Harris has also endorsed a number of prominent black candidates over the last year, including Atlanta Mayor Keisha Lance Bottoms and Virginia Lt. Gov. Justin Fairfax.
And Harris's support may be particularly notable for black Marylanders, who make up nearly a third of the state's voters. As those Democrats — national black Democrats at large — look forward to a possible Harris candidacy, she has also made some efforts to endear herself to the progressive wing of the party, which has offered critiques of her record as attorney general of California. Harris was the first Democrat to sign on to Sanders' Medicare-for-all bill last August.