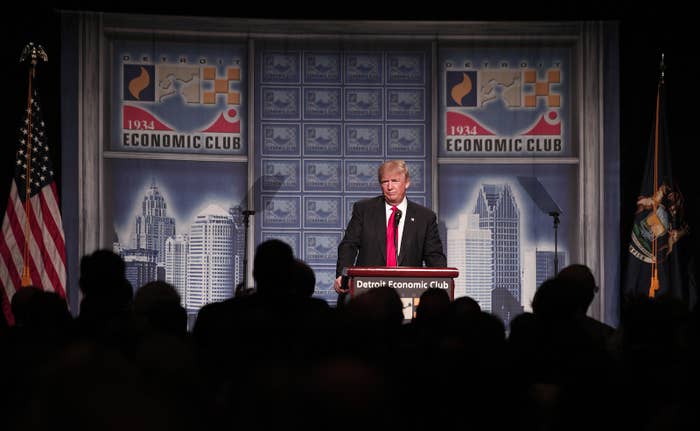 WASHINGTON — The Republican National Committee is set to name Ashley D. Bell its new senior strategist and national director of black political engagement, two Republican sources told BuzzFeed News.

A third source, who is close to Bell, confirmed the hire, but was hesitant to discuss it further, saying the details were still being worked out.
Bell did not return messages seeking comment. An attorney and delegate to the RNC, he is the founder and Republican co-chair of 20/20 Leaders of America, a bipartisan group of black elected officials, attorneys, and activists "united to elevate issues disproportionately affecting communities of color above partisan politics," according to the group's website. "We are seeking to fundamentally change the way in which the American political system addresses racial justice issues, now and in the future."
A source close to the Trump campaign operatives who will be working with him are "very pleased" the RNC is bringing on Bell, a highly-respected voice and strategist inside the campaign. The campaign has in recent weeks has sought to ramp up its engagement with black voters, especially given his abysmal polling numbers. In addition to coordination with the Trump campaign, Bell will be responsible for making sure there's a black engagement strategy in the states, including on down-ballot races with the Republican Governors Association and the National Republican Senatorial Campaign.

One of the biggest questions surrounding much of the black outreach on Trump campaign's black engagement was how, exactly, much of it was going to be paid for. It's unclear if those concerns have been assuaged, but one of the Republican sources said that more strategists focused on black engagement could be on the way.

A source said Elroy Sailor and Shannon F. Reeves are likely to join the Republican 2016 effort, as well. Sailor, a former adviser to Sen. Rand Paul, will play an advisory role to Chairman Reince Priebus, while a source said Reeves will come on as a consultant who will help the GOP build a black voter data file. Sailor declined to comment.
Meanwhile, Telly Lovelace, the RNC's director of black initiatives, will shift his focus more to communications and working with black field engagement staff.
In Charlotte over the weekend, black outreach director Omarosa Manigault and national spokesperson Katrina Pierson appeared at the Antioch Road to Glory International Ministries. The entire church endorsed Trump. Black delegates at the RNC were pleased that Manigault assumed the role, citing her personal relationship with the candidate as an indispensable qualification.
There are some informal efforts, as well. On Tuesday, black Republicans will jump on a national conference call titled "The Family August Conference Call," billed as a "preview of the RNC's 90-day strategies and new hires," according to several sources with direct knowledge of the call. "Join 'The Family,' aka The Elders, The Vanguard and New Leaders 2016 August Black Conservative Conference Call," an email about the call says. (The Family is a group of black Republicans made up of three tiers: older, more seasoned operatives; middle-aged leaders; and emerging leaders.)

Still, Trump has not appeared in front of the Urban League, NAACP, and the National Association of Black Journalists — the kinds of more traditional outreach a candidate might do. The decision not to appear at the conferences was made by Alan Cobb, according to a pair of sources familiar with the deliberations, angering black Republican operatives who saw Trump's absence as a missed opportunity.

The hope is that Bell, a former president of the College Democrats of America (which earned him a speaking slot at the 2004 Democratic National Convention), can help with some of that. A former county commissioner, in 2014, Bell launched an unsuccessful bid for Georgia superintendent, running as a Republican on promoting increased transparency, parent involvement, and higher-paid teachers. Bell is a frequent contributor to Fox News, CNN, and MSNBC.
On a recent appearance on FoxNews.com, Bell said he's told establishment figures to embrace Trump because he's a creation of not sticking to conservative values.
"This party created Donald Trump because the establishment didn't do what it was supposed to do," he said. "That's why I'm totally OK with supporting Donald Trump and why I'm okay with telling most people you need to get behind this nominee — he is your creation."

But Bell, an outspoken voice on the need for changes to the criminal justice system, also said then that Trump needs to change his "law and order" message in order to be effective.
"I think that Donald Trump has to be careful here. Because when he says 'law and order,' he needs to embrace the fact that there's enough laws on the books and if we enforce them then we can bring law and order back to society," he said. "As long as we don't see another uprising of mass incarceration in this country, I think he can actually pivot and have inroads in the black community. That's is the bridge for Donald Trump and Gov. Pence to get inroads in the black and Latino community."
An RNC spokesperson did not reply to requests seeking comment.