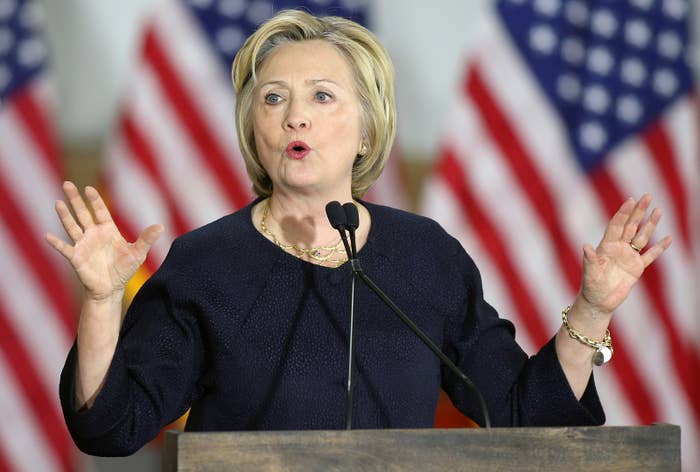 WASHINGTON — The Clinton campaign will hire a new black vote official, three sources confirm to BuzzFeed News.
Nadia Garnett, a veteran of Democratic campaigns and the Center for Community Change, will be the campaign's African-American vote director, the sources said.
LaDavia Drane, a well-liked veteran political operative who was the executive director of the Congressional Black Caucus, is the campaign's black outreach director, which involves managing political relationships and surrogates. Drane will stay on with the campaign in her role, a campaign source said, but will now report to Garnett. There was some speculation as to whether Drane would take on a role at the DNC, another source said.
Clinton camp is expanding its black outreach operation, according to three sources familiar with the plan. With hires in the works that will cover different facets of black America — grassroots, faith leaders, elected officials, etc. — the more robust plan, campaign sources said, is needed to be successful in the general election. Drane had previously been solely responsible for an entire slate of outreach.

Drane, who remains in Washington (she was named a special adviser to Clinton's D.C. campaign leadership team), was the subject of a profile on NBCBLK.com last November.
"I have really been led by heart," she said. "You don't hear that very often in politics. This is the same thing I said back in '08 [regarding Obama's campaign.] I followed my faith, and I followed my heart. At the moment I was presented with this opportunity? I felt like it was an assignment, a responsibility."
Insiders familiar with Garnett describe her as a mainstay of Washington politics. Most recently, she'd been national political director at the Center for Community Change and Center for Community Change Action. Garnett's resume also includes stints at Emily's List, DCCC and John Kerry's campaign for president. She did not respond to a message seeking comment.
They also described Garnett as politically connected; Deepak Pateriya, Chief of Staff at the Center for Community Change and Center for Community Change Action, said Garnett "was an integral part of our electoral team, helping partners with their voter outreach efforts in states like Ohio and Washington.
"We know Nadia will succeed in this new endeavor and we wish her all the best," Pateriya said.
Amid criticism from black Democrats regarding Drane's grassroots bona fides, Drane skillfully cultivated relationships with the so-called "Mothers of the Movement," women whose children's deaths due to gun violence or at the hands of police spurred the Black Lives Matter movement and a new brand of racial justice activism. Last month, Clinton delivered the keynote address at a gathering of the Trayvon Martin Foundation in Fort Lauderdale, Fla.
Drane was also tasked with figuring out how to reach out to young black voters. The launch of "African-Americans for Hillary" was marred, however, by a student-led protest that took place during Clinton's speech. With much of the political momentum happening on social media, especially Twitter, the campaign in February hired Zerlina Maxwell to boost the visibility of Clinton's support online.
As someone with extremely close relationships inside the CBC, it was unclear Friday how members were reacting to the news.
Ohio Rep. Marcia Fudge, her former boss and fellow Cleveland native told NBCBLK that Drane was uniquely positioned for the job.
"I think that her work and her efforts have put her in that position that a lot of people coveted," Fudge said. "I'm glad that she's there. She's a person that we trust."
CORRECTION
Drane is the Clinton campaign's African-American outreach director, and will remain in that role; Nadia Garnett is joining the campaign as African-American vote director. A previous version of this story misstated that Garnett was to be the black outreach director.