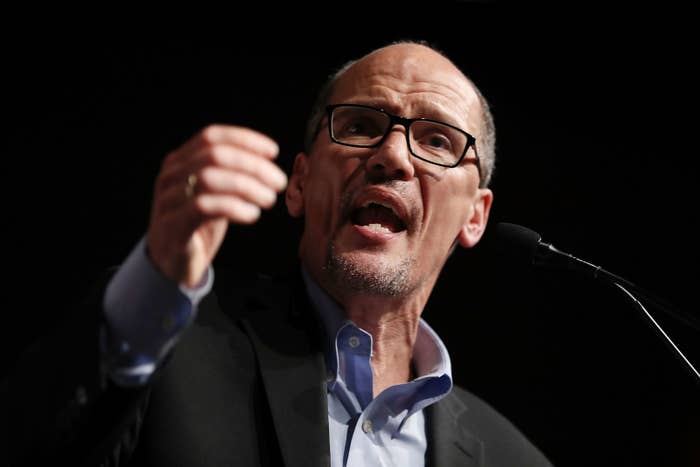 Addressing one of the largest civil rights groups in the country recently, Tom Perez, the new chairman of the the DNC, broke out a tried and true tactic Democrats like: effusive praise of the first black president.
"I don't know about you," he said wistfully, "but I miss Barack Obama." He talked a lot about Eric Holder, then leaned into extended remarks about President Trump proposing nothing but "chaos and carnage" in his first 100 days.

While Perez explained that the Democratic Party's values were their values, but he didn't need to. He failed to mention a real plan to engage and organize black voters — which people in the room described as a blunder.
Much of what the faithful wanted to hear was delivered later, in Sharptonian set pieces by people like Dr. Michael Eric Dyson, and Stephen Green, the national director of the NAACP's youth and college division. Sharpton himself declined an interview about Perez appearing to his group. However, he wrote in a column he posted the Huffington Post that choosing a populist economic message over one that acknowledges specific disparities black Americans face has people of color who attended his conference feeling their vote is going to be taken for granted.
"While working-class whites must be organized around their interests, they must also understand the need for affirmative action, protection of voting rights and the need to remedy race-based social policies," he wrote, not mentioning Perez by name.
In an email to BuzzFeed News, Jaime Harrison, the newly appointed associate chair and counselor of the DNC charged with strengthening state parties, said Perez's commitment can be seen through by making Rep. Keith Ellison as his number two, and picking Leah Daughtry to lead the transition — all part of a diverse leadership team that is "committed to addressing the very legitimate concerns African Americans have regarding the party's past failures."
"We reject the notion that you must invest in rural voters versus African-American and Latino voters," Harrison said. "Frankly, we must invest in both and we haven't for too long regardless of who's headed the DNC. That's why I'm working hand in hand with Tom, Vice Chairs Karen Carter Peterson, Michael Blake and other DNC officers on a plan that not only changes the culture of the DNC but makes real investments in the African American community."
For his part, Perez acknowledged the work that lay ahead. "I have to be honest, I've been making a lot of house calls. And you know what? We've been taking all too many people for granted. I've been in Detroit, I've been in Milwaukee, I was up in Flint, I've been elsewhere. I've been in rural America, urban America. I heard from folks in Detroit, Milwaukee and elsewhere that 'Tom, you can't show up every fourth October to my church and say you care and say that's an organizing strategy.' I'm here to tell you that I hear that."
But to leaders like Kirsten John Foy, a Sharpton deputy who runs the Brooklyn chapter of the National Action Network, Perez had a chance to make a statement. He said the speech was an "unforced error" that was "emblematic" of what's wrong with the party's strategy — and why it lost the election.
"You can't name drop and think we're going to the polls [based] on a name drop," Foy told BuzzFeed News of Perez's speech. "They failed at energizing and it's more of the same, it's kind of disrespectful that you would come to the largest gathering of black activists — black, Latino, and progressive activists — and not speak directly to racial and social issues as one of the pillars on which how you plan to rebuild the Democratic Party."
"We can't mobilize our people on 'Remember the last eight years.' That's not enough."
Foy is not alone in this criticism of Perez, who ran his DNC campaign on restructuring the organization. He excited influential black Democrats, affirmed Black Lives Matter, and spoke eloquently about voting rights and the need to eradicate racial profiling. But, while it's early in his chairmanship, his management style and communication are rankling black Democrats nervous that missteps — and a lack of messaging and outreach to black voters — could spell disaster for the Democrats in 2018.
The added pressure comes just two months into Perez's tenure in a difficult political situation, as every faction of the Democratic Party wants something (or doesn't quite know what they want) from the party leadership, following a shocking 2016 defeat, a contentious presidential primary, and years of a hollowed-out DNC. A half-dozen Democratic leaders that spoke with BuzzFeed News have a bevy of complaints: that Perez is paying only lip service to their policy and organizational issues without offering any concrete plans; who he's bringing into the fold; a lack of depth of understanding of black politics they believe he needs to lead the party. Some of these black Democrats also were irked by the elaborate unity tour with Bernie Sanders, whose politics they contend de-emphasize the issues of minority voters who comprise a major part of the party. In a leadership void, too, a lot of people also want policy and ideological leadership from a political organization that might not be equipped for it.
Responding to an inquiry about these frustrations, a DNC official said, "There's no doubt the DNC has a lot of work to do, and Tom is listening to every piece of advice. The challenges facing the party won't be fixed overnight, so we'll continue to listen to both leaders and the grassroots of the African American community who have formed the base of the Democratic Party for years but who have all too often been left out of the party's strategic decisions."
These Democrats have made their frustrations known in private meetings with Perez. In a meeting with the Congressional Black Caucus that attendees described as "contentious" and "spirited" Perez, who was not expecting to stay long, instead stayed for nearly an hour. He delivered general, off-the-cuff remarks — "milquetoast and generic," according to one attendee — about partnering with the black members, while reps from the DCCC and DSCC gave the black members of Congress lengthy presentations. "[Perez delivered] a general message about partnership, maybe not understanding they're concerned, some are angry and have their own issues," in their districts, one of the sources said.
Three sources described Perez as a bit flustered in the meeting with black lawmakers, which was also attended by Sen. Chris Van Hollen and Rep. Ben Ray Lujan. CBC members expressed dismay they were seldomly used as surrogates in the 2016 election. Another member, Rep. Joyce Beatty, of Ohio, pressed Perez on contracting. (A half-dozen senior black Democrats are tired of hearing the line they "can't find" black contractors to do media, direct mail and other potential lucrative contracts that typically lack diversity. Said one Democrat: "If you can't find them, then we ought to help create them. That's not that difficult."
On another occasion, this time with his transition committee, Perez listened as members attempted to convince him of an ominous trend: The party was in the process of losing black women. According to one of the members, who asked for anonymity to describe a private meeting, Perez seemed unsure how to handle these concerns. For Perez, not acknowledging the need for a messaging for black voters is making "black people feel like we don't have a place in the party."
At another turn, Perez was gently informed that many people were starting to feel there was no loyalty between the black community and DNC — they wanted to know what he planned to do about it. "And he never addressed the question," one person in the room told BuzzFeed News.
Perez met with major Latino groups in recent days, according to a source briefed on the meeting. He's yet, however, to formally engage with the black caucus of the DNC, a process one of its members told BuzzFeed News "would be a good start" in dealing with his current troubles.

"My advice to Tom and the party is to articulate a substantive economic plan that lifts up African Americans and others who have been left behind," Rick Wade, a Democrat working with Perez said. "Barack Obama is not president anymore, so folks have got to get over that. Resisting Trump is not enough. Folks want solutions — like good paying jobs and access to capital. They want returns on their vote investments. That's how we galvanize and mobilize voters."
For them, Perez has a learning curve moving from governing to the political world, and several Democrats who spoke with BuzzFeed News said they would personally lobby Perez to hire a black woman as executive director; Perez is said to be "seriously considering" it, but it's unclear what his plans are.
"He's getting pressure from all sides: voters who feel like we're being neglect, black and white, and he's trying to navigate that," a political aide close to Perez. "He's learning that...trying to balance all of their concerns is not easy, especially when you don't have that depth of relationships in the African-American community. He just doesn't have it. And I think he'd be the first to admit that."
Democratic leaders point to the appointment of Harrison, the former chairman of the South Carolina Democratic Party, and Ellison to prominent positions inside the party, as evidence of his commitment to diversity and inclusion. And Perez is not without his supporters on the inside. LaToia Jones, an operative who ran for vice chair and has worked on Perez's transition said any suggestion that Perez doesn't have the full support of black Washington Democrats is "ludicrous." DeRay Mckesson, a Black Lives Matter movement leader and transition committee member with whom Perez has met, told BuzzFeed News it was evident from their interaction that the new chairman "understands equity, how to manage large scale change, and the importance of engaging communities of color. I look forward to seeing his plan unfold for the DNC."
"We want Tom to succeed — if he succeeds then all Democrats succeed," another member of the transition committee told BuzzFeed News. "But he needs to understand that the modern day Democratic party is build on the foundation of black people and if he leaves us out he will be crippling the midterms and all chances of a win in 2020."