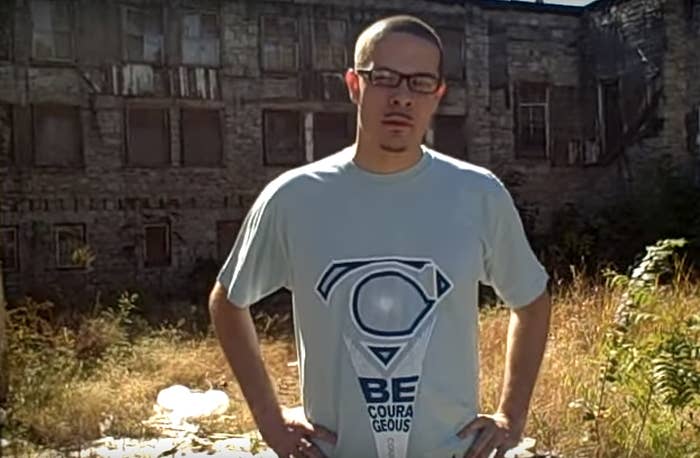 ATLANTA —Inside the shell of a vacant building, in the fall of 2008, the activist Shaun King, then 29, filmed a video telling his supporters about one of his life's many dreams: to plant a church in the "The Bluff," a neighborhood in the English Avenue section of Northwest Atlanta. Known as Atlanta's forgotten community, nearly half of the homes there are vacant. But it's where King said his vision to be a church planter began.
"This neighborhood is spiritually empty, not just physically empty," King says in the grainy video. "Our heart and our passion and our love is for the people that are here."
"Maybe," he says, "just maybe one day years from now we'll be able to buy this corner, and this corner can be a beacon of hope and beacon of light for this area called 'The Bluff.' Will you believe God with me for that?"
Although his vision for a church was still forming in 2008, the video was classic King: He often filmed himself making appeals to his vast network of monetary support for various projects. By late 2008 — still weeks away from Courageous Church's first service — King had helped corral thousands of dollars for a Christmastime toy drive and donated uniforms to a local school.
By 2009, the Association of Related Churches, an organization that works with pastors and their wives to plant churches, assessed and approved King. To ARC, which was averaging close to 50 new churches a year, King had unlimited potential. He was celebrated for his ability to rally people around causes using technology, and he used that leverage to tell the ARC's leadership it was too white. King was something of a golden boy, so they listened — and King delivered with something no church planter can deny: numbers.
With King, the organization had its largest church grand opening ever. On average, ARC's churches host about 250 people. More than 600 people showed up to hear King speak at Courageous Church's first service on Jan. 11, 2009 at Center Stage in Downtown Atlanta. The church took up an offering.
King never planted a church in The Bluff, but he led Courageous Church for nearly two years. It's not clear how many members the church had at its peak, but in 2011, after a shift to make the church less focused on traditional Sunday services and more mission-oriented proved unpopular, King stepped down. An assistant, Broderick Santiago, assumed pastoring duties, but the church closed its doors within a few weeks' time.
Interviews with King, as well as dozens of his friends and former members of his church — as well as King's numerous blog posts and video pleas for donations to the church — reveal many of the typical struggles of a young pastor and a new church: problems finding meeting places and inconsistent tithes. (Many members were under-employed or not working at all. The breakfast drew dozens of homeless people every Sunday.)
Yet, in its narrative arc, King's eventual exit from Courageous Church also mirrors the wildly ambitious goals, impressive successes, sudden collapses, and nagging questions that have defined King's public profile since he became one of the most well-known activists in the Black Lives Matter movement. Courageous Church was one of the first of many organizations, nonprofits, and start-ups that King built from scratch. Again and again, the unfulfilled promises of the projects left people searching for answers — about King, his intentions, and whether his peculiar magic as an online fundraiser was fraudulent.
Late last year, King announced the suspension of his latest endeavor, Justice Together. In King's words, Justice Together was a "noble idea to bring together tens of thousands of people from all over the world, virtually, who are disgusted by police brutality but don't really know what to do about it." Members say they understood the project as a way to streamline communications in the decentralized Black Lives Matter movement. Board members pressed King on why he was raising money for an organization that would do much of its work online.
One former board member of Justice Together stopped short of accusing King of wrongdoing in an interview with BuzzFeed News, but observed: "How much does Slack cost?"

King took down a page on Justice Together's website that listed the names of the board members. It included the journalist Glenn Greenwald, Inclusv's Alida Garcia, and Campaign Zero organizer DeRay Mckesson.
"I am proud of what we've done to help so many families in need and refuse to be demonized for my role as a promoter of fundraisers," King wrote recently. "It is because I have been effective at this that these attacks started from racists in the first place. I raised funds for white folk for years and nobody said a single thing about it. It wasn't until I started raising funds for victims of police brutality that I began being attacked for it."
But activists tell BuzzFeed News the allegations of financial impropriety swirling around King come at a time when the movement can nary afford it. "It's just messy," as one activist said. And though King is not known as an organizer, his notoriety, public squabbles and online campaigns to protect his reputation all reflect on the movement.
The fallout incensed King. He publicly and personally attacked other members of Campaign Zero, a criminal justice policy group connected to Black Lives Matter. Mckesson announced publicly that he had stepped down from the board, but still had questions about the organization, presumably about why King had raised $25,000 for Justice Together in the first place. Johnetta Elzie, a prominent activist, spoke up, too. King responded by telling Elzie not to "come for" him — and said that Mckesson told him "months" ago he was tired of working with her. At the end of it all, King apologized and deleted his entire Twitter timeline.
What's left is mostly an assortment of blog posts by pastors and church planters dated at the time of King's departure ... The young stud they viewed as a master of influence was suddenly a victim of burnout.
King responded to the accusations, but the bitter end of Justice Together only raised more questions about his fundraising methods, including what actually happened with the half-million dollars he said he raised on behalf of the families of victims, to a fever pitch.
Said Elzie, "Explain where all this money has gone, why my homie in Atlanta told me last year you start churches — raise money — then disappear."
But as Elzie hinted, King's time as a pastor at Courageous Church is mostly unknown, outside of the members, staff and close friends of King, nearly all of whom declined to speak with BuzzFeed News on the record about King's management and departure.
Nearly two dozen of King's former church-planting colleagues either declined to speak with BuzzFeed News or did not return a message requesting an interview.
What's left is mostly an assortment of blog posts by pastors and church planters dated at the time of King's departure from Courageous Church. The young stud they viewed as a master of influence was suddenly a victim of burnout. Even then, it caused some to wonder if King was a false teacher — or if he ever really wanted to be a pastor at all. Others said King left his missional project prematurely. Experts say missional churches that make such shifts need time. For his part, King gave the new church six months and then he was gone.
King has come under fire for the uncertainty over what happened to the hundreds of thousands of dollars he raised for earthquake relief in Haiti. (The Daily Beast reported A Home In Haiti was never incorporated or registered as an independent nonprofit.) Online fundraising ventures like HopeMob and TwitChange flamed out and eventually fizzled, only to give birth to yet another fundraising scheme, for which King's most fervent supporters had an insatiable appetite.
But for all the doubters, there is also an unwavering group of King supporters. In an interview with BuzzFeed News, a prominent graduate of Morehouse College, King's alma mater, alluded to a code that he and many Morehouse men would never speak ill of King in a public forum.
"I think you look at stuff like that, with all these projects that flopped and you go, 'What's going on here?'" the graduate said. "I don't really think that it means that Shaun is a bad person. Do I worry that he's done damage to his reputation? Yes. But is he a bad person? Absolutely not. That's the question people to need to ask."
"What he ventured to do is imagine a different way to do church and activism," said Rashad Moore, a Morehouse graduate who is now an assistant pastor to Rev. Dr. Calvin O. Butts III at Abyssinian Baptist Church in Harlem. "Being the person who starts a new path means you run the risk of being unpopular or failing. You will always run the risk of failing. But I know his model of doing church inspired others to do something different, too."
That King started Courageous Church with a service-minded mission statement ("Love God, love people and prove it," he exhorted members in his Kentucky drawl) means his plan to deemphasize worship to focus on issues like child trafficking and education, perhaps can't be considered a complete betrayal of his intentions. Jesus did it that way, King would argue, but did so hardly in the temple. So should Courageous Church.

"I'm deeply uncomfortable and bothered by every failure I've ever had," King said.
The first year of Courageous Church was focused on growing a membership that craved traditional, weekly engagement. The church itself was under financial duress, a common circumstance for churches starting out. The model used by ARC, the church-planting organization that helped King plant the church, would have required King to invest back into ARC with 10% of Courageous Church's tithes and offerings until ARC could plant another church. After that, Courageous Church would have continued to invest 2% of its budget back into ARC. King gave a plea for financial help; the type of church he was trying to plant are notoriously expensive to maintain.
"I'm deeply uncomfortable and bothered by every failure I've ever had," King said in an hourlong interview with BuzzFeed News. "I hate [failure]. When I seek out to start something I aim to succeed. But I'm always willing to try stuff that I know may very well fail. Our goal with Courageous Church was to do something we hadn't seen done before."
"Part of what I've always tried to do is do something in a way that has a high probability of failure with the hope that if it works it might really work," he said. "But if it fails it might be a royal failure."
Courageous Church was the first of King's failures as a public leader and activist. Midtown Atlanta didn't have a lot of churches; it attempted to reach people other churches ignored or saw as "unchurched" in a different, refreshing way. But King demanded a shift. The move proved unpopular; church planters quietly questioned King's commitment to preaching the gospel of Jesus Christ as King and his family left Courageous Church with little explanation.
King began to build out the framework for Courageous Church amid a boom in alternative ministry-building and church-planting in Atlanta that looked nothing the stained glass houses of worship of the generation before. Based on nearly 1 million interviews, Gallup reported that church attendance had increased significantly each year in the U.S. from Feb. 2008 to May 2010. King and others believed the best way to seize this momentum was to capitalize on the currency of genuine relationships.
He immediately turned to Morehouse College, his alma mater. King was a student there in the late '90s and early 2000s, and a chapel assistant at the Martin Luther King Jr. International Chapel Assistants Program, which had produced the theologian Howard Thurman, among others.
Observers and friends say King cultivated a quiet but authoritative profile at Morehouse. While other young preachers were trying to emulate the rhetorical fireworks and cadence of the chapel's namesake, Shaun King's preaching leaned on the substance of his ideas. "Speaking at Morehouse, in some ways is like performing at the Apollo," King said. Dr. Anthony Neal, a classmate of King's at Morehouse said that in one address King offered a critical analysis on the dearth of black leadership and the methodology of Pavlov's Dog. He spoke frequently about his personal story, about what he had overcome after a brutal assault in his hometown, mixing it in with illustrations from the biblical text. King won an oratorical contest there in 1999 as president of student government; to the college community, he was well on his way.
"At Morehouse I would try to come at problems from academic or abstract angles," King said in an interview. "A lot of times I was thinking through them on my own. But it was always a safe place to do that."
"It wasn't really about him like a lot of preachers," Neal said. "People who wanted to be pastors or were doing that to make sure that they were well known, they were making sure they joined the right fraternity, going to all of the right events and meetings and building relationships with the right people. There were just a lot of things that he should have done, that he didn't do."
King made his pitch for Courageous Church to meet in the chapel in 2007 or 2008. A decade their senior, King wanted to mentor the students running the chapel as he had done as a student. The students told BuzzFeed News there was no feasible way to allow it; the program is, first and foremost, for the preaching and church activity of the assistants. It wouldn't have made sense, people who listened to King's pitch said.
But King maintained a close relationship with the chapel, whose young charges, like King, embraced a different approach to church.
King eventually held a service at the chapel with the assistant's blessing. At the one-off service, King's staff provided breakfast, staffed a welcoming and hospitality committee. At the preaching engagement, during the altar call, which allows churchgoers wanting forgiveness or renewal from their sins to come to the front of the church, Beyoncé's "Flaws and All" played as he spoke. "I don't know why I remember that but it all but changed my life," Moore said.
"We come out of traditional church life, with all of these values on having the right choir and the right preaching, the one thing important now is building intentional and meaningful relationships. Shaun understood that right out of the gate and was my first church experience doing something outside of the box."
The ARC, meanwhile, had its doubts about King. "Our assessment team unanimously recommended him but I think it's fair to say we wondered if he was a right fit for our system," Steve Hickey, then an administrator with ARC, wrote in 2011. Hickey, who described King as "the master of connecting with people online for Kingdom advance," worked closely with King.

But difficulties persisted. A Sunday gathering at Center Stage Theater cost the church $2,000 a week, according to a video King posted asking for help from his supporters. (Center Stage Theater did not respond to multiple requests seeking comment.) He said the ministry would have needed $11,000 alone in January to stay afloat. Without more help, King liked to quip Courageous Church could be in danger of turning out to be "a three-week revival."
The church's staff worried about finances, but the brunt of the responsibility fell to King. "People would come to our church literally hungry," King told BuzzFeed News. "Single mothers would come to us hours or days from eviction and we would have to tell them, 'We don't have it.' I would have to look these people in the face."
King continued, "But then I would look at the gospels and it says, When I was hungry did you feed me? When I was naked did you clothe me? When I was homeless did you give me shelter?" King said he grew disillusioned.
Courageous Church tried different things to attract members. It launched a free breakfast and micro site called freebreakfastchurch.com. When floods ravaged Atlanta in September 2009, King appealed to his supporters to help fund a mission that would help those who had lost everything. The campaigns gave the Courageous Church something it couldn't afford: publicity.
The financial burden was a risk, but King and his staff saw as worth it. Midtown Atlanta is one of the city's most diverse neighborhoods that he and other members felt had a lot of potential to draw scores of members. That never panned out for Courageous Church. Friends close to King said he was constantly stressed over the church's finances. Sunday tithes weren't meeting the church's financial needs.
By Easter time, in the spring of 2011, King began telling parishioners a major shift in the way they operated was in the works.
Around the same time, King announced via his blog that he and his family had decided to leave the five-bedroom, 4,000-square-foot home they just moved into in nearby Marietta.

"I am speaking at a youth retreat in Haiti and our church cannot really afford to send any of our teens because the machine is just so doggone expensive to maintain," he wrote. "Not feeling that at all."
King told BuzzFeed News he couldn't get over the fact that the church was spending 60 to 70% of the church's budget on putting on a Sunday show, while people in need of benevolence to stay in their homes or needing food had to be told "no."
Instead of weekly Sunday services, there would be one big celebration service a month. Attendance was poor at the "cause meetings" King scheduled.
The last scheduled traditional Sunday worship service at Courageous Church never happened. Instead, King hastily coordinated a caravan to assist tornado victims in Alabama. "Yesterday was scheduled to be our final weekly Sunday service ever, but I sensed a great opportunity for our community to serve some really devastated people in tornado ravaged Alabama and we instead moved our entire operation there," King wrote in another blog post. (The post has since been removed from the site.)
"I don't think I missed God or misunderstood my calling the past 15 years. Quite the contrary. I feel like the past 15 years prepared me perfectly for what's ahead."
King wanted to turn Courageous Church into a nonprofit that would act, as he liked to say, as the "the hands and feet" of God in Atlanta. Parishioners say King expected the same members who basked in the connection they felt to God during weekly worship to be edified by the work. They didn't share King's vision. Many left the church altogether, disillusioned by how quickly it all transpired. Others found ministries that would give them what they wanted.
"I could not understand why people who said they loved the Jesus in Matthew, Mark, Luke, or John were content to reduce their Christianity to a 90-minute service on Sunday," King said in an interview. "But they were men and women who had hardly missed a Sunday, and I was all of a sudden asking them to tinker with what they knew as Christianity and try it in a totally different way. Primarily, the people who stuck with it were people who didn't have that deep history."
In an email statement to BuzzFeed News, Michael Smith, director of operations of ARC Launch, International, declined to disclose the amount his organization had invested into King and Courageous Church.
"ARC did help Shaun King in the launch of his church in 2008. After a few years, Shaun and his board turned the church over to another pastor in the Atlanta area. ARC is not a part of a denomination. We will help any couple that is approved through our application process. Churches we plant are always autonomous, so ARC has no control or leadership in the church once it starts."
It's not clear if it was expected by leadership of the church for members to give weekly tithes and offerings as if church met corporately every week. It is certainly easy to see how that might have caused a split in Courageous Church's membership. At the same time, King relied on financial support its obligation to ARC. It's unclear if ARC backed King's decision.
"As I sat in on an all church meeting about breaking away from the Sunday service model, the sociologist in me knew it was likely doomed," Tressie Cottom wrote on a blog. "People crave ritual and symbol, often more than they do the essence of what either represent. It's part of our human condition and why have to consistently consecrate the flesh."
According to a blog post by Rai King, Shaun King's wife, preparation for Courageous Church's shift came as it had its highest attendance and highest offering in all of 2011. (Members think it may have been because King was announcing "something big," even as details remained murky.)
"Most of our time is now spent thinking about the arrangement of chairs, the execution of payroll, the brightness of the lights, the printing of the announcements, the lyrics on the screens, the pitch from the mics, and in the midst of all of this – I confess that people have been hurt in the process," he wrote. "We created a church to love God and love people and in the busyness of it all – people that we cared about were neglected and forgotten. I won't do it this way another day."
"Until the past few months I really saw myself as the guy who could build and mend bridges and I didn't have very many enemies in the movement."
"We should go out of our way to fund, staff, and guide systems that motivate people to live like Jesus lived," King wrote on his blog.
By August of 2011, things began to fall apart. King wrote a blog post about the stress pastors carry and brought up the story of Zach Tims, the founding pastor of New Destiny Christian Center in Florida, who died of a cocaine and heroin overdose.
"I think a lot of people hold at least a little bit of responsibility for killing Pastor Zach," King wrote. Tims' death, he argued, was because of stress that comes, at least in part, from the "financial stress & uncertainty of a high level entrepreneur."
Two months later, King announced he was leaving Courageous Church.
"I have never loved leading this church. Ever," Rai King wrote on her personal blog. "I didn't want to plant it and have had just a handful of days since planting it that I felt like it was worth it."
"Shaun, however, has loved this church with his whole heart from the moment he conceived it," she continued. "Shaun thought that if people witnessed courageous leadership, and listened to edgy, courageous teaching, they'd be inspired to get out and be the hands and feet of Christ themselves and provide life changing power and solutions to a dying and hurting world….Um, FAIL."
King rarely characterizes his time as a pastor as a net positive. "I don't think I missed God or misunderstood my calling the past 15 years," he wrote in 2011 after leaving Courageous Church. "Quite the contrary. I feel like the past 15 years prepared me perfectly for what's ahead."
When asked if he still felt that way five years later, King told BuzzFeed News the role he played as a spiritual leader was not unlike the one he had sought to carve out for himself in the movement as bridge builder, connector, and peacemaker.
"I'm a very stationary, grown man who is not always able to weave in and out of cities and locations very much," he said. "So I saw myself in this movement as someone who could get people on the phone, or do a group tweet, DM or email with people who are beefing in some way. Until the past few months I really saw myself as the guy who could build and mend bridges and I didn't have very many enemies in the movement. I think that all started at Morehouse, but even at Courageous Church, I always tried to be a bridge builder."
In that sense, that part of his role in the movement could be over.
When King was more of a distraction than a conduit for progress at Courageous Church, he left. He openly acknowledges how he's become a pariah in the movement, and says the "blowback" from his failures in the past 18 months affect him differently. It's taken a toll on his family.
"The past year has been way more tumultuous than my family can handle," he said. "So I'm having to really reevaluate whether or not my style and the way that I jump into something is worth it. Everything that I've done to help families I would do again ten times over.
"But I would be much more thoughtful in moving forward with whatever I do. I'm going to be a lot slower and more methodical."