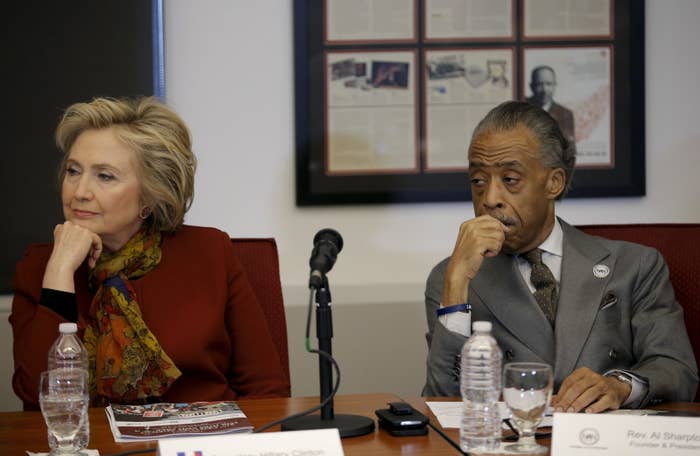 WASHINGTON — Rev. Al Sharpton lauded Rep. John Lewis for leading a sit-in on the House floor in an attempt to force a vote on gun legislation, calling it "the kind of drama that we need" to turn out black voters.
That goal — turning out millions of black voters — is animating Sharpton this summer, as his political group embarks on an ambitious voter registration drive, and he makes voter ID laws his driving cause.
In an interview with BuzzFeed News, Sharpton said he questions the accuracy of polling that has Hillary Clinton up comfortably over Donald Trump, because — he argued — new voter ID laws could prevent those voters from actually voting. "I think what a lot of people are not dealing with in all of these polls is that 17 new states have new voter ID laws," Sharpton said. "A lot of people that are being polled may not be able to vote and don't even know it," Sharpton said. "We don't want them at the polls lined up and being turned away."
Sharpton said he does not believe the Democrats, nor elected officials have raised voting rights "loudly enough or as central issue" and it's why they will also pressure on the Republicans on the issue. Georgia, Alabama, and Kansas require voters show proof of citizenship to vote, while 17 states have cut the early voting period and limited provisions like same-day registration.
"You can look at history," he said. "Movements and change come from the bottom up, not the top down."
Sharpton's civil rights group National Action Network is aggressively identifying and engaging voters — and one of the issues they're focused on are the recent shootings, in which black men have been killed by police officers. The goal, organizers said, was to effect change not just on the presidential election, but also the ballot at the local and state level.
Sharpton, according to several people with knowledge of the dual strategy, is focused on turnout and educating voters on what kind of photo ID is required and what new provisions may disallow people from casting their ballot.
This past spring, one of the workshops and panels at the NAN convention in New York focused on voting rights. When Sharpton decided to to announce the National Action Network's voter registration drive aimed at getting a million new voters, he'd already made up his mind the roll out would happen at the annual Essence Festival, at the largest gathering of black people in the summer.
"Let's just say [Sharpton] made it clear to the leadership that this has to get done," Rev. DeVes Toon said.
Local NAN chapters will soon begin going through voter files with a special emphasis on cities with a heavy black population in swing states like Charlotte, Richmond, Cleveland, and Philadelphia.
Sharpton has worked closely with the Obama administration on voting rights, mass incarceration, and a criminal justice overhaul. He said the registration drive was started in large part to making sure the next president was committed to continuing that work — and that NAN was pressuring Republicans, too. Sharpton said the Obama presidency represented a turnaround from where country was going in 2009 "whether it was as much as we wanted or not."
"All of these legacies must be protected and that will not happen unless these [policies] are continued upon...by whomever the next president is."