Sanders Voices Frustration With Media In Meeting With Pastors In Baltimore
After telling a group of Baltimore pastors Tuesday that the media never asks him about poverty, a press conference question about ISIS brought Bernie Sanders right back to the same point.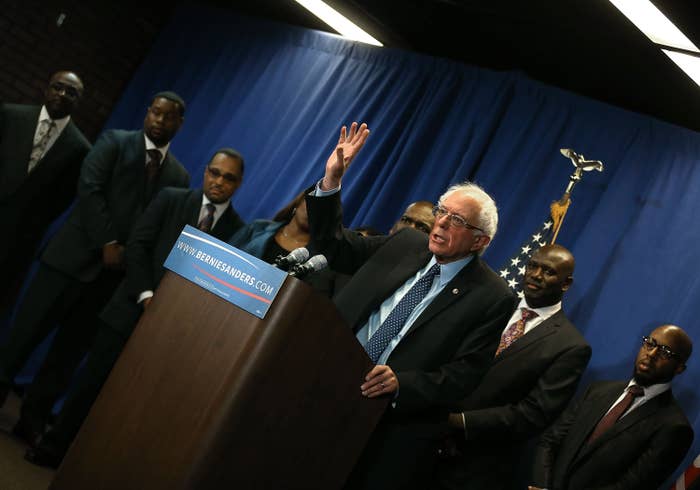 BALTIMORE — Toward the end of a press conference at the Freddie Gray Empowerment Center, a reporter asked Bernie Sanders, "Is there a reason you don't want to talk about ISIS?"
Before the senator entered the room, his national press secretary Symone Sanders told the press horde that Sanders, and a group of black pastors with whom he had just met, would arrive soon from a meeting on education, historically black colleges and universities (HBCUs), economic inequality, and racial justice.
The Sanders campaign wanted to talk about those topics, about the meeting with the pastors, and about his tour of Sandtown, the neighborhood where Freddie Gray — whose death while in Baltimore Police Department custody sparked demonstrations this year — was from.
"Don't ask about ISIS today," the press secretary told reporters as an aside.
Sanders has shown increasing frustration with the media in recent weeks about what he argues is an overemphasis on ISIS at the expense of domestic issues, as well as his outreach to black voters.
Sanders campaign officials contend he has no problem talking about issues like immigration and terrorism, though. In Washington on Monday, Sanders addressed ISIS and terrorism for about 15 minutes during a gaggle with reporters after an event on immigration.
At Tuesday's presser, Symone Sanders' plan was to remind the press corps about why the pastors, many of them who traveled on their own dime, had come to Baltimore to meet with Sanders.
But when asked about ISIS, Bernie Sanders let out a laugh.
"What about ISIS, guys?" Sanders said, turning to the pastors alongside him. "How often are these people [the press] talking about the issues we talked about today?"
The pastors groaned and shook their heads. "O-M-G!" one audience member said.
"Of course I'll talk about ISIS. But today what we're talking about is a community in which half of the people don't have jobs!" Sanders continued.
Some in the room, including the pastors next to Sanders, began to clap as he juxtaposed the media's emphasis on ISIS and the issues they had talked about.
"We're talking about a community in which there are hundreds of buildings that are uninhabitable," he said. "We're talking about community where kids are unable to go to schools that are decent. You want to ask me about ISIS? We will talk about ISIS."
"What I have said is that obviously ISIS and terrorism are a huge national security issue that we've got to address," Sanders continued. "But so is poverty, so is unemployment, so is education, so is health care. I will continue to talk about those issues."
In the private meeting with black pastors attended by BuzzFeed News, Sanders argued the press seldom asks him about, say, about poverty in America.
An attendee asked Sanders about increasing the number of black media and restoring tax credits for media property owners, the discontinuation of which "annihilated" black ownership in the industry, the attendee said. "If you become president, will you take a close look so that these kinds of ideas can be heard?" the attendee asked.
Sanders cut him off. "Absolutely. It's easy for me to say yes, but let me tell you why," he said before launching into some of the common themes of his stump speech, namely that a small group of very wealthy people control the "corporate media."
"Every day, somebody decides, 'This is what the news is going to be.' And I got news for you, it ain't gonna be poverty in America," Sanders said. "It's not going to be income and wealth inequality, or the fact that we're the only major country on earth without a national health care program guaranteeing health care to all people. That's not the news!"

"I am amazed, especially since I've been running for president, [that] I can pretty much tell you and predict what my questions will be from the media," he continued. "I've been in politics a long time. Do you know how people have asked me the questions that you guys have asked me today, What are we going to do about poverty in America? You know how many times I've been asked that question? Never! Not once. That's the truth."