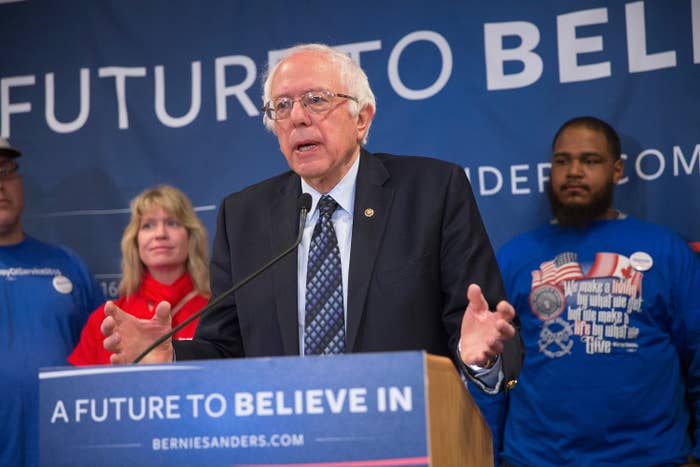 WASHINGTON — Bernie Sanders' campaign for president will ramp up its outreach to black voters in delegate-rich states like Illinois, North Carolina, and Missouri, campaign aides tell BuzzFeed News.
In recent weeks, voters from more diverse states — and in particular, black southern voters — have delivered huge, decisive wins for Hillary Clinton. In advance of Super Tuesday, Sanders predicted more losses among black voters in the southern primaries, but suggested black voters in other parts of the country would be more supportive of his candidacy.
"I think you're going to see us doing — and I think the polls indicated it, much better within the African-American community outside of the Deep South," Sanders said on This Week. "You're going to see us much better in New York state where I think we have a shot to win, in California and in Michigan."
Over the next two weeks, Sanders campaign surrogates — and, in some cases, the candidate — will meet with local activists. The campaign has employed this strategy before, but surrogates and aides said now it will be more publicized. Sanders, according to two sources briefed on the campaign's plans, will also be more specific about economic inequality and its effect on black communities in his stump speech. One activist, who wasn't authorized to speak for their organization, said the Sanders campaign told the activist that Bernie would speak more about how structural racism is tied to the heart of his message about economic inequality.

"Right now, when you look at the political revolution — it needs to be more intersectional, and his economic proposals need to be more more explicit on the ground and publicly," the activist said. "The Clintons will exploit that. When he's talking about it, he'll give specific examples on the stump in ways he hasn't before, is my understanding."
Privately, surrogates are figuring out how to ratchet up the rhetoric against Clinton, in ways meant to make black voters wonder how concerned she really is about the black community. In particular, the campaign has been in talks about how to use a video of Killer Mike talking about cracks in the "firewall," and underlining the difference between the candidates' reactions when confronted by Black Lives Matter demonstrators.
"The campaign is going to put more effort into churches, roundtables, and try to put pressure on Hillary now that the southern states are gone," said a campaign surrogate briefed on the campaign's plans in Chicago. "He just needs to make inroads and a lot of it is going to focus on clergy outreach."
The campaign was expected to go into the weekend with another high-profile black endorsement under its belt. Mark Stewart Tillman, the general president of Alpha Phi Alpha Fraternity, will endorse Sanders and will host a town hall Detroit for him before the debate in Flint, per a campaign aide.
"We are going to earn people's votes, door to door, churches, community forums and at rallies," for NAACP President and CEO Ben Jealous told BuzzFeed News. "Going into the Midwest, the confounding and contradictory nature of Hillary Clinton's politics cannot help but to be on full display."
Jealous said while campaigning in Chicago, for instance, Clinton's leadership will be called in question as it relates to the case of Laquan McDonald. Activists believe the mayor was involved in a cover-up, but while Clinton has called for a Justice Department probe into the issue, in December said she still had confidence in Emanuel's leadership.
"She's running as a progressive, yet she's embracing Rahm's leadership, where a lot of the activists think he tried to cover up Laquan's death. She's been contradictory across time and is contradictory in the present," Jealous said.
Jealous argued that the presence of Chicago in the lives of three prominent politicians is notable: that President Obama was a community organizer there, Sanders was a civil rights protester, and Clinton, he said, was a supporter of Barry Goldwater, who campaigned against the Civil Rights Act.
(Sanders attended the University of Chicago where he was arrested for protesting; Clinton, who grew up in Illinois, was infamously a "Goldwater girl" as a teenager and later significantly changed her political views while in college.)
"You can draw a straight line between her support of Goldwater, Rahm Emanuel, and her support of the death penalty and the fact that in 2008, she ran to the right of Obama on criminal justice," Jealous said.
"She does a good job of smiling on Sunday and voting for welfare reform on Monday," Jealous said, referring to Clinton's popularity in the black church, where Sanders has struggled to connect. "The midwest are states they're contesting and organizing in and we're [zeroing in] on them in a very focused way. You'll see us perform better."
Jealous described the fight as an uphill battle. He said he believes introducing more people to the candidate before Super Tuesday could have made more of a difference at the polls, and they're determined to not make the same mistake twice.
"We are fighting against the most powerful dynasty in American politics," he said. "Our campaign is one of hope that regular working people can be empowered to take back control of their government and switch it from helping the rich get richer."