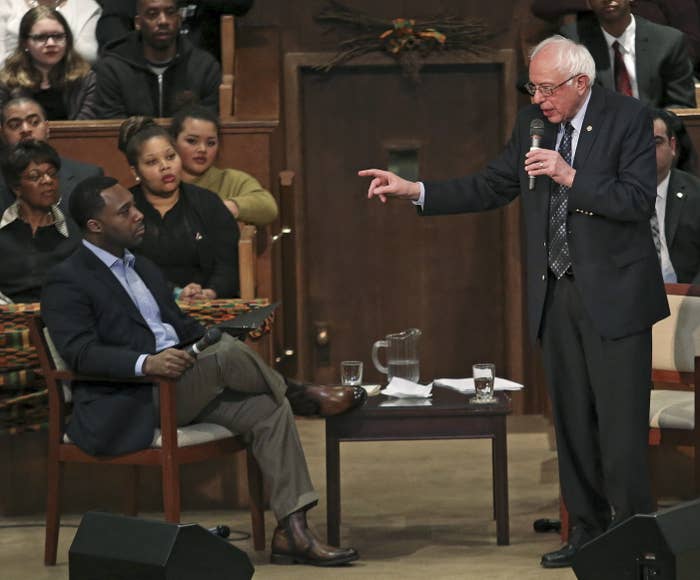 MIAMI — Late Sunday, after the Democratic debate in nearby Flint, a small group of people listened to Ben Jealous talk about Bernie Sanders' campaign at a hotel near the Detroit airport. Surrounded by a few bottles of wine, they wanted to know: Why isn't their candidate doing better with black voters?
Jealous, the professorial former head of the NAACP, did his best to explain, according to a source who was in the room. The problem with black voters at that juncture, Jealous said, was a deep misunderstanding of what Sanders is all about. Black voters are so used to voting for "establishment" candidates and beholden to "establishment politics" that other candidates face a tough battle.
But, he left them with an encouraging prediction: He would be shocked if the margin Clinton won by with black voters in the South wasn't closer in other places.
And, in Michigan, that turned out to be true.
On his way to a stunning upset in the state, Sanders won a third of black voters, according to exit polls. The improved performance could be seen in the state's counties where more black voters live: In Wayne County, Sanders won 38% of the vote, to Clinton's 60% (in Detroit itself, Clinton won just more than 70% of the vote). In Genesee County, home to Flint, Clinton only edged Sanders by six points. In Oakland County, Clinton only won by four.
These numbers still demonstrate Clinton's strength with black voters — but they're not the splits seen in the South where in some states, 90% of black voters have favored Clinton, and they're encouraging numbers for the Sanders campaign, which vowed to do better in Midwestern states.
"We are invested in earning the support of African-American voters and we are investing resources, time, and effort to do just that," Symone Sanders, the campaign's national press secretary told BuzzFeed News following Sanders' statement late Tuesday.
The campaign attributes the improvement to targeted, intentional outreach — and a core belief that black voters could be convinced to vote for Sanders if they meet him, hear his message, or connect, in ways large and small, with his campaign for president. One of the most encouraging signs: an apparent split of the under-45 vote with Clinton in Michigan, a result the campaign expects to replicate in Ohio.
The campaign promised in the days leading up to Michigan that campaign and candidate would renew and focus their strategy of speaking directly to black activists and community leaders. But this is also a campaign that poured millions into ads and outreach in South Carolina — with little, in the end, to show for it.
"Our view is that South Carolina was something of an anomaly," said a senior campaign aide, still struggling with why Clinton's win there was so resounding despite the campaign pouring more resources into that specific state than Clinton. The aide then offered a strain of thought staffers can't seem to let go of: What if there was more time there?
Now, with new momentum, the campaign is focusing attention in Chicago and especially Cleveland, large midwestern cities whose states vote on March 15, a campaign spokesperson said. Jealous will do event with pastors and community leaders in Chicago over the weekend. Erica Garner, the daughter of Eric Garner, will campaign for Sanders in Chicago, as well.
"Cleveland really is fertile ground for us," a campaign aide focused on black outreach told BuzzFeed News. "We feel really good about Chicago, too."
The campaign has pointed to an town-hall event Sanders did there last Saturday hosted by Rev. Colvin Olivet of Institutional Baptist Church. "Virtually everyone that was there had shifted towards Bernie," Jealous said. "If they were Hillary [after hearing Sanders], they were on the fence. If they were on the fence they were now supporting him."
The Sanders campaign is also extending its reach to places like Kansas City, Mo., and St. Louis and even pockets of North Carolina with a large concentration of black residents. The campaign aide focused on black outreach argued there were early indications that their candidate was picking up momentum in North Carolina, a state that votes next week and would shares a similar profile with Virginia, South Carolina, and Georgia — other states that have voted overwhelmingly for Clinton.
At C.N. Jenkins Memorial Presbyterian Church in Charlotte, the campaign hosted a luncheon on faith and justice. The aide said they'd initially been dubious that the black women and faith leaders present were there were for Bernie. But they were. Already this week, the Sanders camp has sent staff to Mecklenberg County in North Carolina.
The doubts that people weren't there for Bernie that day were grounded in what happened in South Carolina. What's different now, according to the campaign?
Much of the explanation in and outside campaign is speculative. Some think the economic and cultural differences between the regions — labor issues are totally different in the Midwest and the South, for example — and how feelings about the economy factor into selecting a candidate may help Sanders in the North. Others argue that, because black voters like any other are not a homogenous group, Sanders' message can resonate given enough retail engagement and enough time to do it.
"The amazing thing is that whenever I talk to a black voter is no matter how they come out, no one ever says I don't trust Bernie Sanders," Jealous said recently. "He has integrity that has been clear throughout his entire involvement in politics from when he was a young activist to now as an older senator. Integrity means something. And what we're seeing is that as black voters hear his message they turn towards him."