Republican Senator To Deliver Impassioned Remarks On Body Cameras For Officers
Sen. Tim Scott, the junior senator from South Carolina, will deliver testimony on why body-worn cameras help move the conversation on better policing forward, according to remarks made available to BuzzFeed News.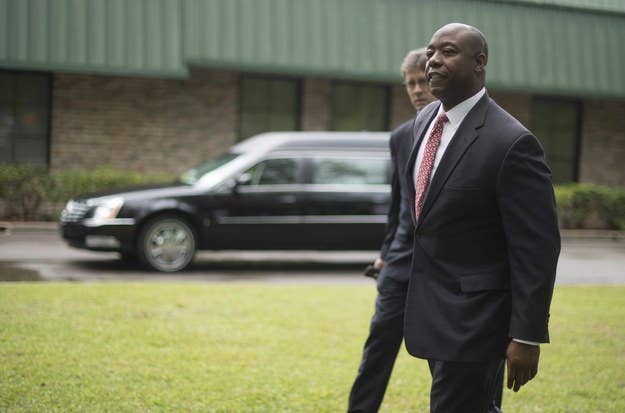 WASHINGTON — South Carolina Sen. Tim Scott will make a plea Tuesday for investment in police body cameras in a committee hearing on Capitol Hill.
Scott, one of the two black U.S. senators, hails from the South Carolina area where a man was shot in the back by a police officer after a routine traffic stop and captured on a bystander's phone.
"I believe that if a picture is worth a thousand words, then a video is worth a thousand pictures," Scott will say to his colleagues, according to remarks made available to BuzzFeed News.
"The past year has shown, in no uncertain terms, that there are problem spots across this country in interactions between law enforcement and minority and low-income communities. It is well past time for a national conversation about this and the policies affecting people that are growing up and living in communities like I did as a poor kid with a single mom in North Charleston, South Carolina."
Last month, Scott petitioned Senate Judiciary Chairman Chuck Grassley and Sen. Lindsey Graham, his colleague from South Carolina, to hold a hearing on the subject of body cameras, which have become a popular proposal after a series of instances of violence carried out by police officers, sometimes on video, over the last year.
"Whether we are talking about Ferguson or Baltimore, Ohio or New York City, Tulsa Oklahoma or North Charleston, South Carolina, working together to find meaningful, long-term solutions is absolutely critical. I have been working on many of these through my Opportunity Agenda, and will continue to do so, quite frankly, for the rest of my life — be it improving educational opportunity or emphasizing programs like apprenticeships to ensure the skills of the workforce match the needs of employers."
Scott's testimony will be the first panel of the afternoon. The second will feature Jarrod M. Bruder, the executive director of the South Carolina Sheriff's Association; Wade Henderson, President & CEO of The Leadership Conference on Civil and Human Rights; Lindsay Miller, senior research associate with the Police Executive Research Forum; and Peter Weir, District Attorney, First Judicial District, State of Colorado.
Scott will argue that body-worn cameras are one piece of the puzzle to help foster stronger relationships with between police and communities.
"I say one piece, because I think we can all acknowledge there is no single solution, but rather many critical steps we must take to tackle poverty, criminal justice reform and instances of police brutality," he will say according to prepared remarks.
"I am not proposing that we federalize local policing, or mandate the use of body-worn cameras, but rather that we find the best way possible to make technologies available to local departments looking for ways to keep both their officers and the public they serve safer. As states and localities around the country implement body-worn camera programs, we should consider ways in which the federal government may add to the conversation."