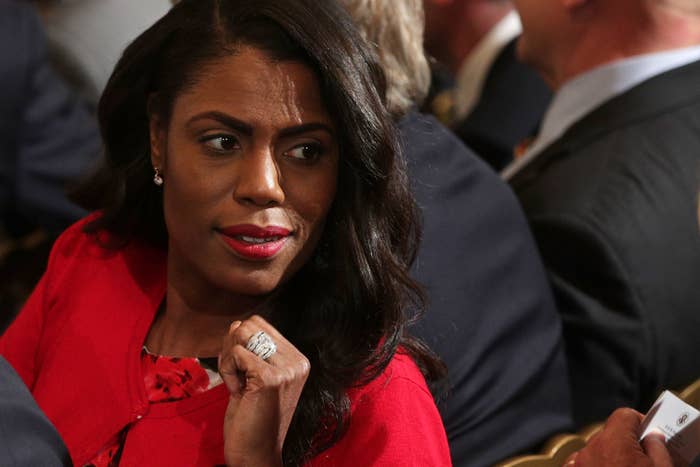 Two sources have told BuzzFeed News that Omarosa Manigault Newman reveals in her new book out Tuesday that she "received a call" from the FBI and spoke to investigators in early 2018.

The revelation is made on page 330 of Unhinged: An Insider's Account of the Trump White House.
"We are reminded daily that Trump's still in the throes of the Mueller investigation. The special investigators are conducting interviews with subjects who have stories to tell. In early 2018, I too received a call from the FBI. We'll see how that goes."

It's not clear if there's more in the book about why federal law enforcement authorities wanted to speak with her, or if she spoke directly with special counsel Robert Mueller or his team, which is investigating Russian influence during the 2016 election, an inquiry that has probed a wide array of activities undertaken by Trump allies like Paul Manafort. The Washington Post first reported the detail from the book.
A spokesman for the special counsel's office declined to comment.
On Monday night, Manigault Newman appeared on MSNBC's Hardball and answered a question about whether there were more recordings, specifically anything that Mueller might want to know.
"If his office calls again, anything they want, I'll share," she said, marking her first public acknowledgment that she has been contacted by the federal government investigating President Trump, his campaign, and other associates.
In the book, Manigault Newman makes a number of explosive claims, including the president's comments to her about firing former FBI director James Comey, and a less than flattering nickname for Education Secretary Betsy DeVos.
Manigault Newman was fired from her White House post in December. This week, she released a recording of the firing and played it on NBC's Meet the Press. She also has said that she heard a recording of Trump using a racist epithet during the filming of NBC's The Apprentice. In response, Trump turned to reporters and can be seen on camera calling her a "lowlife."